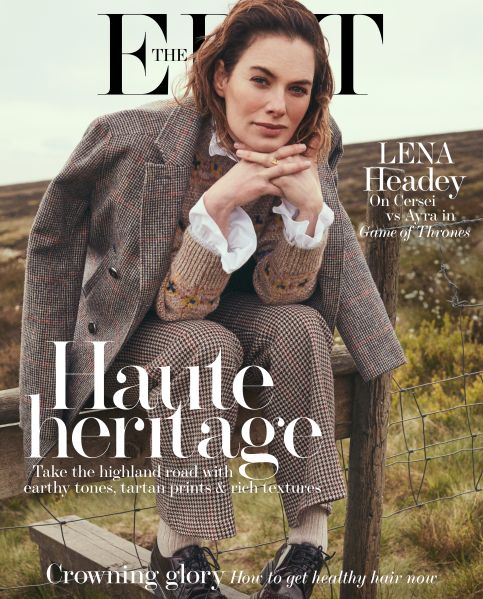 If you're a Game of Thrones fan, there's no way you don't have July 16 marked down on your calendar. For those of you who don't get it, GoT is back for its seventh season, and with the explosive and dark way things ended last season, the wait for the show's return has been more excruciating than ever before. The dramatic Season 6 finale, "The Winds of Winter," was in the golden fist of none other than powerful Cersei Lannister, who's responsible for killing off some of the leading characters of the show—and who's forcefully taken over the Iron Throne.
Despite her incredible acting as the power hungry Queen, Lena Headey did not have to try too hard to embody Cersei's rebellious nature when she sat down with co-star Maisie Williams, a.k.a bad-ass assassin Arya Stark, for an interview with Net-A-Porter's The Edit.
The co-stars discussed Headey's wild youth, her loyalty to women and who she wants to see on the throne when the series comes to an end. Her answers show that the actress is pretty similar to the character she plays on screen—but one thing's for sure: she's definitely less evil!
1. She loved the Season 6 Finale as much as Cersei did
When discussing the crazy finale with co-star Williams, Headey admitted that she loved the moment where she finally took power over the Seven Kingdoms:
"I think the highlight was [last season] when [Cersei] blew up the Great Sept of Baelor, then just enjoyed her wine… I thought that was great. The High Sparrow [played by Jonathan Pryce] was yet another man who came along and was like, 'I'm going to manipulate you.' So I think [Cersei's] revenge… Well, I was like, 'Yes! F*** you!' And she took out Margaery Tyrell [Natalie Dormer] and her low-cut blouse. Bye, perky tits."
2. She's gone through a rebellious stage, like Cersei
Headey also playfully confessed that she wasn't unexposed to the rebellious nature of Cersei's character before playing the risqué role, as she was quite the rebellious child:
"I would sneak boys into my house all the time. We lived in a tiny little house in Yorkshire with a tiny little landing, and one night my boyfriend got up to have a wee and found my mum sitting naked on the toilet. She was screaming, he was screaming, and my dad comes out of the bedroom and literally chased him out of the house, naked."
3. Like Cersei, she doesn't let men dictate her career or self-worth
Headey admitted that she's struggled with sexism in the film industry, ever since her career started. Even though she makes leading kingdoms as a woman on screen seem easy, being a female in Hollywood is far from easy.
"I said [to a female colleague], 'Do you find that you have to say the same things seven times, whereas a man says it once and everyone listens?' Male counterparts can say the same thing [I just did] and everyone's like, 'Oh, that's a great idea,' and I'm like, 'I just said that 19 times but you chose not to listen or take it on board.'"

"When I was in my twenties, and doing a lot of audition tapes in the States, a casting director told me: 'The men take these tapes home and watch them and say, Who would you f***?' I've never played the game of going in [to auditions] and flirting; I've never done it."
And when Williams asked her co-star if refusing to flirt with casting directors has lost her jobs, the answer is empowering:
Maisie Williams: "Do you think taking that stance has ever stopped you from getting the job?"

Lena Headey: "Yes, and I'm very happy I didn't."
4. She's a loyal fan of Cersei and wants her to maintain her power until the end
When asked who Headey wants to see on the throne at the end of the show, her answer shouldn't shock you:
"I think she's already sitting there, isn't she?"
To read the full interview with Lena Headey, read The EDIT and/or download The EDIT's free app for iPhone, iPad and Android.