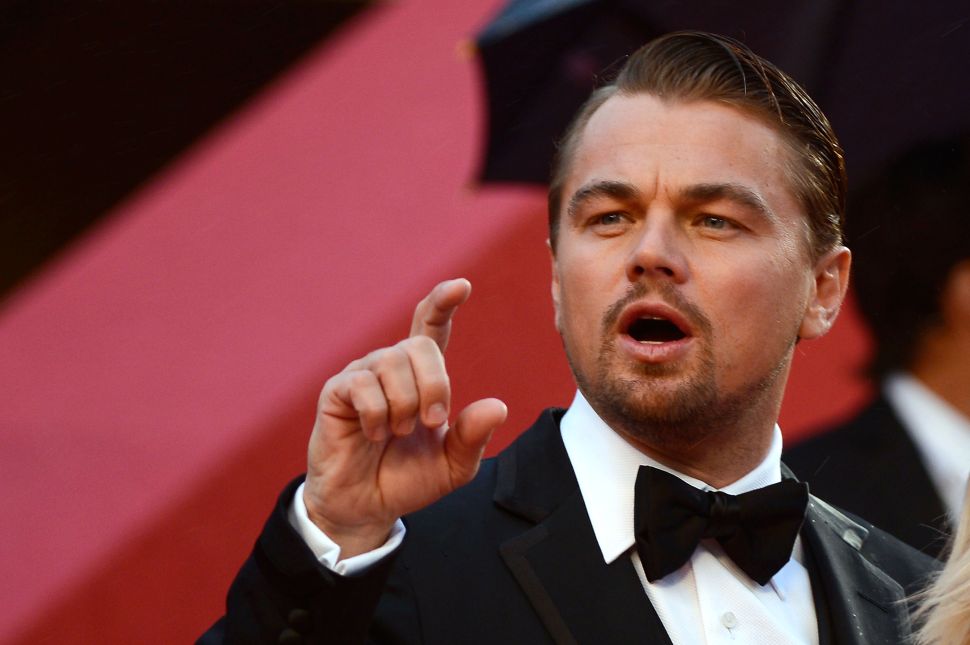 National Geographic's television department is moving forward with its newfound push into original scripted content. First, the network produced the Albert Einstein-centered series Genius, its first-ever original show. Now, Nat Geo is teaming up with Leonardo DiCaprio's Appian Way Productions and Warner Horizon Scripted Television for a small-screen adaptation of the Tom Wolfe nonfiction book The Right Stuff, Deadline Hollywood reports.
DiCaprio and Jennifer Davisson will serve as executive producers and Will Staples (Call of Duty) has been tapped as writer and showrunner. Genius averaged a respectable 1.05 million Live+Same Day viewers in its rookie season, according to TV Series Finale, with Oscar-winner Geoffrey Rush in the lead role. The hope is that The Right Stuff and DiCaprio can continue to build on the forward momentum while establishing Nat Geo as a destination for marquee talent and interesting historical concepts. DiCaprio's name does hold some sway in this business, after all.
Via Deadline:
The Right Stuff takes a gritty, anti-nostalgic look at what would become America's first reality show as the obsessive original Mercury Seven astronauts and their families become instant celebrities in a competition that will either kill them or make them immortal. The one-hour drama will follow the protagonists from the Mojave Desert to the edges of space, with future seasons carrying through to humankind's greatest achievement: the moon landing.
Nat Geo will look to the source material as a blueprint with each season revolving around a specific mission, Deadline reports. The series will use the global tensions of the Cold War in 1958 as a launching point for season one.
A handful of adrenaline-junkie test pilots are living in the Mojave Desert, risking their lives daily to become the fastest pilots on Earth. Meanwhile, America is against the ropes as the Soviets dominate the space race: They've not only beat us to put a satellite in orbit, but there is an ever-growing fear they can drop nuclear weapons from above. With the public wondering if we are a nation in decline, the U.S. government conceives ‪the Mercury Program‬‬‬‬, America's attempt to beat the Soviets and put the first person in space. Now they need to find the perfect team — seven heroes willing to risk almost certain death to achieve international fame and reclaim the ultimate high ground, outer space.
National Geographic and Appian Way have partnered before, most recently on the well-received 2016 ecological documentary Before the Flood.
"Having already had a rich relationship with Leonardo, Jennifer and their production company Appian Way on Before the Flood, I'm excited to work with them in a scripted capacity," Courteney Monroe, CEO of National Geographic Global Networks, told Deadline. "With The Right Stuff, we're looking at moment in time where the everyday life, the trials and tribulations, of these men was scrutinized in the public."
Staples is also familiar with DiCaprio's production studio as he developed the Ben Affleck vehicle Animals along with Dark Web for Chernin Entertainment. Deadline also notes that Staples completed production work on Mission: Impossible – Rogue Nation in 2015.
"National Geographic gave Before the Flood an international platform, and we couldn't think of a better partner to bring The Right Stuff to the world," added Davisson. "The heroism of these astronauts was rivaled only by the country's fascination with their story; this series uncovers both the adventure of space exploration and the adventure of being unwittingly thrust into the public eye."