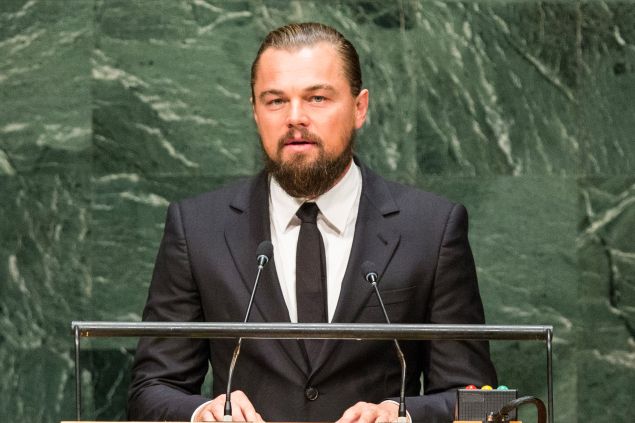 As if actor and environmental advocate Leonardo DiCaprio didn't already have enough on his plate between teaming up with director Martin Scorsese on yet another film and juggling his duties as a U.N. ambassador, he's once again hosting his eponymous foundation's annual St. Tropez summer art auction and gala.
The July 26 event, which is known to lure celebrities, art worlders and a slew of wealthy collectors to the French Riviera to spend big for a good cause promises to be no less spectacular this time around. DiCaprio has tapped nine artists—Andrea Bowers, Adrian Ghenie, Rashid Johnson and Julian Schnabel, among others—to create new works for the sale, reports the Art Newspaper. Some, like Max Hooper Schneider, touch on environmental themes such as the destruction of the coral reef.
Other artists whose works will be sold at the live auction event, which will be M.C.'d by celebrity auctioneer Simon de Pury, are Lynda Benglis, Cecily Brown, Tracey Emin and Pope.L.
But for those unable to jet to St. Tropez for the festivities, DiCaprio—who himself will travel commercial rather than by private jet, according to PageSix—along with his art advisor Lisa Schiff, has organized an online-only auction, which will go live July 27 and include 100 additional works priced between $500 and $100,000. Bidding for the online sale will be open August 10-23.
"It's not just about St. Tropez. We wanted people who can't afford to come to St. Tropez to still engage," Schiff told the Art Newspaper.
While the St. Tropez sale will surely be a star-studded affair, the event is also a major fundraiser. Last year, the actor's Foundation raised $45 million for environmental causes through its auction.
"We are way too close to the tipping point, so we need to go big this year….if we can't capitalise [sic] on the attention now, I don't know when we can," said Schiff.
However, art lovers who look forward to making the annual pilgrimage to St. Tropez should take note: Schiff says that this may be the last year that the gala's auction retains its focus on art.
"This isn't about Leo the art collector; this is about Leo the UN ambassador," explained Schiff.