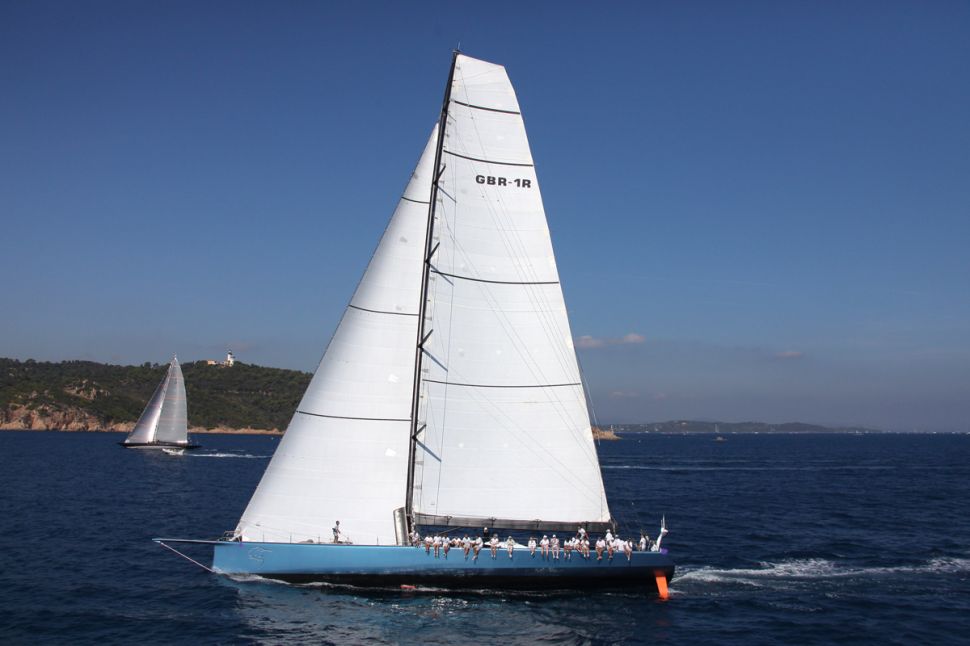 If you have ever thought seriously about yacht racing, super maxi yacht racing must be your ultimate goal. At 100-foot plus, boats in the super maxi class deliver extreme speed on a big platform. Super maxis compete in the best of all regattas. From Porto Curvo Sardinia to Virgin Gorda in the British Virgin Islands, super maxis call the world's most beautiful ports home. This is big boat sailing and crews of 20 are the minimum.
Super maxi yacht racing is also very expensive. There's the cost of the yacht itself, the upkeep of sails and mechanical maintenance, not to mention the expense of the crew needed to race. You're looking at maxi-millions. The ability to write these checks is a form of stamina that many sailors do not possess. At that point, you've devoted your entire life to the sport. The Volvo Ocean Race, for example, an around the world event, requires a dedication and level of skill attainable only by a handful of sailors.
You are not going to be in that race.
So how to have a once in a lifetime maxi yacht racing experience? How do you sail in The Lora Piana Superyacht Regatta in Sardinia in the summer or its sister regatta in the blue Caribbean waters off Virgin Gorda in the winter?
The answer is on Leopard 3, a 100-foot, Bruce Farr-designed and McConaghy-built superyacht. She has broken record after record in race after race, including in the The Rolex Maxi Yacht Cup and Les Voiles de St. Tropez. She has also broken trans-Atlantic records. Her list of firsts requires the use of a superlative.
Leopard 3 is owned by Mike Slade, and her captain from the very beginning has been Chris Sherlock. Slade is a veteran racer and Leopard 3 is his latest in a long line of racing yachts. Slade is as charming as the proprietor of any unique experience need be. He has a wide smile and possesses a beguiling exuberance when it comes to his boat.
I was fortunate enough to be invited aboard for a race during the superyacht regatta in Bermuda organized around the America's Cup in June. It was a thrill I will not forget. Leopard 3 is fast. She can do almost 40 knots downwind. She has two dagger boards and a canting keel that allows her to sail to windward with ease. Her massive sails are top of the line and always in race condition. Sherlock said, "When it comes to gear and maintenance, we spare no expense." Slade added, "This is home. We only know one way to do this: right."
The race crew performance was flawless, like a grand ballet in which everyone has rehearsed their roles. The sail change choreography and dagger board utilization went off without a hitch.
We raced against some of the biggest and best maxi racers like Highland Fling and Visione.
Yet, perhaps the most amazing feature of Leopard 3 is that she is for charter. You can take her out for a spin at any one of a dozen regattas, or if you prefer, for a fast sail with your friends. Like the lord of a large manor, Slade welcomes the revenue that is required to keep his enterprise going. "We have a very successful charter program," he explained. "We can provide a once in a lifetime experience for someone that wants to see what a maxi yacht racer feels like. We love having guests onboard, we have had nothing but great experiences." Those who charter Leopard 3 are usually either corporate team-building clients or just a group of good friends who have always wanted to race.
If you want to take over the whole boat, Slade can stay ashore and Captain Sherlock will be your host. Leopard 3 is like other racers and cruisers. She has a modular interior: The furniture can be removed for race mode and put back for comfortable fast cruising.
Cloud 10 Racing of Newport, R.I. produces custom regatta experiences and offers a similar solution. With a network of yachts similar in scope to Leopard 3, you can book a charter through them for some of the world's most exciting regattas. Tony Rey, the principal at Cloud 10, said, "The Leopard 3 model is the gold standard of the ultimate regatta experience. They really do it right. Additionally, there are multiple options out there to fit nearly any budget based on desired venue and crew size. We work with the client to provide a unique, ultimate regatta package. The racing will be fast and fun, and the shore-side activities memorable!"
For sure, a regatta on Leopard 3 is a bucket list experience, but if you have ever wanted to race yachts at this level there are other ways—just do it.
Jonathan Russo has been a sailing enthusiast for 30 years. He sails his Sabre 38 "Sachem" and an Etchell's from the Shelter Island Yacht Club. He has written about sailing and racing for Soundings, Scuttlebut and The Shelter Island Reporter.