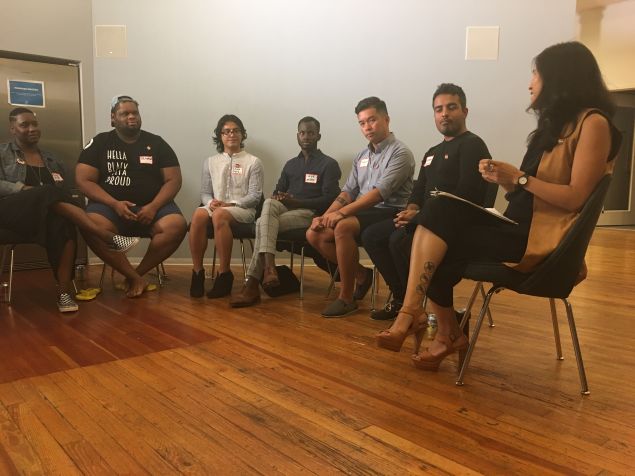 As the administration of President Trump continues to take actions targeting the rights of LGBTQIA+ individuals, organizers of color said that they are continuing to fight for "visibility" and attention to their unique issues — and also said that the community needs to "rise up."
The panel, titled "More Color More Pride: #QueeringtheResistance," examined the Trump administration's impact on the LGBTQIA+ community, the state of racial equity in the community, the recent redesign of the Philadelphia Pride flag in an effort to make it more inclusive, what their expectations are from their white counterparts, what makes a true ally and self-care. Purpose—an organization that builds and bolsters movements to address key global challenges—hosted the panel discussion.
Kalaya'an Mendoza, field director for Amnesty International who identifies as "queer with a disability" and a "cis-man," said that part of being an ally means understanding the "genocidal history" the United States is built upon—and that "ally" is "a verb, not a noun."
"This community, the gay community, does not reflect the experiences and struggles of folks that look like us on this stage," Mendoza said. "We've been fighting for our visibility, we've been fighting for our survival from the day that we were pretty much born and Trump is just but a symptom of this extremely messed up system."
Last week, Trump announced on Twitter that transgender individuals would no longer be allowed to serve in the military "after consultation with my General and military experts."
That same day, the U.S. Department of Justice filed a friend-of-the-court brief in which it asserted that Title VII of the Civil Rights Act of 1964 does not safeguard employees from discrimination due to sexual orientation. Title VII prohibits discrimination against someone based on "race, color, national origin, sex (including pregnancy and gender identity) or religion." Trump also announced the appointment of Kansas Governor Sam Brownback—who has an anti-LGBT rights record—as ambassador at large for international religious freedom.
Renee Miller, senior social strategist at Translation LLCC and co-host of the Reparations Podcast—a monthly podcast that explores "the intersectionalities of race, politics, and pop culture through humor, debate and frank dialogue"—said that what was done throughout the election cycle is "almost a microcosm" of what the LGBTQIA+ community is "sort of dealing with and dealing in on the daily."
Miller, who who identities as "black, woman and queer and specifically in that order," noted that "queer people of color, queer immigrants, queer people with disabilities" were among groups that had to "stand alone" despite being a "myriad of other things."
"The queer community didn't rise up when a presidential candidate stood up and made fun of a disabled person," Miller said. "Queer people didn't rise up when all of a sudden, all Mexicans were called rapists. Queer people didn't rise up in those moments and I think that's just a microcosm for what happens in the queer community, which is [a] blind eye until you say LGBTQ. Until you say it, it has nothing to do with me, which I think is the biggest issue that we're facing."
Devorne Hormeku, operations and marketing associate for All Out, a nonprofit that advocates for LGBT rights, said that when Trump first got elected, he told his friends in a group text conversation "how awful it was" but that they brushed it off under the assumption that he is not hurting the LGBTQ+ community.
They "only saw how it affected my gay side," he said.
"I was like, 'OK, cool, that's wrong, but I'm still being affected as a black person,'" Hormeku said. "I'm more concerned about being black in America than being gay. I'm more concerned about being gunned down by the police for just living my life than being gay."
He said he attended a predominantly white college in upstate New York and that it was "shocking and just hurtful" to see friends "actively come out as Trump supporters." He also said that some of his white friends only acknowledged racism when Trump was elected, not when he told them.
"I always say I prefer my racism upfront, just give it to me straight," Hormeku continued. "To see them come out as racist and then get offended when I call them out saying it's just their right, their opinion, their belief and you don't believe in me as a human, you don't believe in me as a black gay person, so go fuck yourself."
Undocumented transgender activist Ximena Ospina Vargas, chair and co-founder of Columbia University's Undocumented Initiative and LGBTQ coordinator/intern for NYSYLC, the first undocumented youth-led organization in New York, said that after the election, she had a breakdown and was hospitalized for a panic attack.
Her psychiatrist, a blonde white woman, asked her if she was "the most important person in the world right now" when she explained why she had the panic attack.
"She asked that from the assumption that I was making these things up because she was not informed on the immigration system," said Vargas, who was born in Colombia. "And that it was what confirmed to me that this whole campaign, this rhetoric, anti-immigrant rhetoric wasn't been listened to, was not being addressed, it was being consumed."
Jamaica native Skye O'Neal Adrian, a consultant for New York City Continuum of Care who identifies as queer, black and gay, said LGBTQIA+ youth are already financially constrained. He noted that even though New York State now includes people under the age of 25 in its definition of homeless youth who can qualify for the runaway and homeless youth program, municipalities have not yet funded it.
Adrian said that he's "working a lot harder" now than he was two years ago given the climate under Trump.
"When I speak, I speak about funding, I speak about money, I speak about resources, things like that and I felt like the LGBTQ+ youth, especially homeless youth, they were already underrepresented," he said.
Tushar Malik, an international LGBTIQ rights advocate from India—who  identifies as "cis-gender male, gay, queer"—said he endured a "very traumatizing" experience when India decriminalized homosexuality then subsequently re-criminalized it. But he noted that during that process, he saw civil society come together.
He said that people are "still picking what they want to really go out in the streets for."
"It's not a queer community anymore," Malik said. "It's just a bunch of people who get outraged selectively."