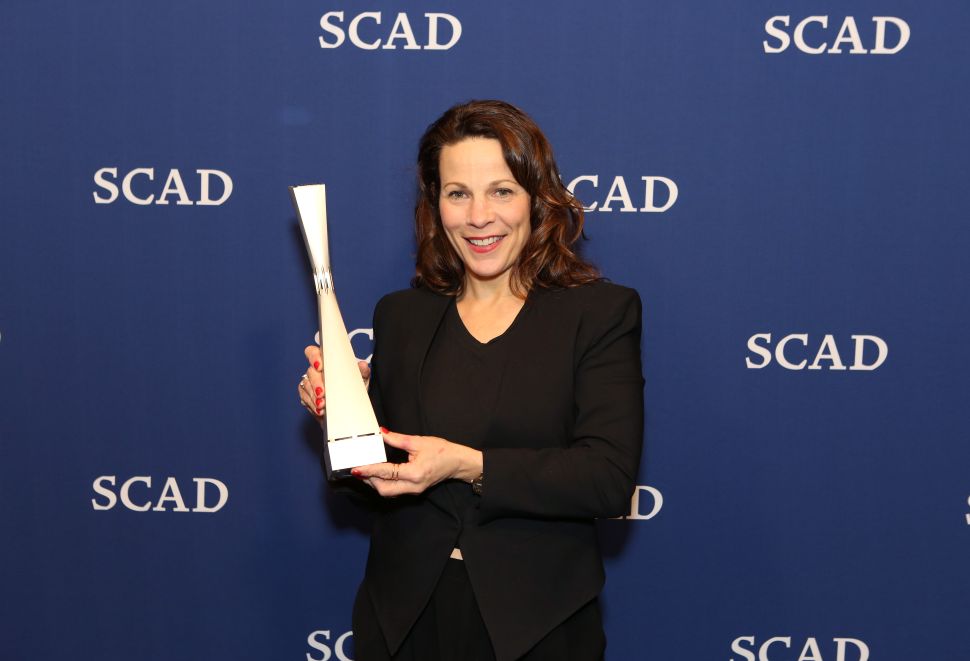 In her three-decade career including indie favorites Mystic Pizza and I Shot Andy Warhol to TV gold like Six Feet Under and the anthology series American Crime, Lili Taylor consistently goes for the emotional jugular. The 50-year-old actress, married to author Nick Flynn with whom she shares nine-year-old Maeve, melds into her roles so fully it requires a double take to realize the persona you're watching is actually Lili Taylor.
Her resume includes over a dozen theatrical performances, including the Public's 2014 Lips Together, Teeth Apart. However, the revival of Scott McPherson's acclaimed 1991 comedic drama Marvin's Room, about two estranged sisters reuniting after 18 years when one of them is diagnosed with leukemia, is Taylor's first Broadway outing since 1997's The Three Sisters.  
The Observer caught up with Taylor before she launched into another 12-hour day of rehearsals leading to the play's June 29th opening at The American Airlines Theatre.
Observer: Marvin's Room was produced a year before the playwright died of AIDS, yet its themes of very complicated family ties, the difficulties of care-giving, and flawed relationships, are timeless. What would you talk about with Scott McPherson if he were here today?
Lili Taylor: He knew he had HIV when he wrote it. When Scott got really sick, he was impressed with how right he'd gotten end of life stuff in the play. If we met, I'd back up his prescience, his grasp of how we keep living in the face of death. We don't fall into a fetal position. We can get hit really hard at moments yet keep going. He got the sense of humor and adaptability humans have in the face of all this.
How is working with Celia Weston and Janeane Garofalo? The three of you make a wonderful ensemble.
Celia, who plays my aunt, is a veteran stage and film actress. She's a genius who has an ability to push into the script and find new meaning and ways into the character that is interesting and unique. It's Janeane's second play. She's very funny and has amazing instincts. Her character, Lee, is instinctual, so that's a good match. My character, who has spent all these years as a caregiver, and now finds out she has leukemia, could easily fall into being a martyr or a too good person. My challenge is finding the edges, the tension, and the stuff that's not so goody-goody to make Bessie as real as possible.
You're often thought of as choosing quirky parts. I think of you as gravitating toward material that is psychologically complex. How do you prepare for a role?
I love figuring out human nature. I don't worry about diagnosing my characters—they don't have to be out in the real world. I'm a detective and psychiatrist as well as a vessel. The psychology of the character is everything. It's not about labeling; it's about understanding why they do the things they do.
You've been open about being diagnosed with bipolar disorder. Rather than taking meds, you use your art and your passion to control the illness. What does being an artist give you?
I think every human could take an acting class and get something out of it. You can play, imagine, get out of your comfort zone and experience a kaleidoscope of feelings. I play around with feelings that can be really powerful—all these parts of my brains light up! Acting is really hard, too. Every day I'm revisiting the same difficult or destructive emotions. I have to figure out how to balance it out.
For the second season of American Crime [in which she played a woman who physically abused her child's nanny] I found myself doing karaoke—singing for three hours—to balance my psyche. For Bessie, I go outside to Bryant Park, which is the closest nature to the theater. I just sit for 15 minutes, not on my iPhone, really take in the surroundings, and look into the trees. Yesterday, I saw two gray catbirds that I think were breeding. I started looking for their nest. It's really meditative.
Meditative moments must be necessary when you're doing live theater. How terrifying is it?
I love theater, but it is terrifying, no matter how long you've been doing it. There's no buffer, no barrier. The stakes are high. If the audience doesn't like the show, it's over. If the critics don't like it, you're closed. You've got to have "it" at a certain level, or you're done. You go out every night and leap into the void. Live theater is bizarre, a Zen koan, the hardest thing!
Do you have a pre-show ritual?
It's a different process with each role. For Marvin's Room, I walk around Bessie's kitchen, my kitchen, before the curtain goes up. It's a domestic grounding in the objects—thinking of the simple things that need to get done, like making tea.
How do you unwind after the curtain goes down?
I'm drained and wired. Because I'm living and breathing political stuff right now, I watch political shows. After Saturday night's performance, Rachel Maddow wasn't on. There was no breaking story, so I watched news bloopers for an hour. They made me laugh.
You do comedy, drama, and horror movies like The Conjuring. How would you define your artistic personality?
I'm a good actor who's been doing this for 30 years. I can do a lot within reason. Like every actor, I'm not right for every role. But if you want a performer with soul and depth, I'm the one!