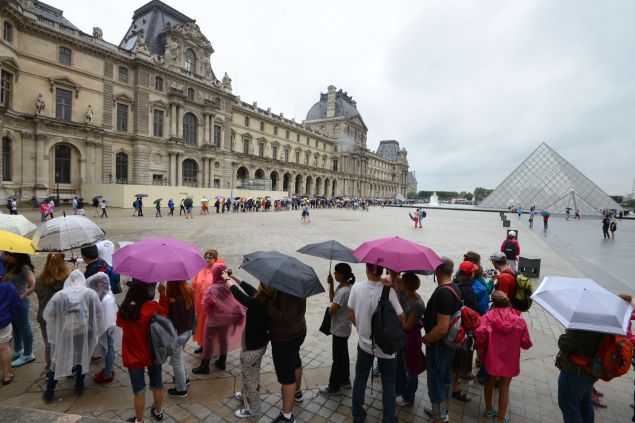 For the second summer in a row, torrential rains and rising waters from the Seine River have threatened the priceless treasures inside Paris' Louvre museum. Last week, heavy storms that occurred between July 9 and 10 caused water to leak into the world famous museum's Islamic Art and Eastern Mediterranean galleries, first floor and French painting galleries on the second floor, reports the Art Newspaper.
At least three artworks sustained damage, including two of Poussin's 17th century Four Seasons painting series, Spring and Autumn, and De Troy's 1736 Triumph of Mordecai, according to a statement from the museum. The damaged paintings have been removed from the galleries.
The museum temporarily closed to the public in the aftermath of the storm, which brought over two inches of rain to the city, according to Hyperallergic. While the museum did reopen to the public on July 10, officials took precautions to remove additional works from areas of the French painting galleries that sustained visible water damage, including pieces by Georges de La Tour and Eustache Le Sueur.
Meanwhile, books at the city's Bibliothèque Nationale de France also suffered damage from the heavy rains. Approximately 143 books were affected in the library's medieval manuscripts section, according to Le Monde, and 14 have been slated for conservation.
Last June, heavy rains across Europe prompted the Louvre and the Musée d'Orsay to close and evacuate artworks from its lower level galleries to higher ground, putting into action a series of worst case scenario emergency flood plans.