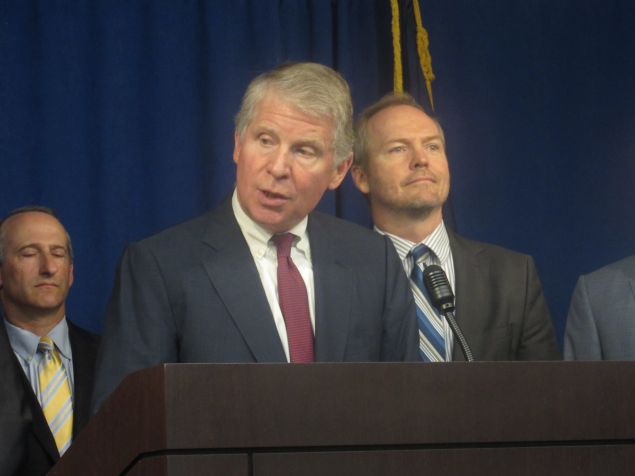 Manhattan District Attorney Cyrus Vance said he's "not opposed" to subsidizing subway fares for low-income New Yorkers, but he said he doesn't have enough knowledge about the budget, deferring to Mayor Bill de Blasio.
Last week, Vance announced that, starting in September, he will no longer prosecute the majority of people charged with theft of services — or turnstile jumping — unless there is a public safety threat. He said he will work with the NYPD and the Mayor's Office of Criminal Justice in the next couple of months to lower the number of people prosecuted in Manhattan, which will entail issuing summonses instead of arresting people, offering pre-arraignment diversion and issuing desk appearance tickets.
If individuals finish a diversion program, the office will not prosecute the case and the individual will not have to appear in court; their records also would be sealed.
"That's really a question for the mayor," Vance said when asked about subsidizing fares for low-income residents during an interview Wednesday on NY1. "Obviously, I think it would be wonderful if we all had a free subway system in New York City for everybody. But that is a decision that the mayor is going to have to make, whether there is sufficient funds to provide reduced fares. I'm not opposed to it but I don't really think I have enough grasp of the budget."
Vance said that since 2010, his office has worked with the NYPD and the Mayor's Office of Criminal Justice to end the prosecution of "tens of thousands" of low-level cases.
He said the new policies will mitigate adverse effects in areas such as immigration, housing and employment, and would allow his office to focus its resources on more serious crimes such as domestic violence, drunken driving, stalking and assault. Case backlogs would decline in Manhattan Criminal Court, strengthen ties between law enforcement and community and reduce the jail population on Rikers Island, he added.
De Blasio, for his part, refused to finance a $50 million pilot program for half-price Metrocards, arguing it was the state's responsibility to fund the program. The MTA, for its part, said that it was doing its part, pointing to the Access-A-Ride MetroCard program as well as free fares for students.
The mayor also stoked some controversy when, in response to news of Vance's new policy regarding fare evasion, he said that frequent fare beaters are "asking for higher consequences" and that there is "no way in hell anyone should be evading the fare."
The mayor's office said that the city, its residents and daily workforce population contribute $10.9 billion annually toward funding the MTA operations, which it says represents 74 percent of the MTA's $14.8 billion annual operating budget.
They said that this includes $1 billion in annual direct funding support by the city and about $9.9 billion in yearly indirect funding that includes taxes and fees, firebox collections, NYPD subway police costs and city debt service costs for MTA projects. They also said that the city contributes more than $60 million per year to help schoolchildren, elderly and disabled riders afford transit fare and committed $2.5 billion toward the MTA's 2015-2019 capital plan last year.
"The proposal is a noble one but the mayor has been very clear: the MTA is the responsibility of the state and they should consider funding the program," a mayoral spokeswoman said.
The Coalition to End Broken Windows called on Vance to adopt more "non-police" solutions to address fare evasion, such as subsidizing subway fares and creating more public bathrooms. They called the latest development a "half-hearted" effort to "combat decades of racist policing"—and insisted that the policy still perpetuates the notion that people should continue to be punished "for being too poor to use public transportation."
Vance's alternatives of civil summonses and community service, they said, will still overwhelm the majority of people arrested and ticketed for fare beating. They also said that they want to see the city completely disavow the controversial "broken windows" policing method that targets smaller crimes to stave off larger ones, not just reform it.
"Well, it's hard to please everybody and as in this case, there'll be some who find it too much, some who find it too little and really I try to listen to both sides but I try to focus on those things down the middle that I think will actually get results and be fair," Vance said.
The Coalition to End Broken Windows, however, took to Twitter during Vance's interview on NY1 to reiterate their dissatisfaction. The activists pointed to the $160 million NYPD Mobility Initiative that de Blasio, Vance and former Police Commissioner Bill Bratton announced in October 2014 that would equip officers with up to 41,000 mobile devices, including tablet computers and handheld devices.
At the time, they said the initiative aimed to make law enforcement efforts more efficient, boost safety for both New Yorkers and police officers and bring about fairness in the criminal justice system. That initiative showed Vance could fund MetroCard fares for the poor if he wanted to, they said.
Acting Brooklyn District Attorney Eric Gonzalez, the Legal Aid Society, Queens Councilman Rory Lancman, chairman of the City Council's Committee on Courts and Legal Services, have praised Vance's decision on turnstile jumpers as progress. Some groups including VOCAL-NY and mayoral and candidate and activist Bob Gangi, however, are treating the development with a bit more caution.
This story has been updated to include a comment from the mayor's office.