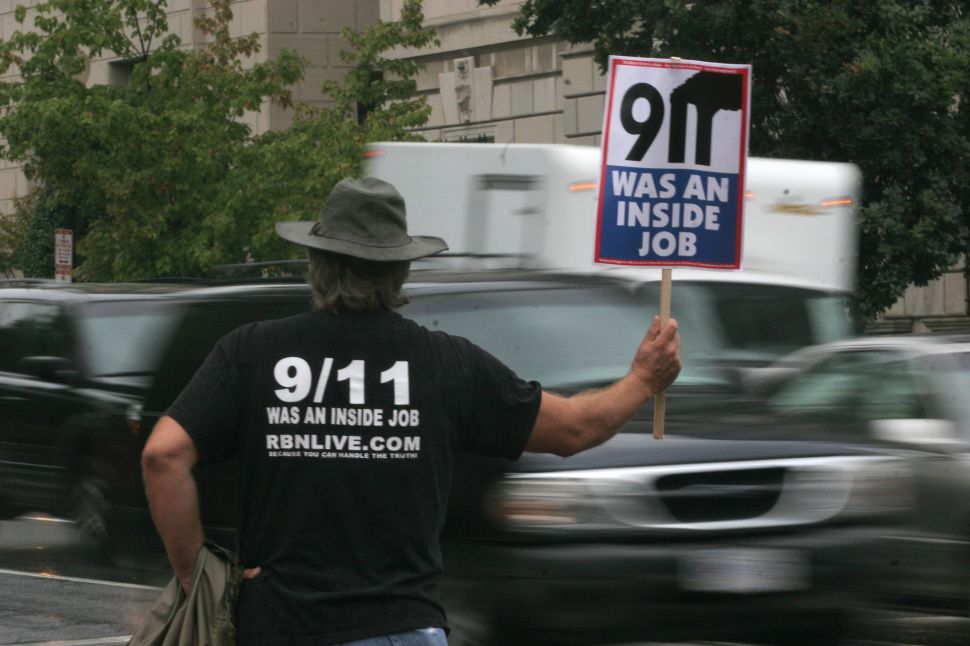 If there's one phrase that really bothers NYU Professor of Media Studies Mark Crispin Miller, it's "conspiracy theory." The outspoken voice of public dissent considers it a "meme" used to "discredit people engaged in really necessary kinds of investigation and inquiry."
For Miller, those investigations include, among others: did the U.S. government have foreknowledge of the 9/11 terror attacks and choose to do nothing? Were Bush, Cheney, Rumsfeld and others surreptitiously trying to dismantle the republic envisioned by the founding fathers? And is the CDC concealing links between the MMR vaccine and autism?
"It's one that you run into time and time again," Miller said on an October 11 episode of CounterPunch Radio. "To the point that I now believe that anyone who uses that phrase in a pejorative sense is a witting or unwitting CIA asset."
With representatives at the highest levels of government attacking traditional sources of information and even the concept of objective facts, Miller, a tenured professor in NYU's Steinhardt School, displays a similar level of skepticism towards well-established narratives and the people who support them. In an age in which the empirical is under threat, what responsibility does NYU have to ensure that facts still matter in the classroom?
Miller is open about his fringe theories in his classes. In September, he invited undergraduate students in the course "Mass Persuasion and Propaganda" to attend the Justice in Focus conference on the 15th anniversary of the 9/11 attacks. According to the event website, the gathering sought to chart "a path toward exposing the truth and obtaining justice for the attacks that killed nearly 3,000 innocent victims and that continue to serve as the pretext for the Global War on Terrorism."
Miller delivered opening remarks. "9/11 was a crime against humanity," he said to the crowd. "And we frankly don't believe the government's conspiracy theory of how that happened."
When asked about his decision to invite students to the event, Miller said he hoped it would be educational. "Any students interested in that subject could learn something at that conference that they wouldn't get elsewhere," he wrote. "Or from the media coverage (such as it was)."
Students of Miller's said their fellow classmates were generally respectful of his views and rarely disagreed openly in class.
"People spoke up to contribute other conspiracy theories," said Lyla Hurley, a recent graduate who took Miller's course "The Culture Industries" in 2016.
When initially contacted, Miller was wary of being interviewed. He believed I intended to get him fired because I had concurrently contacted some of his colleagues asking for comment. In declining an interview request, he also referenced a disparaging September 12 article in Vice entitled "9/11 'truthers' vow to never, ever forget." "Vice specializes in attacking 9/11 heretics," he wrote to me. "I assume your hit-piece was meant for them." Later he responded to some of my prompts via email.
Professor Rodney Benson, Miller's departmental chair responded in writing. "As a scholar of the university, Mark, like all academics, is entitled to his own views, whether or not they are shared by the larger NYU community," he wrote. "There is really nothing more to say."
But is that really where the conversation begins and ends?
Miller has not always been associated with extreme views. He's had a long and varied career as a writer, turning his critical eye toward the George W. Bush administration (and every other modern administration), the scourge of corporate advertising, the U.S. election process, TV culture, American consumerism, and even his own university, NYU. In a popular 2001 book The Bush Dyslexicon he uses Bush's many speech gaffes to reveal damning truths about the former president's ideology and psychology.
The social commentator Christopher Lasch said of Miller's television criticism that "his analysis…is original and highly instructive," and Studs Terkel said of The Bush Dyslexicon that it will "give us heart and voice" in the face of a Bush presidency. Terkel also called it a "work of outrage."
Miller aspires to be a public intellectual in the European tradition and has been featured or has appeared in outlets including Harper's, The New York Times, CNN, Frontline, and the Daily Show. Since 2005, however, after publishing two screeds against the Bush administration in which he alleged election theft via vote manipulation and suggested the possibility that the administration allowed the 9/11 attacks to occur in order to gain political advantage, Miller's public appearances have waned.
John Bautista, a 2016 NYU graduate, took Miller's course during his sophomore year.
"The class was taking it with a grain of salt," he said of Miller's views on 9/11. "He's famous in the department for his 9/11 theories."
The class "Mass Persuasion and Propaganda" promises to teach students to think critically about political messaging delivered through channels ranging from campaign ads, presidential press conferences and "the media"—a term curiously placed in quotation marks in the syllabus. The word "information" also frequently receives distancing quotation marks when referring to the content of social media or television news.
A sample syllabus for "The Culture Industries" states that students are required to read the Times daily but with a critical stance: "One must get some sense of what's not there—i.e., those stories that the Times has deemed not 'fit to print.'" The publications Consortiumnews, AlterNet and Truthout are also required reading—but with no similar caveat.
Some students were wholly receptive to Miller's views. Lacy, who declined to provide her last name, was already distrustful of the mainstream 9/11 narrative before entering college and Miller reinforced her perspective. A pre-law senior at the time of our interview, she recalled watching 9/11 documentaries with her father, who, on one occasion, turned to her and said, "You know, jet fuel can't melt steel beams."
Lacy's father was alluding to a belief of many 9/11 skeptics that the Twin Towers collapsed from a planned demolition or some source other than the commercial jetliners.
This theory has been discredited. Even though the melting point of steel, around 2,500 degrees, was not reached from the burning jet fuel, the buildings' steel frames did not need to melt in order for the surrounding concrete to crack. Furthermore, the fire that subsequently spread throughout the buildings reached higher temperatures and caused more structural damage than the initial combustion of jet fuel.
Lacy said Miller was her favorite professor. When asked about her classmates' responses to his unconventional views, she said he was rarely refuted openly. "People asked a lot of questions," she said, "but no student said, 'You're wrong."
Bautista shared some of Lacy's positive impressions of Miller.
"He was very rational about the way he shared his thoughts," he said. "Whether or not you agreed with him, his opinions and how he formed them were fascinating."
Alessia Miro, a recent graduate of the Steinhardt School, took Miller's class during her sophomore year. "It was the one class that really made you think out of the box," she said.
Hurley, who recalls Miller describing a theory in class about "two guys across the bridge who watched the buildings burn," gave a different explanation for her classmates' deference.
"I wouldn't say anyone challenged him really," she said. "But people want good grades so that may be why."
Hurley said that while many of her classmates loved Miller and were eager to express their admiration, she thought he lost credibility as the semester wore on.
"He challenged literally everything," she said, adding it got "kind of old after a while."
Miller may be on the fringe when it comes to his views on 9/11, but he is certainly not alone. Accompanying him as signatories to the 2004 Truth Statement are former Green Party presidential candidate Ralph Nader, author and historian Howard Zinn (who later disavowed the notion that Bush had prior knowledge of the attacks), former six-term Congresswoman Cynthia McKinney and actress Janeane Garofalo. CNN commentator Van Jones also signed the statement but removed his name following a controversy.
Studies have shown a significant portion of the American public is skeptical of the established narrative. According to a 2006 public opinion poll conducted by the Scripps Survey Research Center, 36 percent of respondents thought it either "Very Likely" or "Somewhat Likely" that "people in the federal government either assisted in the 9/11 attacks or took no action to stop the attacks because they wanted the United States to go to war in the Middle East."
From the same poll, 16 percent of respondents thought it either "Very Likely" or "Somewhat Likely" that "the collapse of the twin towers in New York was aided by explosives secretly planted in the two buildings."
Miller says he's noticed students becoming increasingly receptive to fringe theories over the years.
"I was delighted and heartened by their response," he said after showing the 2016 film Vaxxed to his class. The film was removed from the Tribeca Film Festival for alleging a cover up of a link between the MMR vaccine and autism, a theory widely discredited by researchers and blamed for endangering the public by reducing vaccination rates.
"I have this experience every semester and have for the last several years. There's been a real sea change in the way people think about issues that have always been successfully dismissed as crackpot stuff, always successfully dismissed as conspiracy theory," he said in conversation with producer Del Bigtree in a video posted to Facebook.
Miller may be onto something regarding his students: Studies have shown a growing distrust of mainstream institutions and information sources, particularly among young people. In January 2017,the Economist cited the American public's lack of trust in its own government in downgrading the U.S. to a "flawed Democracy," writing the grade was due to "a continued erosion of trust in government and elected officials." A 2015 Harvard University poll placed trust in the media among 18- to 29-year-olds at 12 percent, an improvement from the previous year. According to the study, young people trust the media less than Wall Street. The same poll showed trust in Congress at 17 percent.