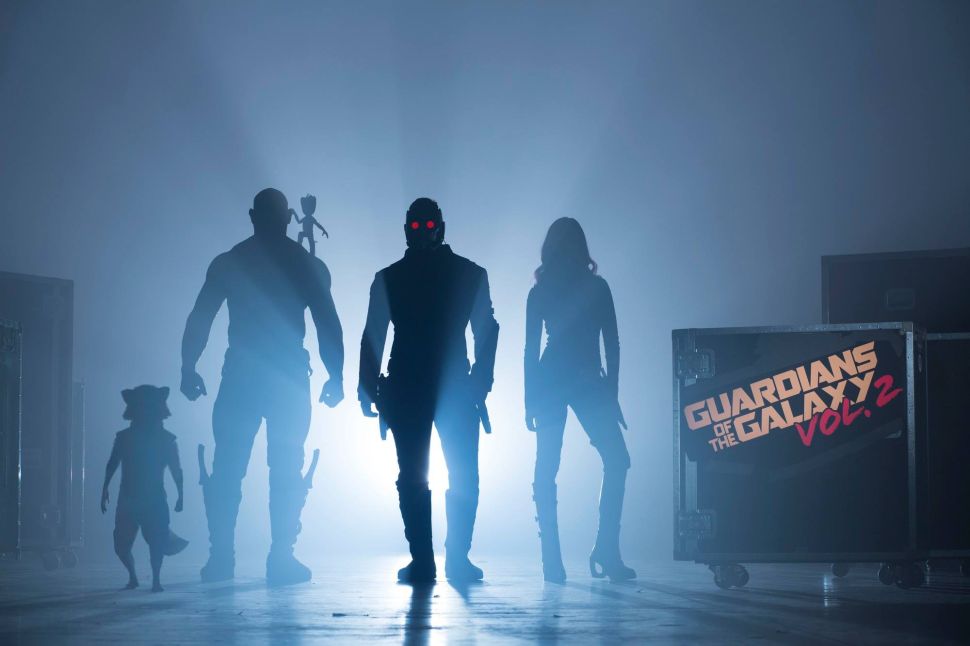 Fans have long wondered what the future holds for the Marvel Cinematic Universe. After the fourth Avengers movie drops in 2018, many of the franchise's main stars—Robert Downey Jr. (Iron Man), Chris Evans (Captain America), Scarlett Johansson (Black Widow), Chris Hemsworth (Thor) and more—will have fulfilled their contracts with Marvel Studios. It's always possible that they can sign on for more, but it's looking like the MCU's founding heroes will call it a day at that point.
But what about the Guardians of the Galaxy? Will there be life for them post-Avengers 4?
Director James Gunn helped answer that question when he responded to a rumor on Twitter of a looming MCU reboot.
Gunn is responsible for 2014's surprise breakout summer hit Guardians of the Galaxy and this year's sequel. Filming on the mysterious Avengers sequel will begin later this year, and principal photography for the upcoming Avengers: Infinity War recently wrapped.
Rumors regarding a reboot of the MCU may have been unintentionally introduced by Marvel Studios President Kevin Feige during an interview with Collider in which he said there might not be a fourth "Phase" for the current version of the MCU, instead hinting at a "new thing."
"Certainly as we get to Infinity War there is a sense of a climax if not a conclusion to, by the time we're at untitled Avengers 4, the 22 movies that will have encompassed the first three phases of the MCU," said Feige. "And what happens after that will be very different. I don't know if it's Phase 4, it might be a new thing."
It's possible that Feige merely meant that the primary focus of the "new" version of the MCU will fall on new heroes. Outside of the official Avengers roster, the MCU boasts Doctor Strange (Benedict Cumberbatch), Spider-Man (Tom Holland), Black Panther (Chadwick Boseman), Captain Marvel (Brie Larson), Ant-Man (Paul Rudd) and others. Perhaps they'll become the central heroes after the likes of Iron Man and Captain America hang up their towels.
In the meantime, Gunn used his Twitter to provide some updates on the third Guardians film.
Avengers 4 is slated for a May 4, 2018, release. Guardians of the Galaxy Vol. 3 does not yet have an official release date.