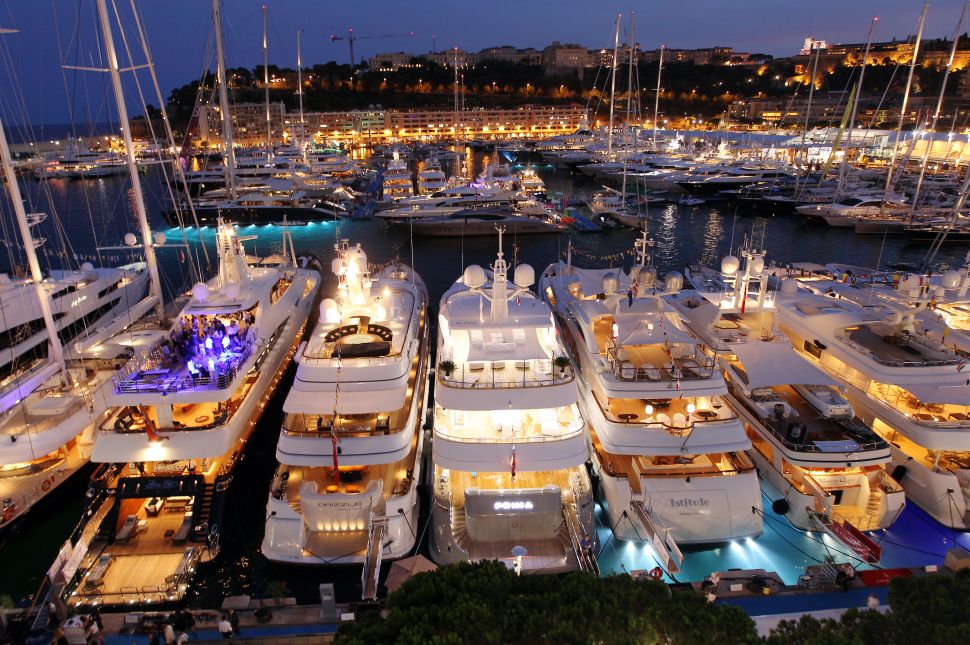 Yacht-setters, i.e. the maritime equivalent to jet-setters, circle the globe on mega yachts, the price tags of which can easily equal the yearly-budgets for a small nation. But don't think it's easy being rich—these gazillionairs have their yachting woes. The Biggie: when their mega yacht breaks down in a foreign port.
I asked Sean Blue, Head of Global Watercraft for AIG Private Client Group (which represents the owners of more that 300 80-foot-plus super yachts worldwide), to tell me about mega yachts and their owners.
Who are the owners of super yachts?
I can't divulge our clients, but I can share that mega yacht owners include CEOs of Fortune 500 companies, captains of industry, entertainers, engineers, inventors, rulers, owners of manufacturing companies, billionaires, and generally people who are leaders in their fields. Mega yachts are generally defined as yachts greater than 100 feet or longer, all the way up to the current largest yacht in the world—AZZAM, which is 180.6 meters long (594 feet).
Tell me about the distances these yachts can navigate.
This depends on the specifications of the yacht and what it was designed for. Some are not designed to travel long distances and instead are built for speed, or for local cruising, or with maybe enough range to make a trans-Atlantic crossing safely. But others are built with an incredible amount of range in mind and can travel some 8,000 nautical miles without refueling, while others are designed to explore arctic regions, or both. Circumnavigations are not uncommon and large yachts regularly make ocean transits—whether cruising from the Mediterranean to the Caribbean, or en route to Fiji across the Pacific. The only real limitations are time and money. And for most mega yacht owners, it's just time.
Are these really ships—how do you differentiate a yacht from a ship?
Some of them really are ships and are built that way, but the difference lies in how they are used. A yacht is a vessel built for the pleasure of her owner. The best yachts are built to commercial ship standards in terms of seaworthiness, safety, and technology; often times even a higher standard.
How about the price tag for these yachts?
$1,000,000 a meter is the rule of thumb, but this can vary depending on the design, builder, systems, interiors and a great many other things. The largest yacht currently in the world, AZZAM, is reported to have cost over $700M to build. In addition to the yachts themselves are the interior décors and furnishings, wine collections, fine art collections, and its "toys" and tenders (support vessels).
What happens when a yacht breaks down on the other side of the globe?
Mega yachts are managed and run by highly trained professionals from the captains and crews to the yacht managers that are often hired to manage all the aspects of owning and running a yacht. Not unlike the world of aviation, maintenance is ongoing, so an all-out breakdown on the water whereby you have a dead ship is a relatively rare occurrence. Fire aboard a yacht is actually a little more common, which is the primary source of large losses on yachts that AIG has seen, and something to which we pay a lot of attention by providing shipboard fire training for crews and local firefighters in seaside communities. Whether it's a breakdown or a fire, after the initial response to save lives and property, the yacht may call for assistance from a neighboring ship or vessel and in some cases call a towing or salvage company for assistance to get the yacht back to the nearest safest port to evaluate damage and decide on next steps. That is usually when specialty insurers are called to facilitate the logistics and repairs.
What if it just needs work?
Most of the work performed on a super yacht is performed by its crew. If there is need beyond that, specialists can be flown in from all around the world. Larger yachts are like big commercial buildings with air conditioning systems, watermakers, plumbing, electrical, hydraulics, refrigeration, and virtually any mechanical system you can imagine. If expertise is not available locally, you get the experts to come to you.  
Where do they go for repairs?
The best local place they can find that can address the yacht's specific need. There are numerous facilities around the world that can accommodate and repair mega yachts, but as you get farther from the Western world, these facilities may not specialize or deal with yachts everyday and may be more directed toward commercial work and a more industrial level of care and finish quality. Often in these situations, repairs are made for the safety and seaworthiness of the yacht and cosmetics are handled at a later date at a facility specializing in the high level of yacht fitting and finish.
Does work need to be done on dry land?
Some works can be accomplished while the yacht is in the water, even if it involves work to the bottom or propulsion or stabilizer equipment and that may sometimes be a safer and less expensive route if it's feasible, but some maintenance and repair does require a haul out on land or dry dock.
How much does a typical yacht weigh?
There really is not a typical yacht, and the weight can vary greatly. Yachts are generally measured in gross tonnage, which is a volumetric measurement.  A yacht at the smaller end of the Mega Yacht segment, such as a 112-foot Westport, displaces 275,000 pounds and carries a gross tonnage of 207 gross tonnes. AZZAM, the largest yacht in the world, which is  590 feet long and was built by Lurssen in Germany, is reported to be over 13,000 gross tonnes. 
Are there places in the U.S. that repair yachts?
The U.S. is blessed with many great facilities around the country and on every coast that are capable of repairing and refitting yachts and mega yachts.   Some are boat and ship yards that are also involved in building yachts, while some are mixed between private and commercial work, and others cater exclusively to the mega yacht community. South Florida is certainly an area of concentration for these facilities, but not the only region where one can find them.
Are there cranes capable of lifting these heavy yachts?
Travel lifts can accommodate some pretty large yachts, but at a certain size, a dry-dock might be necessary and in these cases, this can certainly limit your options on where your yacht can be hauled and repaired.
An aside:
Marine Group Boat Works in San Diego caters to mega yacht owners. Its six-story traveling crane is capable of lifting 665-tons. Each tire (there are 16) stands a foot taller than a grown man.  The crane is said to be the strongest mobile crane in the U.S. It made record books when the 626 ton mega-yacht Ronin (previously owned by billionaire Larry Ellison – now owned by Venezuelan banker Victor Vargas), became the largest private yacht ever to be lifted by a moving crane.