Self-driving cars leave people uneasy, but what about self-driving vehicles that take folks around places where traffic moves slowly? In city centers and tourist areas, vehicles never get up much velocity, especially not the ones that help multiple people get around, such as shuttles and buses.
We've argued that the right initial market for self-driving cars is small towns, corporate campues and universities, environments where the variables and stakes can be minimized. While all the attention for robot vehicles here tends to go to Tesla, Waymo and Uber, a largely European industry has been quietly creating a supply of less glamorous but extremely useful vehicles, self-driving trolleys. French trolley-maker Navya just announced its first manufacturing facility in North America.
Navya will build a 20,000 square foot facility for the construction of its self-driving trolley, the Arma. It aims to construct 25 vehicles there this year. It has 45 vehicles deployed around the world already. These robots have a max speed of about 27 miles per hour, but typically travel more like 12 miles per hour (the speed of a typical bike ride). Each one can transport about 15 people.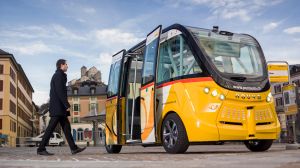 The plant will be built in Saline, Michigan, a suburban town just south of Ann Arbor with a population of less than 9,000. The Michigan Economic Development Corporation estimates that the plant will support 50 new jobs.
"As the greater Ann Arbor area continues to establish itself as a hub for autonomous vehicle development, we feel it's the perfect location for us. Strong government and community support for mobility initiatives combined with an excellent talent pool provide the ideal environment for our expansion in North America," Navya CEO Christophe Sapet said in a press release.
"I have no doubt that they will become an important and valued member of our already stellar business community," Brian Marl, Saline's mayor, said in a release.
Ann Arbor, home to the University of Michigan, is already testing lots of self-driving vehicles and technology that will assist self-driving vehicles, such as sensors and connected infrastructure, as The New York Times reported.
The city of Las Vegas deployed a Navya vehicle in its innovation district in January. Easy Mile has deployed similar trolleys in San Ramon, California.
These vehicles could go a long way toward helping the general public get comfortable with robots at the invisible wheel. No word yet on who Navya expects to buy them.