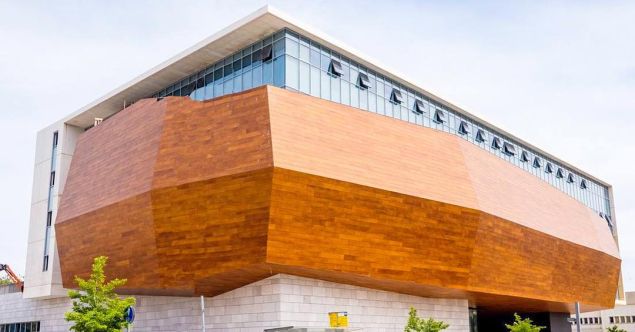 Most often, when history enthusiasts think of the Middle East it is its many religious and culture sites that come to mind: Petra, Palmyra, the Western Wall and the Dome of the Rock, among many others. However, the region was once home to some of the earliest known human civilizations in the world, and its varied natural landscape has made it a hot spot for scientists studying biodiversity and ancient species. Now, the region is finally getting its first dedicated natural history museum with the opening of the Steinhardt Museum in Tel Aviv, Israel, reports Smithsonian magazine.
The new museum, which is scheduled to open to the public in the fall of 2017, will feature nearly 5.5 million specimens including animals, plants, early human fossils and skeletons, according to the institution's website. The museum's collection will be comprised of objects previously only available to scholars with access to Tel Aviv University's National Herbarium, the Zoological Museum and the Biological Anthropology Museum. The Steinhardt will still be affiliated with and overseen by Tel Aviv University, but for the first time its assorted collections will be housed and displayed under one roof, in the museum's unique 100,000-square-foot building which is shaped like an ark.
"The Middle East is a lacuna in terms of knowledge in biodiversity and natural history collections," professor of mammalogy at Tel Aviv University and the chair of the Steinhardt museum told Smithsonian. "We think there's an international community who want to know what happens here."
Major discoveries just in Israel alone include the recovery of the world's oldest homo sapiens fossils outside of Africa: the 90,000-year-old Skhul cave skull and 50,000-60,000-year-old Manot cave skull. As well, the country is the southernmost location where Neanderthal remains have been uncovered, including the most complete skeleton of its kind "Moshe."
The region certainly has no shortage of human history, however museum officials hope to spotlight its dynamic natural landscape and environments too. When the museum opens in the fall, it will feature a show on the role humans have played in shaping the Eastern Mediterranean's ecosystems, which Dayan calls "the fastest changing habitat on Earth."
Not only will the museum provide a place for tourists interested in the region's rich natural history to learn, but it will also serve a growing population of scientists flocking to the area each year for research; Smithsonian reports the number of scholars visiting the Middle East annually has grown from 150 to 500.