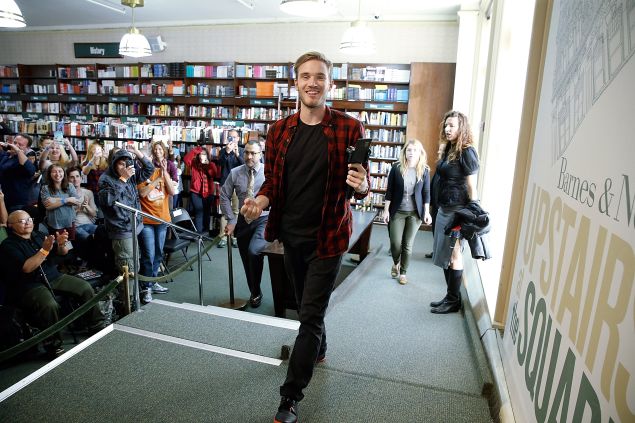 Stop me if you've heard this one before: an "ordinary" person becomes a viral celebrity after doing something funny or heroic. But before long, the internet uncovers a dark secret about their past and the person becomes a pariah.
This is a regular occurrence online. What you may not know is that the trend actually has a name: Milkshake Duck.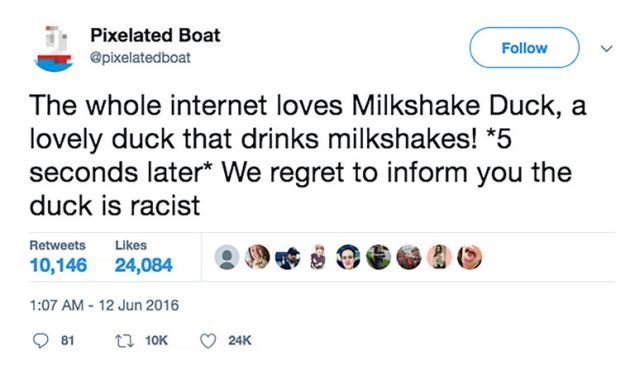 The meme may be over a year old, but it's gotten more visibility in recent months as the phenomenon it describes has become more prevalent.
We at the Observer have covered our fair share of Milkshake Ducks recently. So, for your holiday weekend enjoyment, here are five people who went from viral to venomous in a hurry.
PewDiePie
This comedian and video producer (whose real name is Felix Kjellberg) became a sensation for his vlogs and video game commentary—over 55 million people subscribe to his YouTube channel. But PewDiePie has used the n-word in several of his non-gaming videos, and face-swapped Saturday Night Live star Leslie Jones with Harambe the gorilla.
The straw finally broke the camel's back in January, when PewDiePie tricked two Indian men into holding up a sign that read "Death to All Jews." Even after apologizing for this, PewDiePie didn't let up—he soon put up a video featuring a man dressed as Jesus Christ saying "Hitler did absolutely nothing wrong." He played the Nazi party anthem and a "Sieg Heil" voiceover in subsequent videos.
Maker Studios, a digital media brand owned by Disney, severed ties with PewDiePie as a result of this—the company had a joint venture in which it helped him with business matters like video production and merchandising. But because of his milkshake ducking PewDiePie now has to produce his videos independently.
Tim Soret
One of the creators of the highly anticipated video game The Last Night, Soret was riding high after last month's Electronic Entertainment Expo. But a couple of eagle-eyed Twitter users noticed that Soret had made some anti-feminist comments about the GamerGate movement.
"The GamerGate people are for journalistic integrity, honest debate, transparency, inclusiveness and egalitarianism," he wrote in the (now deleted) tweets. "I'm against feminism, because it's getting more and more skewed. I am for egalitarianism. I don't care boy, girl, alien."
One person even Photoshopped "milkshake duck" on The Last Night cover art.
We'll find out if Soret's actions had an impact on sales when the game is released in 2018.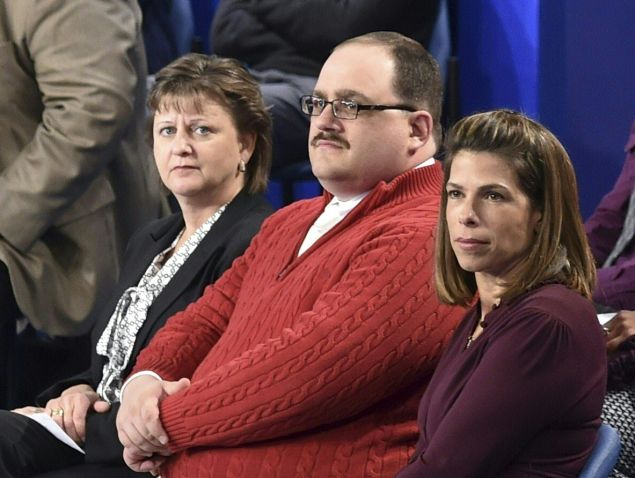 Ken Bone
The biggest star of the second 2016 presidential debate wasn't a politician—it was Ken Bone, a coal plant operator and undecided voter. His social media following skyrocketed, he became an instant meme and Amazon sold out of his bright red Izod sweater. Finally, after a bruising election, here was an ordinary American we could all get behind.
Or not.
Turns out Bone's Reddit account is filled with porn commentary and information about his sex life. Oh, and he also thought the killing of Trayvon Martin was justified.
Dang it Bone, we were all rooting for you. Why'd you have to ruin it?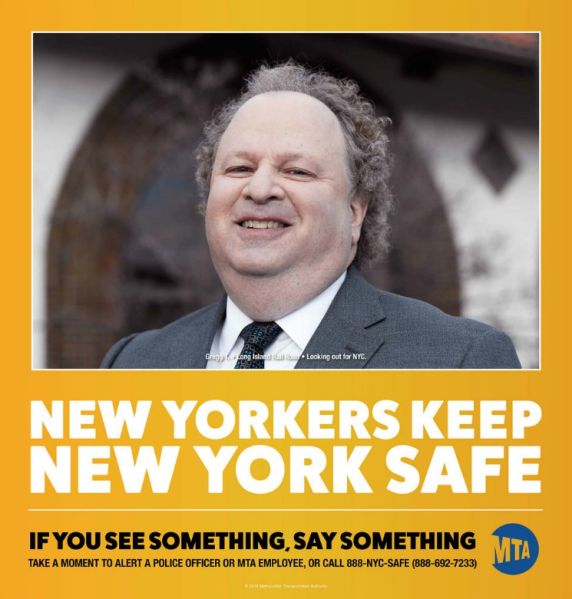 Gregg Turkin
The MTA's "If you see something, say something" signs are ubiquitous in the New York City subway, and their most famous poster boy is "Gregg T" (Turkin), a Long Island Rail Road passenger who saw some cars "parked where they shouldn't be" and called the MTA hotline. Gregg became an unlikely hero and immediate meme.
But since we can't have nice things, of course Turkin turned out to be an NYPD lawyer who bullied Black Lives Matter protesters into confessing that the department had probable cause to arrest them. This is part of an NYPD effort to stop people suing them for false arrests.
Maybe Turkin's ad should say "If you see something, coerce something."
Ryan Belz
The 23-year-old was riding high after breaking the Plinko record on The Price Is Right and winning $31,500—his euphoric video celebrating the achievement went viral. But it turns out Belz has a secret past: not only is he a budding meteorologist, he was almost a GOP delegate at the 2016 Republican National Convention. He even appeared on CNN to detail the shame and harassment he was subjected to as a millennial Donald Trump supporter.
What have we learned today, boys and girls? The internet giveth, and the internet taketh away.