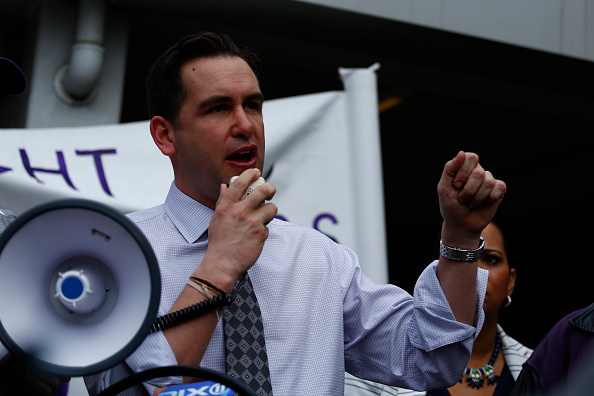 Things are heating up as two Hudson River towns –Jersey City and Hoboken– prepare for November mayoral races.
In Jersey City, incumbent Mayor Steve Fulop and his council team are leading the next-closest challenging slate — fronted by attorney Bill Matsikoudis– by almost two-to-one. So far, Team Fulop has $584,019 in the bank with $360,000 of that raised in the second quarter of 2017 alone, according to filings with the state Election Law Enforcement Commission. Matsikoudis and his team have about  $293,000 total cash-on-hand, according to his campaign.
The second quarter figures for Fulop and his team include $280,473 raised by Team Fulop, $58,104 by Fulop for Mayor and $23,600 for the Jersey City Democratic Committee. In the second quarter, Team Matsikoudis brought in $54,370 and Matsikoudis 4 Mayor brought in $29,710.
In an e-mail, Matsikoudis said: "We know we can't compete with an incumbent who runs a transactional fundraising operation that trades, jobs, contracts and political favors for contributions, but I'm proud that we have approximately $300,000 in the bank and I know we will have the resources we need to get our message out."
In a statement, Fulop's team touted the fact that over 500 individuals had donated to his campaign, many of them small-dollar donors who contributed less than $100 per donation. Much of Fulop's fundraising comes from Hudson County Democratic Party insiders including Council President Rolando Lavarro and The Hudson County Democratic Organization.
In Jersey City's neighbor to the North, Hoboken, mayoral candidate Michael DeFusco has the fundraising edge over his competition. According to ELEC reports, DeFusco raised over $115,000 during the second quarter, with significant support coming from organized labor groups. DeFusco's total is about $205,000.
The second-highest second quarter total was Councilman Ravi Bhalla, outgoing Mayor Dawn Zimmer's pick to replace her, who raised about $23,000 in the second quarter. Bhalla's total is about $151,000. But, while Bhalla trails DeFusco so far, it is worth noting that he only announced his intentions to run in mid-June after Zimmer announced she would not be seeking a third term as Hoboken mayor. DeFusco launched his mayoral campaign in May and was rumored to be weighing a bid for months before he made it official.
Two other candidates who are vying for the Hoboken mayorship –Freeholder Anthony Romano and Council President Jennifer Giattino– did not file reports with ELEC for the second quarter.