If you had told 18 year-old me that I would have had a blast at Montreal Jazz Fest, I would have given you a bewildered stare. While I have always been aware of jazz, it has taken me until mid-adulthood to fully appreciate its virtues and charms. As a teenage metalhead, I was fixated on loud, aggressive music, but I also greatly respected people who could tear it up on their chosen instruments. So it makes sense that the superior chops I loved in some heavy rock would be more than echoed in the highly proficient skill and emotiveness of jazz players.
I didn't acquire my first jazz release until I picked up Billy Cobham's 1973 debut album Spectrum the summer before college. I had spent over four years immersed in the world of metal. I figured it was time for a change, and I recalled that my drum teacher had introduced me to Cobham's music a year earlier. Spectrum was the perfect segueway into jazz given Cobham's ferocious drumming, Jan Hammer's hyper kinetic keyboard work, Lee Sklar's grooving bass, and Tommy Bolin's snarling six-string work. It was a great combination of sonic bombast and highly nuanced playing—Cobham could make super fast and quiet tom work sound like the pitter patter of rain. I later learned that the double bass drum work so common to thrash metal had its roots in '40s and '50s jazz.
My musical tastes soon expanded into myriad directions such as ambient, goth, world, and experimental music. (I've also remained a loyal headbanger.) Although I delved sparingly into jazz over the next few years, my writing for certain jazz and education focused publications in recent times has encouraged me to delve more into the genre, from the ebullient trumpet work of Arturo Sandoval to the vibrant violin playing of Regina Carter. To mainstream ears, jazz gets lumped into one broad group. Yet just like how within metal and rock numerous variants and subgenres flourish, the lines are further blurred when you're dealing with improvisational music.
This leads me to this year's Festival International de Jazz de Montréal (aka Montreal Jazz Fest), the largest festival of its kind in the world, spanning 11 days, hundreds of acts, and a plethora of musical styles. Two million people show up annually. I was encouraged to attend and decided that it was time again for me to delve into a new musical realm. The Festival invited me up, travel arrangements were made, and my girlfriend Susan and I ventured north on Friday, June 30th, the third day of the event.
Jazz Fest absorbs much of downtown Montreal, with streets closed off and numerous stages dotting its urban grid with an endless stream of sights and sounds. One of the big stages, the TD Stage, was located right outside of our hotel, and the equally close Rio Tinto stage was perpendicular to it on an intersecting street. The public stages and select indoor venues provide free entertainment for all to enjoy, along with plenty of ticketed shows as well.
For co-founder André Ménard, his favorite part of the 38 year-old festival is "creating a story between an artist and the Montreal audience," he told me. "We have tons of examples of that—those unknown acts that we put on free outdoor stages that the crowd discover and starts to love or those main international acts who are more successful here than anywhere else. But my favorite part of the festival is the idea of a democratic event where absolutely everyone can enjoy free quality music. Even homeless people."
NOT JUST JAZZ 
What is interesting to note is the number of blues, rock, pop, and other acts included within Montreal Jazz Fest. As Maurin Auxéméry, Director of Programming for Montreal Jazz Fest, recalls, Ray Charles played the very first Jazz Fest. While he was not jazz, he was influenced by it. The same could be said of much of this year's current line-up, which includes diverse artists like Joss Stone, Charlotte Cardin, The O'Jays, and Bob Dylan.
"Today, we keep at least 50 percent of jazz in the programming," states Auxéméry, who coordinates with Laurent Saulnier, vice-president of programming. "You could not physically see all the jazz shows we program over a day. We respect jazz, we love it, and we keep a giant place for it. We are doing entertainment. The Jazz Fest is beyond a genre of music. It's a celebration, a happening in downtown Montreal open to everyone. No other festivals brings as many people as that in Canada. Should we offer them only pure jazz? When Jazz represents less than 3 percent of the market, how do you want us to bring music lovers to our festival?"
Auxéméry says that as "jazz music has always been very inclusive with other genres"—such as salsa, Brazilian music, funk, hip hop, electro—"why should we not showcase those musics as well? For us, it's all related. Good music is good music." While their mission is to help jazz evolve, he believes it will never be mainstream music anymore. "We need to bring cool aspects to it, and we are working on that. Flying Lotus, Kendrick Lamar, Thundercat, Snarky Puppy, and BadBadNotGood are the guys that help the music to evolve."
A NEW WORLD
Having been to Quebec when I was a kid, I anticipated that Montreal (which is celebrating its 375th anniversary) would have more of the medieval vibe of the Old Quebec lodged in my memory banks. In fact, it's a fairly modern looking city with glass-lined skyscrapers abutting early 20th century architecture. Old Montreal provided some of the Old World charm I was looking for. The city is certainly a haven for artists, from rent stabilized loft spaces to the dozens of amazing murals we saw on a tour of the Mile End district, which shuns corporate chains and is home to cool bars, chic and shabby chic couture, thrift shops, and music and book emporiums. (I adored the old school Moog keyboard store.)
The murals change frequently with the coming of the annual MURAL Festival in June which highlights and promotes such colorful street art. The new, nine-story tall Leonard Cohen by Kevin Ledo is an impressively lifelike portrait of the revered Canadian singer-songwriter, and other murals range from an '80s video game collage to outright psychedelia. Equally impressive is the fact that these works of art are not defaced or tagged on. They probably would not last more than a few days in New York City before someone would leave their own mark on them.
This support for the arts extends from a local level to a provincial and national one, thus the reason that a massive event like the Montreal Jazz Fest has grown to such a mammoth scale. Having the good fortune to be centrally stationed at the Hyatt Regency, which has a sixth floor terrace looking out over rue Sainte-Catherine, a major point of music convergence, we were immersed in the daily flow of foot traffic, various live shows, and spontaneous street performances by blues and rock guitarists and even a Dixieland band.
I don't tend to be a fan of large crowds, but the massive throng in Montreal was pretty well behaved. The few instances of rudeness we encountered tended to come from fellow Americans (even the bilingual ones), although not always. By the same token, watching the CBC's coverage of the 150th anniversary of Canada (July 1st was Canada Day), our neighbors up north also deal with similar social and political: the heated debate over illegal immigrants, the genocide of our native peoples, and racial violence. Overall, though, people up there seem less aggressive and angry than down here.
They also love music, and Jazz Fest was the place to be.
THE FIRST NIGHT
We kicked things off on Friday night at Monument-National. Pianist Hiromi Uehara and harpist Edmar Castaneda, who met at last year's festival, reunited for a live concert in which they played each other's material and had separate solo spots. They make a powerful pair. Hiromi has brought a certain funkiness and energy to her fusion infused playing that is mirrored by Castaneda's use of the harp as both an elegant and percussive instrument. He rocks those strings, using his left hand to play bass on top of whatever melodic lines he plays. They delighted the crowd, even covering a tune that Hiromi has wanted to play live since she was a kid: the "Cantina Theme" from the original Star Wars film. It turns out they were recording a live album (that will be one hell of a release), which came to light when Hiromi explained why Castaneda was so fastidious about keeping his harp in tune every couple of songs. "My mom always told me to play the flute," he quipped.
After their two-hour set, I raced over to Le Gesù, a live venue inside the Church of the Gesù, to catch Donny McCaslin's quartet rock the house. Three members of this roster recorded with David Bowie on his final album Blackstar, and that collaboration has elevated McCaslin and his group's status higher in mainstream consciousness. Their seven song, 90-minute set showcased a musical language where free jazz, rock, electronic music, and psychedelia intersected, at least for me. He played two new originals without titles as well as two Bowie covers (instrumental renditions of "Lazarus" from Blackstar and "Look Back In Anger" from Lodger) and "Coelacanth 1" by Deadmau5. The latter appeared on his recent album Beyond Now.
Now a headliner playing to a devout audience, McCaslin first played at Jazz Fest three decades ago as part of the Gary Burton Quintet with special guest Pat Metheny, and it was an "amazing" experience for the then burgeoning sax player. "It was something I'll never forget," he told when me I chatted him up after the show (and after he spoke to and signed CDs for loyal fans).
Like the festival itself, McCaslin's music has grown and embraced many different genres of music, and he concurred that such open-mindedness helps make jazz more accessible for a wider audience. "I do think that it opens up the possibility of a broader audience, and I've certainly experienced that as a result of working with David," he said. "I had the honor and pleasure of meeting a lot of his fans over the last year and a half who have come out to the shows." (One Montreal attendee told him he had not listened to Bowie before McCaslin worked with him, then he went out and bought five Bowie albums.) "I've heard various people tell me, 'I'm not a jazz fan, but I like what you do,'" continued McCaslin. "That to me is affirming the direction I'm taking, and I feel like there's a broad demographic that comes [including] more younger people that are not jazz fans per se."
This particular show was recorded for a French TV channel. Hopefully we'll see it in North America sometime as well. Hours after their Montreal appearance (at 4 am), McCaslin and his bandmates were off to the Xerox Rochester International Jazz Festival followed by the Iowa City Jazz Festival and a three-week European tour.
McCaslin certainly loves Montreal. He came up many times in the past with David Binney, a good friend who has produced many of his albums. They played at a couple of clubs including the now defunct L'Air du Temp and met many Montreal musicians. The sax player "spent hours and hours in this city playing creative music" and exploring the town. "I love the culture and the aesthetic of the art scene and just feel like I've benefited from being a part of it for many years," he explained.
THE SECOND NIGHT
On Saturday night, we took a 12-minute cab ride away from our hotel to check out the Denis Chang Quintet at Diese Onze, a cozy jazz bar. Susan had specifically wanted to see him. We only had thirty minutes because we had the Gipsy Kings concert at 8, but for that half hour, from five feet away, we watched Chang and his stringed bandmates (guitar, violin and bass) play a sprightly set of charming gypsy jazz that was very apropos for this French bistro. On his website, Chang describes himself as a "gypsy jazz guitar player specializing in the music of jazz guitarist Django Reinhardt," and the packed audience certainly dug the vibe.
There was a striking contrast between the intimate setting of Diese Onze (approximately 100 patrons) and the 1,450-seat Théâtre Maisonneuve, not to mention the elegant style of Chang and the boisterous rumba flamenca of the Gipsy Kings. From the moment they took the stage, the 12-piece ensemble, which features two original members, frontman/guitarist Nicolas Reyes and lead guitarist Tonino Baliardo, enchanted the packed house with rockers and ballads (and points in between) the way a hard rock band would. (And surprisingly at a similar volume.) They veered from the electro-acoustic stomp of "Baila Me" and "Bamboleo" to the gentler romantic strains of "Inspiration" and their cover of "Hotel California," a song I am loathe to hear ever again but which they spiced up credibly. Some might debate whether this is still the true Gipsy Kings, but their audience cherished them and were joyously dancing and clapping throughout their two-hour show.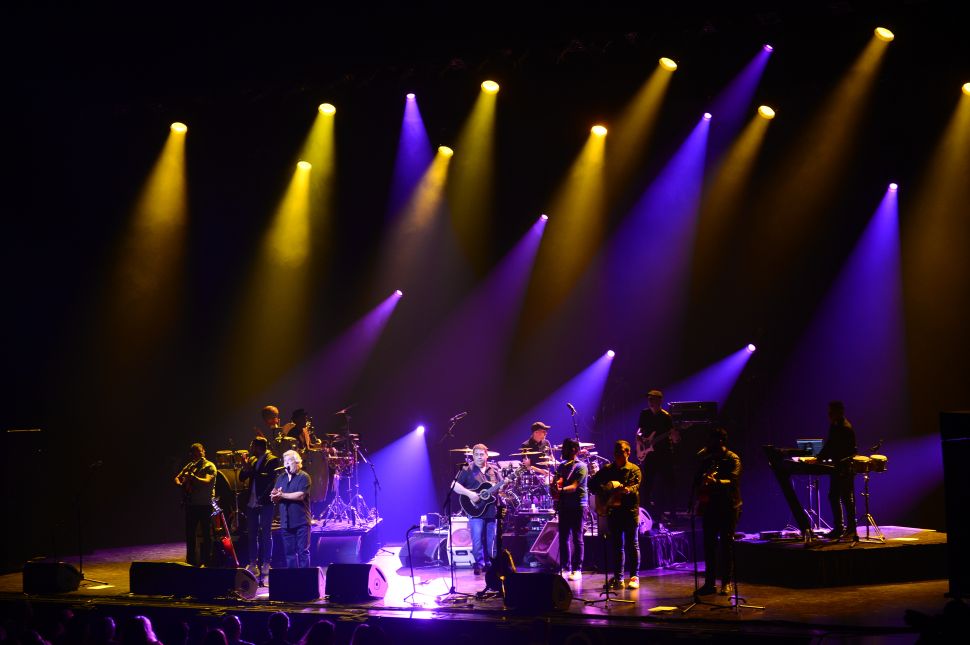 Later at around 10 pm from our hotel's sixth floor terrace, we heard and partially saw Canadian popsters Men Without Hats do a half hour set that climaxed with an extended version of their big '80s "Safety Dance." Props to Ivan Doroshuck, the 59 year-old frontman who performed with three younger musicians in this resurrected line-up and exuded plenty of energy to onstage and embraced his big hit. (Although they had one more big song in Canada, "Pop Goes The World" in 1987.)
There was a reason for this pop slant. "Building the Canada 150 show [for July 1], which was based on showcasing the biggest Canadian hits from the last decades, it was obvious that the Men Without Hats had to be on the show," says Auxéméry. "As they were coming for that show, we offered them to play their full show the next day."
After Men Without Hats, pow-wow drum group Buffalo Hat Singers hit the TD Stage for a few minutes, followed by a large cover band for the Canada 150 spectacle. It featured a rotating roster of male and female singers covering everything Canadian from Corey Hart's '80s hit "Sunglasses At Night" to Carly Rae Jepsen's summertime smash "Call Me Maybe." It wasn't jazz, but the crowd was very satisfied. Hey, it was a Canadian birthday bash, even though French-speaking Quebec province has its own culture distinct from the country's other provinces.
It's worth nothing that the loud strains of music lasted downtown until 1:30 am each night. So if you're an early to bed type of person, don't stay in that area. But if you love an endless flow of people and music, you could do worse.
THE THIRD NIGHT
Sunday was our third and final night there, and it started off bizarrely when we showed up to the House Of Jazz to see Taurey Butler at 5 pm as advertised on their website. I even put my name and cell number in to reserve a spot. (Of course, my phone was having reception issues.) The club was closed until 5:30 pm, which threw off our schedule, and no mention on their site was made of a time change. I felt like the Blues Brothers statues dancing atop their sign were mocking us. Oh well.
After a delicious dinner, I rushed off to see Vijay Iyer perform a nearly 90-minute solo piano set at Upstairs Jazz Club, an intimate venue with stone walls located at basement/bottom level floor. (Hence why their club logo is upside down on their sign.) The Grammy-nominated pianist and composer performed a six-song set, and the first half included "I'm All Smiles," a Michael Leonard tune recorded by one of his major influences, Geri Allen, the acclaimed jazz pianist who passed away the week before. He felt the first three tunes he performed were a tribute to her.
Iyer seemed to enter a trance as he performed, each piece ripe with melodic and rhythmic twists and turns, including his own originals "Spellbound and Sacrosanct, Cowrie Shells and the Shimmering Sea" and "Accumulated Gestures." He was very strongly focused on a performance that varied in emotional tone, and the audience stayed reverently silent throughout, bursting into applause once he finished each song. You could hear a pin drop. Or more accurately, a fork or knife from the kitchen near the back. When it came for an encore, he joked that it was too hard to go through the club (which was a tight squeeze) and come back, so we could pretend he did. Then he launched into his encore. He had another show to perform an hour later at 9:45 pm.
Upstairs originally wanted Iyer's trio, but "because it was such a constrained situation budget wise and schedule wise, so the only it would work was solo," he informed me prior to his gig. He plays solo gigs several time a year on top of his already packed schedule, and he has been to Montreal seven or eight times in the past. Iyer feels that Montreal Jazz Fest is so diverse in part because of its size, which indicates that audiences are prepared to experience a wide range of music.
I asked him about his own diversity, which opens up new sonic possibilities as well as a potential receptiveness to jazz among non-genre listeners. But he does not consciously try to fit himself into a mold. "I've never tried, and I've never had a problem reaching people," he said. "It's not about whether the music is accessible to them. It's not really an issue. If you present the music in a way that takes care of the audience—considers the listener and the experience of the listener—then you can actually stretch things pretty far. It's just being kind. It's not about what style it is or even what the content is."
Iyer has been quite busy recently. "I just composed a violin concerto that premiered two weeks at the Ojai Music Festival," the quietly intense pianist told me. "It's called 'Trouble' and was performed by [violinist] Jennifer Koh. That was a major endeavor for me." It took him several months to compose. "We also just made a sextet album [with] myself, Stephan Crump, Tyshawn Sorey, Steve Lehman, Graham Haynes, and Mark Shim." Recorded a few weeks ago, the album (Far From Over) will be out around late August.
When I bring up Donny McCaslin, who seems like a kindred spirit, Iyer mentions that he is heading up to a summer workshop at the BANFF Centre in Alberta, which he is looking forward to. It turns out McCaslin's drummer Mark Guiliana will be attending that week-long event as well. "We will spend a week together at BANFF so I'll get to know him [better]," says the pianist. (One can hope for a fruitful summit between those two. Giuliana is a stellar drummer.)
The last performance I caught at Jazz Fest was part of the set from sultry British singer Polly Gibbons on the Rio Tinto stage later that night before we wandered out to further investigate Montreal. Susan and I ventured to the hard rocking Piranha Bar, a watering hole with lots of video slot machines and an agreeable bartender named Tony. Because, well, metal. Heavy bands do well up there; the local headbangers are devout musical disciples. See? It all came back around.
THE WRAP UP
Three days and nights of exploring Montreal and Jazz Fest did not seem like enough, but it was a great virgin experience. There were plenty of post-shows trip that would have been fun to witness: King Crimson, the Django Reinhardt Allstars, Arturo Sandoval, and this coming Saturday night, bluesy rocker and former metal queen Lee Aaron (who I profiled last year for the Observer). As a word of advice, the best way to enjoy Jazz Fest is to have a good sense of what you want to see and make a plan prior to each day so you know where you want to go and who you want to see. It can be overwhelming otherwise.
Waiting for my delayed flight in the Montreal airport, I saw American television reports about crazy presidential tweeting, another mass shooting, and a health care bill that can barely get cobbled together. I reflected on how much calmer and more civilized Montreal seemed, even with the energy infusion from Jazz Fest. (Although my hyperactive New York brain still does not quite comprehend the laid back nature of our northern neighbors, even though it's refreshing.) Canada has its share of troubles too, but they generally seem to take better care of their citizens and respect the culture they have created. They also believe in the value and power of the arts. It is not simply about commerce.
Coming back to the New York City area, which has become increasingly gentrified and less cultured—and in the case of Manhattan, a playground for the rich—I thought how nice it would be if we could bring some of Montreal here. We could use it right about now. Montreal, I will return.
Bryan Reesman is the author of Bon Jovi: The Story.