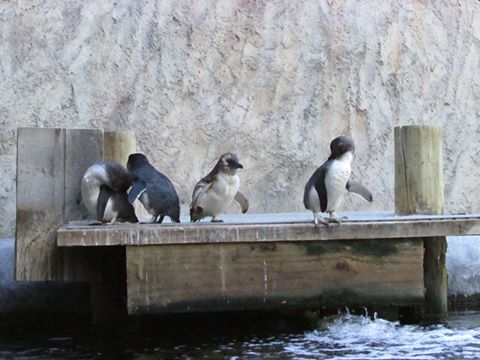 Timmy the penguin hasn't been on his best behavior. He's been stealing fish and pushing over other penguins, and now the world knows all about it.
The National Aquarium of New Zealand took to Facebook recently to post about its naughtiest and best behaved penguins of the month, something it does regularly but doesn't appear to usually share online. But we have a feeling the aquarium might keep this up—the post went viral with over 6,o00 shares, and people especially can't get enough of Timmy, this month's naughtiest penguin.
While some commenters chimed in saying that Betty, the good penguin who patiently waits for her fish and is a good swimmer, is "boring," the internet couldn't get enough of Timmy:
"Timmy is an absolute G!"
"Naughty boy Timmy lol."
"Timmy's gonna live longer."
"Timmy is my spirt penguin," commented some users.
This is just further proof that bad boys are irresistible, even when it comes to penguins. For those interested in seeing more of Timmy the naughty penguin, you're in luck—the aquarium also posted a video of bad boy Timmy in action. In the clip below, you can see him try to steal food from another penguin.
Will Timmy clean up his act? Only time will tell.