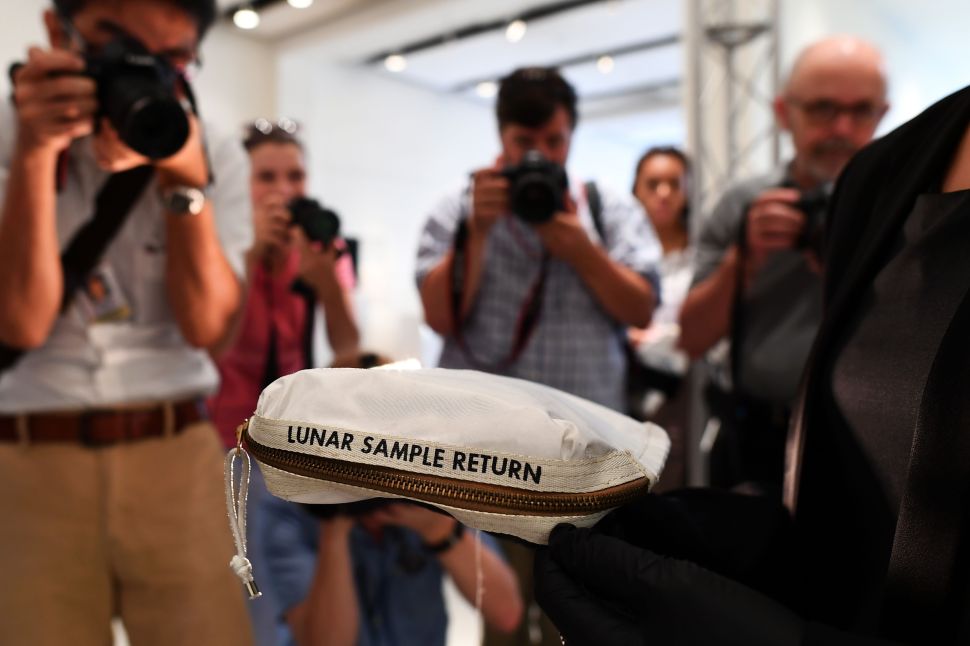 With a lumpy silhouette made from white Beta cloth and polyester and equipped with a brass zipper, the season's most unexpected "it" bag looks as if it could be part of a Vetements collection. However, this accoutrement, which just made auction history, holds far more importance than your average trendy clutch.
On Thursday afternoon, a bag used by astronaut Neil Armstrong to collect moon dust in 1969 fetched $1.8 million in a Sotheby's auction. Clearly marked with the words "Lunar Sample Return," this clutch was a vital accessory for the first mission to the moon, as it was the first vessel used to carry moon dust back to earth. And it has since racked up quite a colorful history.
Used during the Apollo 11 expedition, the bag appeared to be forgotten about—until it was listed for auction by the U.S. Marshals Service in 2014. It eventually caught the eye of Chicago attorney Nancy Lee Carlson, who bought it for $995 a year later. Wanting to learn more about her purchase, Carlson sent the pouch to NASA, and that's where the bag's real story was uncovered.
It turns out the bag was part of a stolen loot of museum artifacts, discovered in 2003 in the Hutchinson, Kansas home of Max Ary. The founder of the Kansas Cosmosphere and Space Center was convicted of pilfering and reselling space items, so the government took possession of Ary's property. They inadvertently mixed up this space bag with another, which didn't have any traces of moon dust, and auctioned it off.
Once the Space Administration learned that the bag was still filled with traces of moon dust and used by Armstrong, they decided to keep it, as confiscated government property. Carlson successfully sued NASA, as she legally obtained this historic bag, and was eventually reunited with her lucky purchase. But after a few hundred inquiries, Carlson decided to part ways with the bag, which is how it ended up in Sotheby's Space Exploration sale.
Though the bag fell short of auction estimates—it was originally expected to fetch between $2 and $4 million—this is still a record breaking sale. Held on July 20, the 48th anniversary of the first trip to the moon, the bag was purchased by an anonymous bidder. We secretly hope that the mysterious bidder was today's top space nerd, Elon Musk.