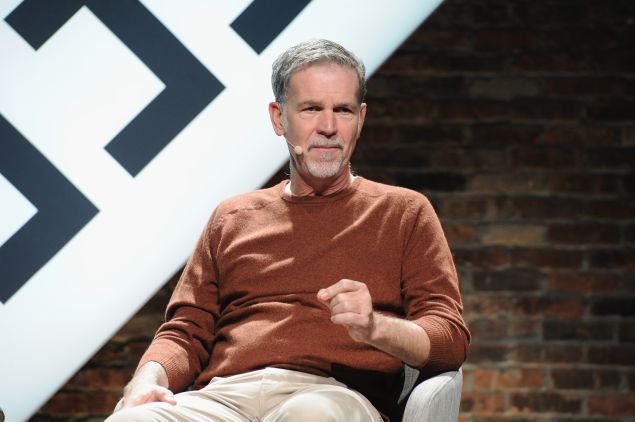 He may not be as rich as Mark Zuckerberg yet, but Netflix co-founder and CEO Reed Hastings is still having a pretty good run.
The entrepreneur, who also serves on Facebook's board, has made almost $400 million in the last two weeks alone.  Hastings' three percent stake in Netflix is now worth over one billion dollars, and his total net worth currently stands at $2.2 billion—he's ranked number 1,038 on Forbes' list of the world's billionaires.
Netflix stock is also sitting pretty: it closed at an all-time high of $188.54 on Friday, and that figure actually crept up in early trading today.
Only a few years ago, it didn't seem like figures like this were even possible for Netflix—when the company announced in 2011 that it was separating its DVD and streaming businesses, shares cratered 75 percent in six months.
But according to a second-quarter earnings report released last week, the site is going strong. Netflix added 5.2 million subscribers—its internal forecast was only 3.2 million—and now has 104 million members in more than 190 countries. The company also reported $2.79 billion in quarterly revenue (up 32 percent year-over-year).
And Netflix's success isn't just monetary—it's currently nominated for 91 Emmy Awards, second only to HBO. The Crown, House of Cards, Stranger Things, Master of None and Unbreakable Kimmy Schmidt are all nominated in the top comedy or drama series categories.
Netflix is also giving its content a bigger promotional presence—Stranger Things, the company's Marvel shows and big budget movies all got an enthusiastic reception at Comic-Con over the weekend.
Not everything is perfect for Netflix: the site reported earnings of 15 cents per share, just below the 16 cents forecast. And its $65.6 million in quarterly profits also fell short of the $68.5 million estimated by analysts.
So the company isn't resting on its laurels: Netflix is spending more than $6 billion on original movies and shows this year in its quest to become the master of all content providers.