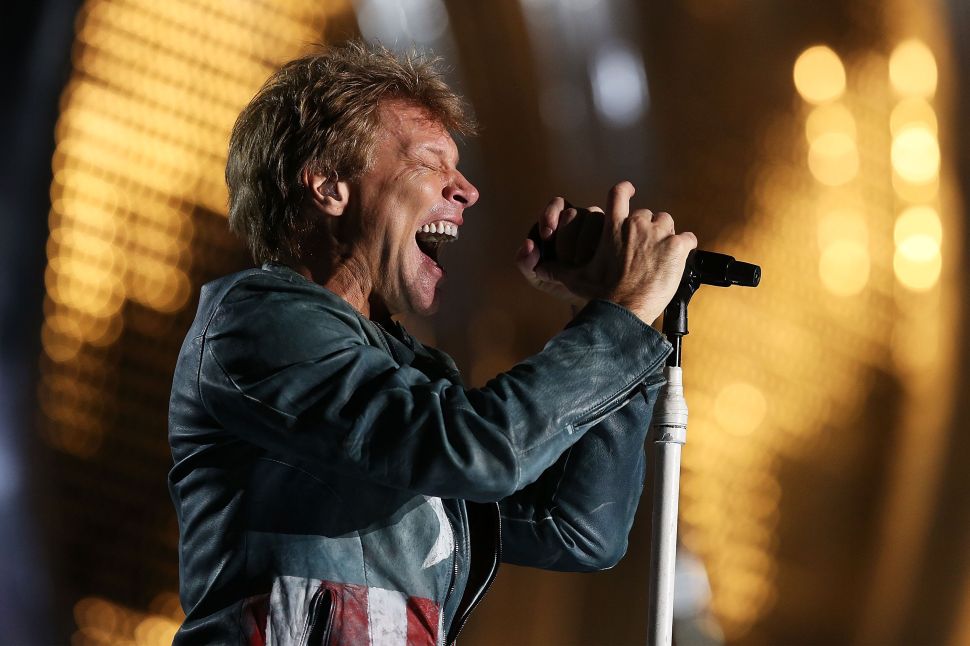 It has often been said that rock and roll is a young person's game, and that an artist's best work is produced in with youthful exuberance—when they're willing to take risks. How often have you told someone you're seeing a beloved group or singer from your past and hear, "They're still around?" Or, "They have a new album? Maybe I'll check it out." (Which they inevitably don't.) And your fellow concert-goers invariably take bathroom breaks during the new songs, only there for the hits. Time seems to be the biggest enemy of rock. But is it a matter of quality, or more a question of age?
I call bullshit. Artists are viable well beyond their perceived expiration date. Sure, we've seen some rockers lose their artistic edge with fame and fortune, but many actively explore new avenues for creativity. A few heritage bands have managed to stay relevant over the years, while others persevere thanks to the fond nostalgia from their original fans. But nostalgia is the other enemy of rock and roll. Audiences expect their music heroes to transport them back to a moment in time, leaving said heroes perpetually stuck there, playing the same songs over and over.
I get it, to a certain extent. As we get older and start to feel our age, we invariably long for our carefree earlier years. So when we see our idols moving a little slower, getting a little more serious, or perhaps trying to do something different, it screws with our precious memories. But imagine your boss saying your best work is behind you. You'd be a little pissed off.
I understand the teenage regression thing, I feel younger than my age. And sure, when I put on "Metal Health" by Quiet Riot that fist-pumping 15 year-old bubbles up from under the surface and I'm a rebellious kid once more. But then forty-something me wants to hear the latest from Judas Priest or Black Sabbath because something in there speaks to me as well.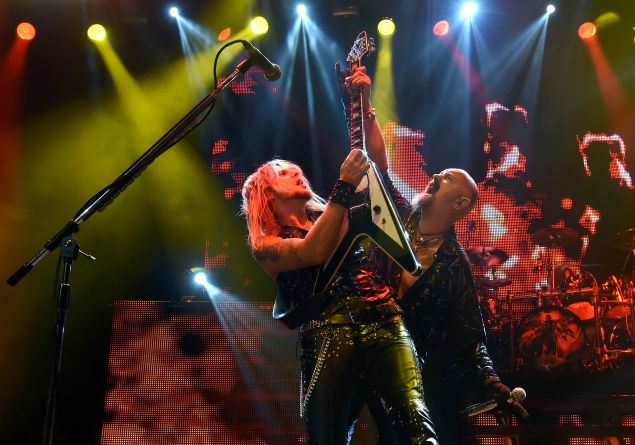 When I was writing my Bon Jovi book, his former band member Jack Ponti remarked that part of the frontman's eternal appeal was that "when the older fans still look at Jon, he's aged so well, so gracefully, and so beautifully that they don't see their own mortality in him." It's a fair point. That being said, Bon Jovi was still producing hit singles until a decade ago. Yeah, fans sing the loudest for the '80s tunes at shows, but many of them know the newer ones, too.
Age certainly factors into the rock mindset. When The Cure frontman Robert Smith set about co-writing and recording their seminal album Disintegration in the late '80s, he faced a daunting challenge. He believed that all iconic rock records were made by bands before they turned 30 years old. The 29 year-old implemented some drastic tactics. In the face of an already tense band vibe, and having indulged in some psychedelic drugs, he went into isolation, locking himself away from his bandmates. The dark emotional tapestry of what is considered by many to be their best (and is still their best-selling) album is often credited to this extreme measure. I'll wager many Cure fans enjoy some of what they've done since. It's not about topping past glories, but simply producing something new of quality that resonates with fans. We're getting older, they're getting older; why not explore that together? It doesn't always work, but it can.
Today many famous rockers and pop stars are still bigger concert draws than their successors, including Paul McCartney, U2, Madonna, Bon Jovi and Bruce Springsteen. Something's clicking there. I certainly defy other middle aged rock bands to find a fifty-something frontman as spry as Iron Maiden's Bruce Dickinson. Billy Joel has not released an album of new rock/pop material since 1993's River of Dreams, but the guy has cranked out so many hits that his fans are more than stoked for his monthly concerts at Madison Square Garden. There's nothing wrong with that, and I don't begrudge classic artists milking their own catalog, especially iconic album tours like U2's recent Joshua Tree trek. More power to Joel, by the way—he has a Vegas residency without leaving New York. Who else could pull that off?
On the flip side, there have been numerous examples of acclaimed and successful albums put out by people past the rock and roll prime of 30—some even career revivers—such as Sonic Youth's Daydream Nation when Kim Gordon was 35, Tina Turner's Private Dancer (at 44), Kate Bush's Aerial (47), rap progenitor Gil-Scott Heron's final album I'm New Here (60), David Bowie's swan song Blackstar (69), and Johnny Cash's farewell release American IV: The Man Comes Around, which included a masterful acoustic cover of Nine Inch Nails' "Hurt," when he was 70.
Duran Duran were 1980s pop titans, and while their original roster dwindled throughout the '90s, they still put out good music. Since reuniting their classic line-up in 2004 (four of the Fab Five stayed on after that first comeback release), they've been playing larger venues and have unleashed a lot of solid work, including their fantastic 2011 album All You Need Is Now. It channeled their Rio-era sound while featuring superior musicianship and some fresh twists. Frankly, I think it's as great as the work they produced in their '80s heyday, and their concerts still pack them in. The group modernized significantly with the previous, 2007 album, Red Carpet Massacre, which was co-produced by Timbaland and Justin Timberlake, but many of their longtime fans didn't get it, which is too bad. I thought it worked.
The concept of a cross-generational collaboration was a big hit for Santana on his 15-times platinum, eight Grammy Award-winning megahit Supernatural in 1999. For a guitarist who had been actively recording for 30 years, it became the then 52-year-old's biggest album ever. Despite the fact that his song "Smooth" with Rob Thomas (among other team-ups) was played to death, I still like it. Blondie tried something slightly similar with their new album Pollinator. Most of the album was written by a multi-generational team of younger songwriters including Sia, Charlie XCX and Dev Hynes. It was a smart move performing songs by people they influenced, and it's a catchy, fun album. Is this the same band that made Parallel Lines and Eat To The Beat? No, but they're still good. Of course, as my friend Robert De Salvo noted, "I just saw Blondie at the [Hollywood] Bowl, and the song I was most eager to hear was the new song, 'Long Time.' Ninety-nine percent of those around me just wanted to hear 'Heart of Glass' and 'Rapture' and go home."
I find it funny when people my age or older grouse about how new music isn't as good as the stuff we grew up with, then don't bother to keep up with the artists whose past work they revered. (Isn't it ironic…don't you think?) I mean, did everything Prince do after the '80s suck? No, it did not. Perhaps Gen-Xers and Boomers, as busy as they are, have developed as short an attention span as the ADD Millennials they often mock. (By the way, many of them love our music.) Come on, we can make a little time to try something new. Some things take a little time to appreciate. I think it's worth the effort. And I'm being sincere, not snarky.
A big reason that I find newer music by older artists interesting is the voice of experience they bring. It's something that longtime fans can relate to and younger ones can look up to. From my own experience, I was barely aware of British group Procol Harum until I heard their reunion album The Prodigal Stranger in 1991. After listening to the "The Truth Won't Fade Away," I snagged the album. Lyricist and frontman Gary Brooker lent a potent, soulful presence to tunes like the melancholic "(You Can't) Turn Back the Page" and the snarling "All Our Dreams Are Sold"—songs about war, struggle and heartbreak that I knew expressed a mature worldview I did not yet possess. They gained a new, young fan that day.
A wonderful example of an older rocker doing a great new album is Billy Idol. His 2015 release, Kings and Queens of the Underground, his first original album in 11 years, played to his strengths—fist-pumping rockers and contemplative ballads. But unlike the Rebel Yell icon of yore, this older and wiser punk was reflecting on darker moments in his life, assessing his current feelings, and seeking the path forward. Yet by the end, he still lapsed into a maelstrom of "Whiskey and Pills." As I like to say, the album is about how he still wrestles with his demons, and they sometimes win. I guess he's just hardwired to self-destruct.
Speaking of Metallica, their latest opus was their strongest album in 25 years. Their post-Black Album output has been spotty, but they got their groove back with their latest. Metallica are a rock anomaly; they have always had a strong concert revenue stream regardless of the years-long span between albums, and the fact that Hardwired…to Self Destruct has sold nearly a million copies in the U.S. alone speaks to their multi-generational audience and its desire for new music.
An upcoming release I am excited about is Tori Amos' Native Invader. While I have found her post-'90s output (much like Sarah McLachlan) to be mixed, she has a way with words and a wonderfully sharp tongue to lash out at the patriarchy. Given the political and social anxieties of our time, I think she is poised to deliver a seriously profound, rich musical tapestry.
As we get older, we earn those lines, wrinkles and gray hairs through life experience, through mistakes, through triumphs and heartbreaks. The enlightenment that comes with that can be quite satisfying, even if we hate the physical downsides. Our icons go through the same thing. The way one might write a love song at 45 is not the same as at 25. The way one contemplates death is certainly different at 55 as opposed to 35. When Rob Halford sang about "The Beginning Of The End" on Judas Priest's last album Redeemer Of Souls, it was not in that aggressive or maniacal way in which he approached death and finality in the '70s or '80s. This was an acquiescence to the inevitable, whether interpreted literally or figuratively, to a major chapter of a life—or life itself—coming to an end. The band's performance matched the lyrical tone.
We should not excuse an artist missing the mark. I don't think the world needed U2's last album, which was crammed down people's throats through iTunes. But, ultimately, we owe it to our music heroes to look beyond the hits and seek something more. Take a little time and you might be surprised to discover something sublime. To flip a famed Monkees' lyric: "They're the older generation, and they've still got something to say."