Summertime and the living's easy. Well, actually it is really hot, sweaty, humid and you currently seem to have a 50 percent chance of being trapped underground on a subway for several hours every day, but otherwise it's pretty great. After all, summer is truly the season where drinking in the middle of the day is absolutely acceptable and wholeheartedly embraced. When a friend asks you to do something on a summer weekend day in New York City your first inclination is probably to suggest going to the beach, but there is so much planning and sand removal that goes into that. The second thought is pool, except those are pretty hard to come by in the city, unless you are a child at summer camp, or belong to an Equinox. So the default activity is finding a cool bar, preferably a rooftop or at the very least a patio, and having some fun summer drinks. New York and its surrounding areas really stepped up this summer with alcohol themed pop-ups, new drink concoctions, imported sandpits and views that just can't be beat.
Not to be confused with the hit musical, this rooftop (designed by AvroKo) is brand new this summer, at the Arlo Hotel chain's Nomad location. The views of the Empire State building are sweet and though it definitely attracts its fair share of tourists and the business crowd on the weekdays, it's quite relaxed on weekends. The Heights, which is from the Three Kings Restaurant Group, also has one of the best frosés I've ever tasted (and they are perfectly Instagrammable.) My second favorite beverage was the Brooklyn Heights, made with tequila, lime, lemon and fresh pressed watermelon juice. I've never been a fan of watermelon but when you add tequila to it, I'm all in. Pair it with one of their delicious bites, like the Tuscan kale salad or their addictive chips and guac, and you may have to be carried out the door. If you're looking for a classic New York rooftop experience, this is it.
When one of the best restaurants in the world, the three-Michelin-starred Eleven Park Madison, announced a Hamptons pop-up in partnership with AmEx (its's the only payment accepted), it was clearly going to be a highly coveted summer destination. The indoor and outdoor dining menus are completely different, but equally delicious. The latter is the creation of chef Daniel Humm, and pairs well with the lawn games and picnic tables of the chic outside spot, which is already the coolest joint in town. EMP has many fancy summer cocktails—as well as their own beer line—but the one drink that has become a summer signature is the Garden Gnome cocktail. Made with Elyx vodka, Fino sherry, yellow chartreuse, red pepper, passion fruit and lime, this drink is like nothing you've ever tasted before—unless you eat salads with lots of alcohol in them. But the best part is it comes in a copper gnome cup. If any restaurant can start a whole new trend for serving drinks, it is this one. But get in on this one quick, as it's only open through Labor Day.
This spot from the group behind beloved bars Wilfie & Nell, Sweet Afton, The Bonnie and The Penrose, may not look like the most summery of joints, but on a really hot day, the best place to be is in a dark bar perched on a plush stool. You especially need to have their drink The Fix is In, a seasonal gin cocktail featuring your favorite summer fruits (I had mine with strawberry), crushed ice, and lemon. The Toucan is also nice and fruity, with its mix of Black Strap Rum, Aperol, Pineapple and lime, but you should also consider The Mosquito with mezcal, Campari, ginger and lemon. It's the only kind of mosquito I want to be around.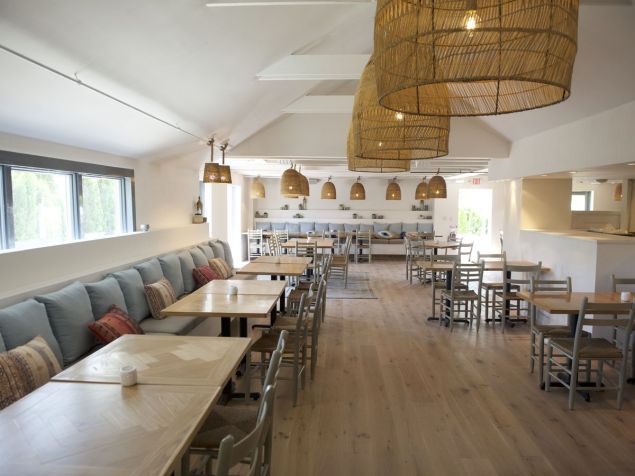 If you can't go to Greece, the next best thing is Calissa in Water Mill, New York. Outside on their patio, try the Big Bear cocktail, which is made with bourbon, pink lemonade and mint (which doesn't sound like it would be good but actually is) or the Phoenix. Made with with white wine, peach, pear and prosecco, I'm officially writing it into the lyrics of "My Favorite Things."
This is the stuff Instagram dreams are made of. For a limited time this summer, the rosé pop up bar, called Rose Pop Up Bar, takes over The Rainbow Room's Gallery Bar every Friday afternoon. For anyone who refers to rosé as summer water, you need to go right now. Rosé champagne, rosé wine, rosé cider (yes, that's a thing and it is just a tad bit more robust than a glass of wine), or cocktails like the Rosé-Watermelon Sangria are the items you'll find on the menu. Seriously, Elle Woods would have been overwhelmed with the amount of pink in this room. Throw in the sweeping views of the city from the 65th floor and desserts that include gold flecked cotton candy and donuts, and you've got yourself a serious FOMO-inducing drink experience. The pop-up is only open through July 28th, so make your reservations now.
It's probably been a day since you've been to a rooftop bar, so you need to go to another one. The PHD Terrace at Dream Midtown recently doubled in size, providing guests with a 360 degree view of Midtown and Times Square. The extra room was necessary to accommodate patrons swarming for the 10 pound, 164 ounce Mega (Moscow) Mule—this is supposed to be a group drink, mind you. Be sure to nibble on some small bites by Chef Mike Armstrong, so you don't keel over. And if you don't feel like going to Midtown, but still want to share a comically large drink with your friends, head to PHD Rooftop Lounge at Dream Downtown on West 16th Street, which is also newly renovated and will provide views of the Hudson and Empire State building. If by now you've got vertigo from all these rooftop views, go down a few floors to The Beach at Dream Downtown, which has sand imported from the Hamptons next to their pool and you can easily acquire a day pass. It's the perfect combination of Côte d'Azur and the Malibu Sands Beach Club from Saved by the Bell. Hotel guests can get private cabanas with flat screen TVs and lounges, and it wouldn't be a pool if there weren't a bunch of giant FUNBOY luxury pool floats for you to pose on. And yes, they do have the giant 10 pound Moscow Mule as well, but seriously, please follow that "waiting a half hour before swimming" rule if you do order one.