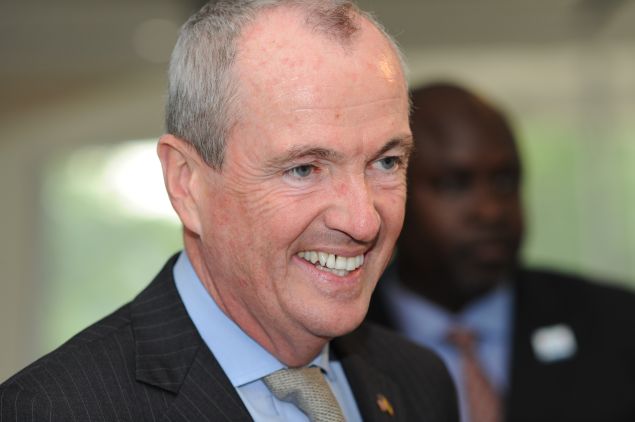 Phil Murphy has a commanding, 27-point lead over Kim Guadagno in New Jersey's race for governor, according to a new poll from Monmouth University.
But neither candidate is well known among New Jersey voters, the poll found.
It was the latest reminder that the governor's race has been a sleepy affair this year for the same voters who often complain about the direction of the state. And it was the latest sign that Murphy, a Democrat who has spent millions from his personal fortune on the race, is likely to win in November.
If the election were held today, 53 percent of registered voters would pick Murphy, a former U.S. ambassador to Germany under President Barack Obama, according to the Monmouth poll. Guadagno, the Republican nominee and the sitting lieutenant governor, would get 26 percent of the vote.
The remaining 20 percent are undecided or named an independent candidate.
The results tracked closely with the latest poll on the race from Quinnipiac University, which gave Murphy a 29-point advantage almost a month ago.
"Party labels are the primary driver behind this early reading of the race since very few voters really know much about either candidate," said Patrick Murray, the director of the Monmouth University Polling Institute. "It is not clear whether Guadagno's fortunes will improve as voters learn more about her current role as lieutenant governor considering how unpopular Chris Christie is right now. At the same time, something unfavorable could come out about Murphy, but the underlying partisan fundamentals of the state are working against the Republican right now."
Most voters don't know enough about either candidate to form an opinion, Murray said. Guadagno had an 18 percent favorability rating and a 22 percent unfavorability rating — but 61 percent of poll respondents said they did not know enough about her. For Murphy, the numbers were slightly better: 29 percent favorable, 12 percent unfavorable and 59 percent had no opinion of him. Murphy spent millions running TV ads for about a year.
Murphy said he was "gratified" to see the poll results but that he still has his work cut out for him.
"We're taking literally nothing for granted," he said at a campaign stop in Atlantic City. "If you look at the amount of votes we won in the primary, it was around a quarter of a million. You probably need — and I'm not sure of the number — but you probably need at least another million to win the thing. So that's the road we're on. That's a long road, right?"
The poll showed that New Jersey's highest-in-the-nation property taxes continue to be the top issue for voters. Fifty percent cited it as their main concern in the Monmouth poll, followed by public education at 15 percent. Guadagno has made lowering property taxes the cornerstone of her campaign and has pledged not to run for re-election if she is unable to fix the problem in her first term.
Murphy, on the other hand, has said he plans to raise some taxes on the wealthy to cover soaring costs in the cash-starved state budget, which is $34.6 billion this year.
But there are questions about Guadagno's plan, since it would create a new credit of up to $3,000 for property taxpayers in the state. Her campaign estimates the cost at $1.5 billion a year and has not identified sustainable sources of available revenue to cover that cost.
"As voters learn more about Phil Murphy's plans to raise taxes on everyone and his background as a Goldman Sachs millionaire compared to Kim Guadagno's pledge to lower property taxes in her first term and her background as a working mom, they will realize Phil Murphy is a choice New Jersey can't afford," said Guadagno campaign spokesman Ricky Diaz.
The poll of 758 registered voters was conducted from July 6 to July 9, and the margin of error was plus or minus 3.6 percentage points.
Update (2 p.m.): Comments from a Guadagno spokesman have been added to this story.
Update (3 p.m.): Murphy made comments reacting to the poll during a campaign stop, and they've been added to this story.