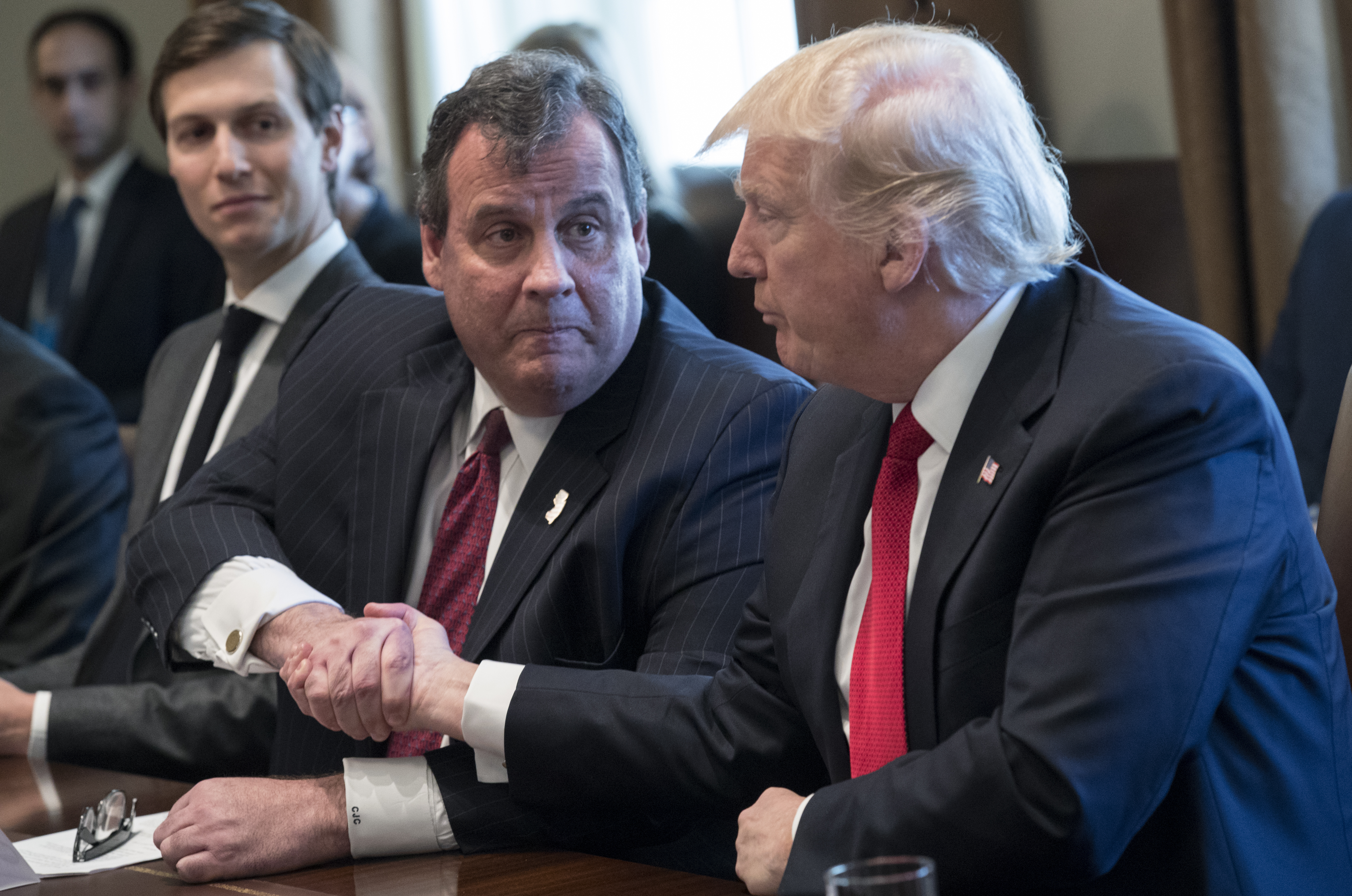 Gov. Chris Christie didn't exactly use the Trump team's talking points on Monday when asked about the president's son meeting with a Russian lawyer after being promised dirt on Hillary Clinton.
While emphasizing there's no evidence the Trump campaign colluded with the Russians, Christie said it would be inappropriate and "probably against the law" for a political campaign to accept opposition research from a foreign government.
Compare that to comments from President Donald Trump, who has dismissed the meeting as no big deal. "Most politicians would have gone to a meeting like the one Don. Jr. attended to get info on an opponent," the president tweeted Monday morning.
Rumors are swirling that former New Jersey congressman Scott Garrett, Trump's pick to run the Export-Import Bank, may withdraw amid fears his nomination won't win enough votes to clear the Senate. Trump is standing behind Garrett, who criticized the bank as a congressman, even as business groups try to halt his nomination.
And three shore towns have reportedly received subpoenas as federal investigators focus on city workers and their health benefits. The situation is apparently so serious that there are talks of Atlantic City firefighters providing mutual aid for Margate and other towns should indictments cause problems with staff levels.
Quote of the Day: "'Hey Chris, you know my f***ing phone number. Just give it to the President. I don't want your f***ing phone.' — President Trump to Gov. Christie on election night, according to a new book. 
Millions Pouring Into N.J. House Races for 2018 Midterms
While most of New Jersey's 12 congressional districts are safe, there are a few races where national focus has increased. Here is how all the candidates are doing so far according to quarter 2 FEC fundraising reports, which include fundraising received as of June 30, 2017.
Alyana Alfaro, Observer Read more
NJ Jail Population Down Almost One-Fifth After Bail Overhaul
New Jersey's jail population dropped 19 percent in the first five months after a sweeping bail overhaul took effect, according to recently released state statistics. Two-thirds of counties saw declines in their jail populations of at least 10 percent, while five counties shed more than 25 percent, during the period spanning Jan. 1 through May 31, according to data released by the Administrative Office of the Courts.
Christian Hetrick, Observer Read more
Meet Gina Genovese, an Independent Running for NJ Governor
Gina Genovese — a former professional tennis player and mayor of Long Hill — is running an independent campaign for New Jersey governor centered around sharing services between municipalities, a move that Genovese claims could slash property tax bills by up to 15 percent for many New Jersey homeowners.
Alyana Alfaro, Observer Read more
Reports: Feds Subpoena 3 Jersey Shore Towns
Three shore towns have received subpoenas as part of a wide-ranging federal investigation into public worker health care plans, according to reports.
Christian Hetrick, Observer Read more
Opinion: Here's How to Avoid Another NJ Government Shutdown
New Jersey's government shutdown lasted only three days. However, it did not need to happen at all and it does not need to happen again.
Donald Scarinci, Observer Read more
Christie: Getting dirt on Hillary from Russians 'probably against the law'
Gov. Chris Christie said Monday he believes getting opposition research from a foreign country is "inappropriate" and "probably against the law," but he stressed no evidence has so far emerged to suggest the campaign of his friend, President Donald Trump, did that last summer.
NJ.com Read more
White House under pressure to drop Garrett as Ex-Im Bank nominee
President Donald Trump is standing behind former Rep. Scott Garrett, his choice to head the Export-Import Bank, amid escalating pressure from business groups to pull the plug on the nomination.
Politco Read more
Christie defends use of helicopter travel from beach house
Gov. Chris Christie's helicopter descended from the sky under a blazing July sun, 20 minutes late to his 11 a.m. press conference about road improvements on Monday morning.
NJ.com Read more
What it Will Take for Trump's 'Voter Fraud' Panel to Get N.J. Data: 65 Cents
New Jersey says it has no plans to comply with President Trump's "voter fraud" panel's request for each state's voter data, but the controversial federal commission can still get much of the information it's seeking — as long as it has 65 cents at its disposal.
Philly.com Read more
Effort to decriminalize pot in N.J. sees Camden in leading role
New Jersey allows medical marijuana and may be edging toward legalizing recreational pot, but cannabis activists impatient with the legislative process are quietly gathering support for something they hope will be quicker to accomplish — decriminalization at the local level.
Inquirer Read more
Norcross: Link minimum wage to must-pass priorities like debt limit or tax cuts
Democrats in Congress should demand action to raise the minimum wage if Republican leaders need their votes to pass bills to keep the government open, cut corporate taxes or increase the debt limit, Rep. Donald Norcross said Monday.
The Record Read more
Push to Find Funding for Local Journalism—While Trenton is 'Out of Town'
Supporters of a bill seeking to use state dollars to help bolster local journalism in New Jersey watched from the sidelines as their legislation stalled amid a messy budget impasse and government shutdown earlier this month. Despite that, the backers of the proposed New Jersey Civic Information Consortium say they aren't giving up.
NJ Spotlight Read more
New Jersey casino launches daily fantasy sports
New Jersey's first casino has become the first in Atlantic City to let patrons play daily fantasy sports contests for money.
Associated Press Read more
Report: Lead in 55 percent of Bergen schools' water fountains, taps
Lead has been detected in more than half of the water fountains and sinks in 47 school districts in Bergen County, according to a report released Monday by an advocacy group.
The Record Read more
Editorial: Oil train veto leaves New Jerseyans at risk
The risk posed by so-called "oil trains" barreling through several towns in Bergen County is real, but one Gov. Chris Christie doesn't seem terribly concerned about. Last week, he refused to sign legislation that would have provided local emergency responders with more information about the scores of trains hauling volatile crude oil through New Jersey, saying it could become a security threat.
The Record Read more