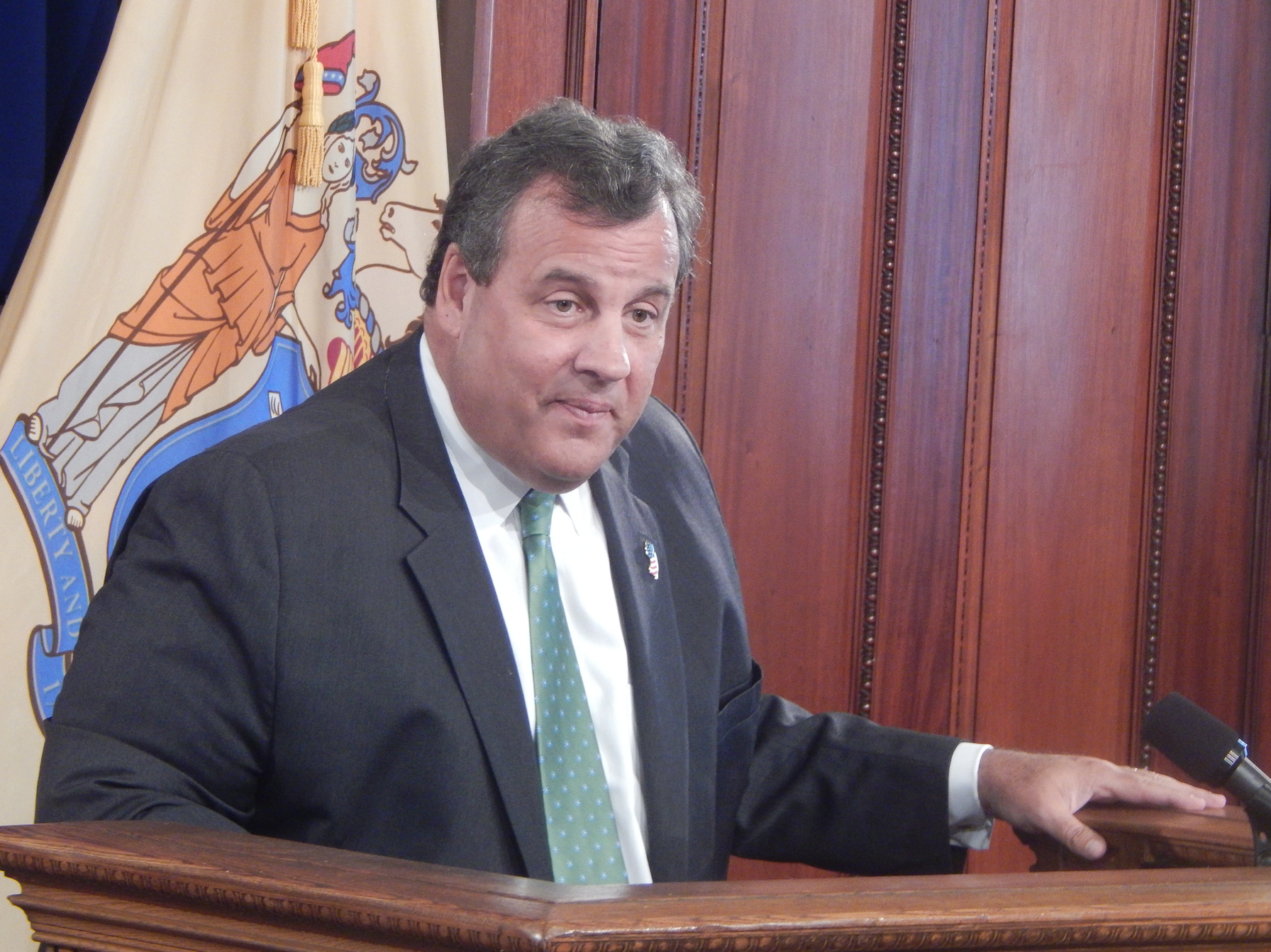 Gov. Chris Christie is telling a different story after a new a new book claims he got cursed out on election night by then-President-elect Donald Trump.
The new book, "Devil's Bargain" by Joshua Green, says Trump freaked out when Christie arranged to have then-President Barack Obama call his cell phone to congratulate Trump on his victory. Trump, an apparent germaphobe, was "horrified" at the idea of using Christie's cell. "I don't want your f***ing phone,' Trump allegedly told the governor.
But Christie said Tuesday that the book is "wrong fundamentally" during an interview on MSNBC. Christie said he never spoke with Obama that night, but simply asked a White House staffer to call him later to get Trump's phone number. Christie told Trump of his conversation with the Obama aide, and there were apparently no profanities.
"He was happy about that," Christie said of Trump.
Christie is still the least popular governor in the country, according to a new poll released Tuesday. Just one in four New Jersey voters approve of the job he's doing, while 69 percent aren't happy with him.
He's apparently not popular in New York either. His fellow New York Mets fans booed him after he caught a foul ball Tuesday night. It was a nice one-handed catch, though.
Quote of the Day: "Nice to see him get from the beach to the ball park," St. Louis Cardinals play-by-play announcer Dan McLaughlin after Christie's aforementioned baseball catch.
Christie: Trump Should Give Up on Health Care
Gov. Chris Christie said Tuesday that President Trump should abandon efforts to repeal and replace the Affordable Care Act after a Republican health care bill died in the U.S. Senate.
Christian Hetrick, Observer Read more
NJ Gov Race: NJPAC, William Paterson Selected for Debates
Gubernatorial candidates Phil Murphy and Kim Guadagno will face each other during two debates this fall, one to be held at William Paterson University in Wayne and another at the New Jersey Performing Arts Center in Newark.
Alyana Alfaro, Observer Read more
Poll: Christie Still the Least Popular US Governor
One in four New Jersey voters approves of Christie, while 69 percent aren't happy with him, according to a Morning Consult poll released Tuesday. That makes him the least popular U.S. governor for the second time since April under the Morning Consult methodology.
Christian Hetrick, Observer Read more
NJ Lawmakers to Review 'Summer of Hell' Rail Work
The joint legislative committee overseeing the ongoing repairs to rail lines –which are predicted to delay travel times into and out of New York City for train commuters through the end of summer– will hold a hearing on Wednesday to review the progress of the repairs and assess NJ Transit operations in light of service changes.
Alyana Alfaro, Observer Read more
Race to the Bottom: NJ Ranked Dead Last of All 50 States for Fiscal Health
New Jersey's chronic budget problems have brought on a series of credit-rating downgrades in recent years, and now the state has landed in dead last place in two recent reviews of the fiscal health of all 50 states.
NJ Spotlight Read more
NJEA, charter group raise concerns over school lottery proposal
It's not every day the New Jersey Education Association, the state's largest teachers union, and the New Jersey Charter Schools Association find themselves on the same side of an issue.
Politico Read more
Study finds New Jersey needs new direction to improve state economy
A new study suggests that New Jersey could expand its economy by more than $150 billion and create more than 250,000 jobs over the next decade by making a series of changes in its business focus.
The Record Read more
Christie's Charter Legacy a Clear Record of Growth
When Gov. Chris Christie leaves office in six months, one of his clear legacies will be the growth of charter schools in New Jersey, with school enrollment more than doubling in his eight years in office.
NJSpotlight Read more
Report urges gubernatorial candidates to plan for transition now
At what point should a gubernatorial candidate designate someone to start thinking about a transition?
NJTV Watch
As Bridgegate book closes, two characters prepare to move on
The incendiary careers of an unlikely pair of politically precocious, baseball-besotted former Livingston High School friends in their mid-50s sputtered out recently — one in a federal courtroom in Newark, the other on the sands of Island Beach State Park.
Inquirer Read more
Christie running out the clock
Republican Gov. Chris Christie's immediate future is clear — he's running out the clock until his successor is inaugurated Jan 9.
The Jersey Journal Read more
Bucco elevated to Assembly conference leader
Assemblyman Bucco has been named conference leader of the New Jersey Assembly Republican caucus, elevating him to the second-most powerful position among the Assembly GOP ranks.
Daily Record Read more
Christie appoints top Republican lawmaker to state post
A former top Republican state lawmaker has been sworn in as the new director of New Jersey's Division of Alcoholic Beverage Control, the board that regulates alcohol sales in the state.
NJ.com Read more
Sen. Booker to introduce bill banning tenant blacklisting
U.S. Sen. Cory Booker said he will introduce a bill that will protect renters from unscrupulous landlords in New Jersey and across the country. The proposed legislation follows an Asbury Park Press investigation that exposed the lack of safeguards for renters.
Asbury Park Press Read more
Crews a no-show for some trains amid Penn Station repairs
Some New Jersey Transit trains have been canceled this week because engineers are choosing not to work under the terms of their contract amid the summer-long repair work at Penn Station.
The Record Read more