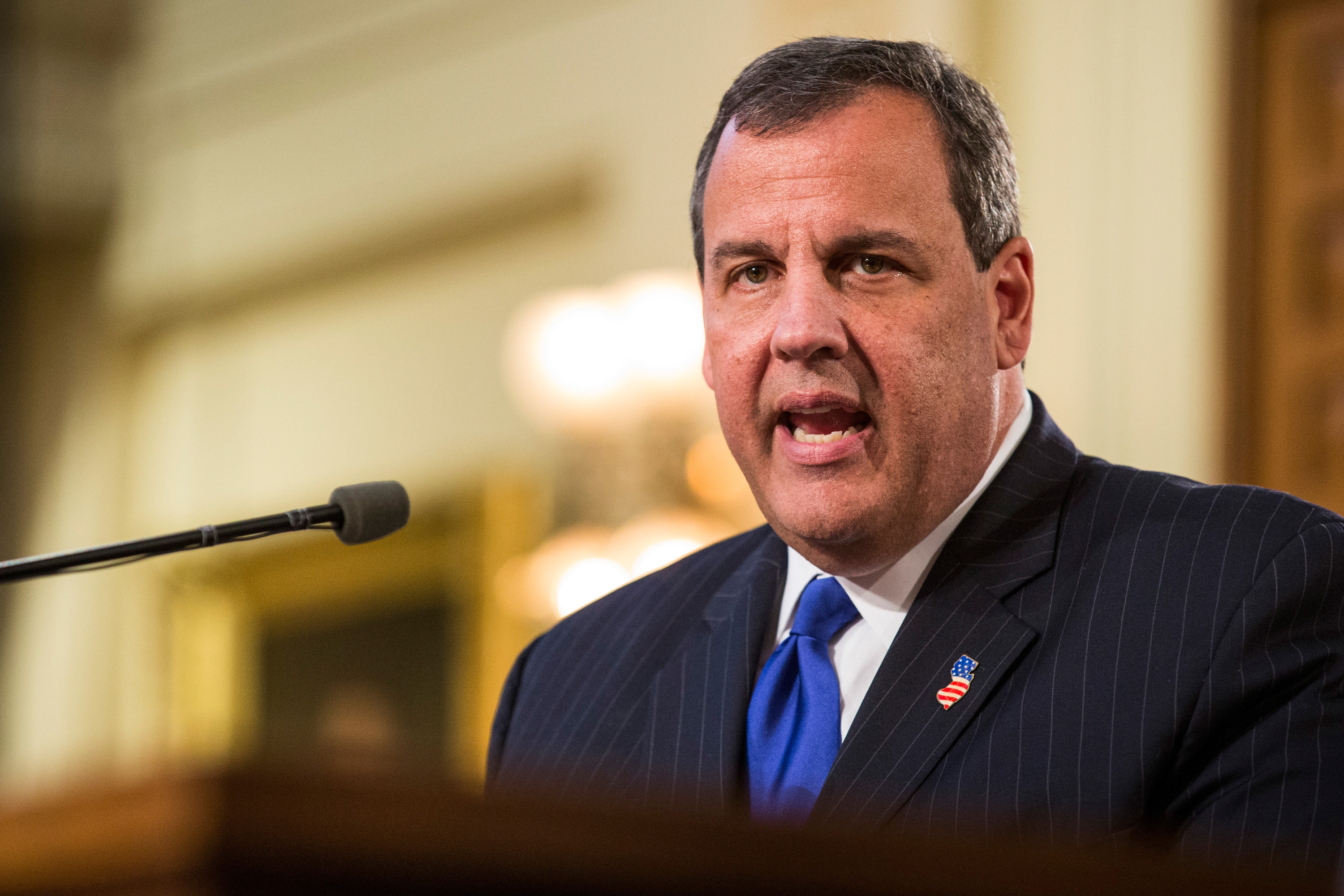 Gov. Chris Christie cleared his desk of dozens of bills on Friday before heading off to Aspen, Colorado for a Republican Governors Association meeting. He signed a whopping 72 bills and vetoed 14 others.
A few of his signatures surprised political observers. The governor signed a bill to make New Jersey just the third state in the nation to raise the smoking age to 21. He pocket-vetoed a similar bill last year.
Christie also signed a pair of bills adding new protections for transgender residents, including one directing schools to let students use bathrooms and locker rooms based on their gender identity. New Jersey is now the 11th state to issue such guidance for schools at a time when transgender bathroom access is a hot topic nationwide.
As for the vetoes, the governor gutted a bill that was a top priority for Democrats: a measure to expand the state's paid family leave law. Senate President Steve Sweeney (D-Gloucester), a bill sponsor, penned an op-ed for Observer on why the state should expand paid family leave the same day as Christie's veto.
Quote of the Day: "The governor and I have finally found an issue that we agree on — helping to save lives," state Sen. Richard Codey (D-Essex) on Christie signing his bill to raise the smoking age to 21.
Christie Signs Laws Protecting Transgender NJ Residents
Gov. Chris Christie on Friday signed two bills instituting broad new protections for transgender New Jersey residents: one directing schools to let students use bathrooms and locker rooms based on their gender identity or provide "reasonable alternative arrangements," and another prohibiting health insurers from discriminating against transgender residents.
Alyana Alfaro and Salvador Rizzo, Observer Read more
NJ Raises Smoking Age to 21
New Jersey will soon prohibit the sale of cigarettes and other tobacco products to anyone under the age of 21 thanks to a bill (S359) sponsored by state Sens. Richard Codey and Joe Vitale and signed into law by Gov. Chris Christie on Friday.
Alyana Alfaro, Observer Read more
Christie Vetoes Bill to Expand Paid Family Leave and More
Gov. Chris Christie vetoed 14 bills on Friday including a top priority for Democratic lawmakers, a measure broadly enhancing the state's paid family leave law.
Christian Hetrick, Observer Read more
Roginsky Leaving Murphy Campaign for DGA
Julie Roginsky, one of the top strategists for Phil Murphy, is leaving his gubernatorial campaign for a senior role at the Democratic Governors Association.
Salvador Rizzo, Observer Read more
Christie signs expansion of 'Joan's Law'
Gov. Chris Christie has signed into a bill (S-607) expanding "Joan's Law," the statute that eliminated parole as an option for those convicted of the murder of any minor 14 years and younger during the commission of a sex crime.
NJ.com Read more
Mugshot 'extortion' website ban signed by Christie
Gov. Chris Christie has signed into a bill (S-607) expanding "Joan's Law," the statute that eliminated parole as an option for those convicted of the murder of any minor 14 years and younger during the commission of a sex crime.
NJ.com Read more
Wife of Democratic candidate for governor takes on Frelinghuysen
Tammy Snyder Murphy — a good bet to replace Mary Pat Christie as New Jersey's First Lady in 2018 — was in town Friday to attend the weekly "Fridays with Frelinghuysen" rally and put a little heat of her own on embattled Rep. Rodney Frelinghuysen (R-11).
Daily Record Read more
Republican Corrado's victory aided by Democrat Pascrell
Passaic County Clerk Kristin Corrado's  victory in the 40th Legislative District Senate primary last month turned out to be one of the more bitter, intra-Republican Party skirmishes this year.
The Record Read more
Did Kim Guadagno admit joining her ticket is a hard sell?
Here was a candidate 27 points behind in the latest polling, in the cross-hairs of the president and without the benefit of the governor's top fundraiser admitting on live radio that serving as her running mate might not be a gimme.
NJ.com Read more
NJ Revises Accountability Plan For Fed Approval
Seven years after Race to the Top fiasco, Christie administration goes through federal review of its latest accountability plan.
NJSpotlight Read more
Sandy fraud payments top $5 million, hundreds of victims
Millions of taxpayer dollars intended to help superstorm Sandy victims repair and elevate their homes has instead gone missing in a wave of contractor fraud.
The Record Read more
Jared Kushner sold his stake in Monmouth Mall
Jared Kushner sold his stake in Monmouth Mall where his family's real estate company is planning a massive $500 million redevelopment project.
The Record Read more