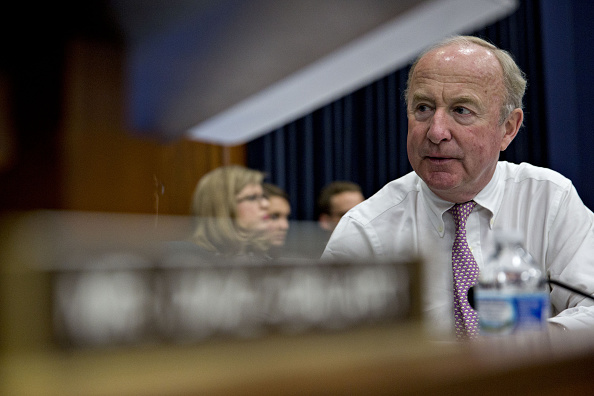 U.S. Rep. Rodney Frelinghuysen seems to be feeling the pressure from what could be his most challenging re-election bid yet.
In the latest sign the Republican congressman and powerful House Appropriations Chairman isn't taking any chances, Frelinghuysen hired two law firms this spring after opponents filed an ethics complaint against him for a letter he sent complaining about a constituent to her employer.
Frelinghuysen has come under fire for the fundraising letter and his support for the controversial American Health Care Act. Several Democrats are lining up to challenge him in a district that has been reliably Republican, but that The Cook Political report says has shifted to the left. One of his challengers, Mikie Sherrill, has already raked in $245,957 in the two months since announcing her candidacy.
The campaign filings, which showed Frelinghuysen paid lawyers in New Jersey and Washington nearly $32,000 after the ethics complaint, were disclosed days after he used his powerful perch at the House Appropriations Committee to commit $900 million to the much needed Gateway rail tunnel project. 
In Trenton, Gov. Chris Christie had his pen out Thursday and vetoed a Democratic effort to force the Port Authority to not enforce the Trump administration's controversial travel ban. He also signed a bill to narrowly expand the pool of retired law enforcement officers who can carry handguns.
And Christie could soon have a bill on his desk paying state workers for time they missed during the three-day government shutdown. The state Senate approved a measure to do that Thursday, and the Assembly will consider the bill before the end of July.
Quote of the Day: "They've got to be close to killing each other to get to the point where they allow a Republican as speaker. But I can tell you: I would be really fair," Republican Assemblyman Jon Bramnick, making a long-shot offer to be the next speaker of the Assembly.
NJ Senate Votes to Pay State Workers Affected by Shutdown
Public workers frozen out of their jobs during the three-day government shutdown would receive back pay under a bill that passed the state Senate in a 31-0 vote Thursday. Gov. Chris Christie has said he would sign the back-pay legislation, should it pass the Assembly.
Christian Hetrick, Observer Read more
Christie Vetoes Bill Banning Port Authority Enforcement of Trump Immigration Order
Gov. Chris Christie on Thursday vetoed legislation that, if enacted, would have barred the Port Authority of New York and New Jersey from using agency resources to enforce President Trump's executive order limiting travel from six majority-Muslim countries.
Alyana Alfaro, Observer Read more
Christie Signs Bill Allowing More Retired Officers to Carry Handguns
New Jersey will narrowly expand the pool of retired law enforcement officers who can carry handguns under a bill signed by Gov. Chris Christie on Thursday, a rare but minor loosening of gun restrictions in a state known for tough gun laws.
Christian Hetrick, Observer Read more
With Trump's Help, MacArthur Raises $1.13M in Second Quarter
Rep. Tom MacArthur (R-3) raised $1.13 million in the second quarter for his campaign and PAC, his staff announced Thursday.
Salvador Rizzo, Observer Read more
Murphy Once Again Makes the Case for Gateway Tunnel
Democratic gubernatorial candidate Phil Murphy on Thursday called for increased cooperation with New Jersey's federal delegation to mitigate issues caused by ongoing repairs to decades-old rail infrastructure and to push for federal focus on transit projects including a new sub-Hudson River Tunnel.
Alyana Alfaro, Observer Read more
Glen Rock Councilman Leonard to Complete GOP Slate in 38th Legislative District
Bill Leonard, a councilman from Glen Rock, is stepping in to fill the opening created on the Republican ticket in Bergen County's 38th district when attorney Matt Seymour dropped out of the Assembly race and changed his party affiliation to Democrat.
Alyana Alfaro, Observer Read more
Frelinghuysen Hires Lawyers After Ethics Complaint About 'Ringleader' Letter
Rep. Rodney Frelinghuysen paid lawyers in New Jersey and Washington nearly $32,000 this spring after an ethics complaint was filed over a fundraising letter he sent complaining that a bank's attorney was a "ringleader" of a group organizing protests at his offices, campaign filings show.
The Record Read more
Christie Vetoes Oil Train Bill That Would Have Given First Responders More Emergency Info
Gov. Chris Christie refused to sign a bill Thursday that would provide local emergency responders with more information on the scores of trains hauling volatile crude oil through New Jersey, saying it could become a security threat.
The Record Read more
Republican Bramnick's long-shot solution to Democrats' speaker fight: Consider me
If Assembly Democrats can't decide who should be the next speaker come January, the chamber's Republican leader, Jon Bramnick, has an idea: Consider him.
Politico Read more
Guadagno Touts Property Tax Reform Plan in Egg Harbor Township
Republican gubernatorial candidate Kim Guadagno was in town Thursday, touting her signature property tax reform plan that she says could save the average New Jersey resident about $1,000 on their annual tax bill.
Press of Atlantic City Read more
Will Christie's Hasty Reorganization of Addiction Care Be Blocked?
A joint legislative hearing has been scheduled for later this month to discuss Gov. Chris Christie's plan to restructure the state agencies responsible for mental health and addiction services in New Jersey.
NJ.com Read more
Christie Names His Third Chief Counsel of the Year
James DiGiulio, a lawyer who left Gov. Chris Christie's administration earlier this year, is returning as chief counsel, the Office of the Governor announced Thursday.
NJBiz Read more
Doblin: Where the Wildstein Things Are
David Wildstein. Depending on who you talk to Wildstein was socially awkward, devious, Machiavellian, meticulously organized, nasty, religious, unscrupulous, insecure and ultimately consumed by pleasing one man: Chris Christie. The truth is found – as always it is – in the space between the words and commas. That is where the wild things always are.
The Record Read more
Newark Watershed Manager Gets 8 Years for Kickback Scheme
The former special projects manager of the now-defunct Newark Watershed Conservation and Development Corp. was sentenced Thursday to eight years in federal prison for his role in a multi-million dollar kickback scheme that contributed to the collapse of the non-profit agency.
NJ.com Read more
Trump Backs N.J. Lawmaker's Fight to End Human Trafficking
Rep. Chris Smith's legislation to fight human trafficking was one of three bills on the subject passed Wednesday by the U.S. House.
NJ.com Read more
It's a Farce. It's a Lie. And Trump Must Be Stopped on This Issue, Booker says
Calling President Donald Trump's allegations of voter fraud a "lie" and a "sham," U.S. Sen. Cory Booker on Wednesday introduced legislation to put his commission out of business.
NJ.com Read more
Does NJ Face Constant Flooding From Sea Level Rise?
By the end of the century, up to 131 communities in New Jersey will face chronic flooding from high tides — once every other week — under a worst-case scenario for sea-level rise, according to a study released yesterday by the Union of Concerned Scientists.
NJSpotlight Read more