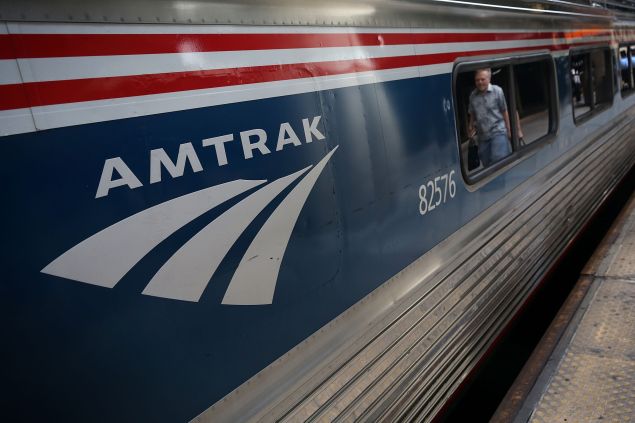 Time is money, and it has made the price tag of a new rail tunnel project to connect New Jersey and New York  rise by billions of dollars. The new cost estimate is nearly $13 billion, almost double the $7 billion lower estimate previously given for the project.
In the Legislature, the post-shutdown question is now what to do about back pay for the government workers who were sidelined from their jobs on Monday.
Quote of the Day: "The workers aren't at fault for this. We couldn't get this done." – Senate President Steve Sweeney.
Price for New York-New Jersey rail tunnel rises to $12.9B
A project to build a new rail tunnel between New York and New Jersey has a new, higher price tag – and continued questions over who will pay for it.
Associated Press Read more
Millions Meant for Rail Tunnel Subsidize Ferry Rides for a Few
With the precarious condition of the century-old rail links between New York City and New Jersey threatening to disrupt lives for the rest of the summer, commuters may wonder what became of all the money that had been pledged for a new train tunnel under the Hudson River.
New York Times Read more
Analysis: Political divisions fueled Penn Station failure
New Jersey and Long Island commuters are asking the wrong question if they want to know how New York Penn Station got so bad that dozens of trains are being rerouted starting Monday to allow for major track improvements this summer.
The Record Read more
New Jersey points furloughed workers toward unemployment claims
State workers furloughed during the three-day government shutdown are being guided toward making unemployment insurance claims to recoup some of the pay they lost while lawmakers squabbled over New Jersey's budget.
The Record Read more
After Shutdown, Mazzeo Wants Assembly Vote on Back Pay for Workers
Assemblyman Vince Mazzeo asked Speaker Vincent Prieto on Thursday to bring lawmakers back to the state house to pass a bill that would pay state employees who couldn't work during the government shutdown.
Christian Hetrick, Observer Read more
Could 'Beachgate' drive Christie down to single digits in polls?
Gov. Chris Christie was already the most unpopular governor in the history of New Jersey polling. Then came photos earlier this week that showed he'd hit the beach at Island Beach State Park at a time when the park was closed to the public because of a government shutdown.
NJ.com Read more
Is Christie now trying out for Francesa's slot on WFAN?
Gov. Chris Christie is scheduled to help fill in for Mike Francesa in the afternoon drive-time slot on New York City sports-talk radio station WFAN for two days next week.
NJ.com Read more
Christie presidential staffer arrested for public intoxication
A New Jersey native who worked on Gov. Chris Christie's presidential campaign issued an apology after his arrest last month in Iowa for public intoxication.
NJ.com Read more
Facing tough re-election, N.J. Republican widens distance from Trump
Rep. Leonard Lance, one of only 23 Republicans representing a congressional district carried by Hillary Clinton in 2016, made it clear at his feisty town hall meeting in February that he has differences with President Donald Trump.
NJ.com Read more
Christie to Consider Regulating, Taxing Fantasy Sports
It's up to Gov. Chris Christie to decide whether New Jersey will tax and regulate fantasy sports, a growing industry estimated to add $6.6 million a year in revenue to the state budget.
Christian Hetrick, Observer Read more
Bill Before Christie Would Give New Rights to Transgender Students
New Jersey law could soon bar school districts from assigning transgender students to use bathrooms and locker rooms that go against their gender identity.
Alyana Alfaro, Observer Read more
Addiction treatment in jeopardy if Senate health bill passes, NJ Dems say
Treatment for thousands of New Jersey residents addicted to painkillers and heroin would be eliminated and health coverage cut for hundreds of thousands more under the Senate Republicans' proposal to replace the Affordable Care Act, the state's Democratic senators and a pair of congressmen warned Thursday.
The Record Read more
What's at stake in Trump commission's request for voter data that N.J. just rejected
New Jersey became the latest state to reject a request for registration information from President Donald Trump's commission on voter fraud.
NJ.com Read more
Booker asks N.J. to keep data from Trump voter fraud commission
U.S. Sen. Cory Booker asked state officials to reject any request from President Donald Trump's voter fraud commission for information about New Jersey voter rolls.
NJ.com Read more
State's top Democrat to speak at campaign event for indicted Paterson mayor
The chairman of the state Democratic Party is scheduled to serve as the guest speaker for indicted mayor Jose "Joey" Torres' reelection campaign fund-raising event at the Meadowlands Racetrack at the end of July.
Paterson Press Read more
Add more debt to NJ's books? NJ voters may decide library bond
Should the state borrow money to improve public libraries? It's not up to Gov. Chris Christie to decide whether to ask voters.
NJ101.5 Read more
'Liquidation sale': Hundreds line up for pieces of the Taj
Jolene John and her family arrived Wednesday evening in Atlantic City from Philadelphia and booked a room at the Caesars Atlantic City Hotel and Casino.
Inquirer Read more
Who's Who in the Hoboken Mayoral Race
Hoboken Mayor Dawn Zimmer announced last month that she would not be pursuing re-election in the small city adjacent to the Hudson River. Instead of a third term, Zimmer said, she wants to pursue environmental initiatives to help prevent hurricanes like 2012's Sandy from tearing through towns like Hoboken.
Alyana Alfaro, Observer Read more
Lakewood school board president resigns
In a surprise move, Lakewood School Board President Barry Iann resigned early Thursday, leaving behind a struggling school district that just avoided laying off more than 100 teachers and faces ongoing budget woes.
Asbury Park Press Read more
Passaic County Democratic chair eyes Passaic County clerk's job
Kristin Corrado's recent victory in the Republican primary for state Senate in the 40th District created a huge opportunity for Democrats to take back the Passaic County clerk job.
The Record Read more
Nutley commissioner Steve Rogers joins Trump advisory board
After his unsuccessful New Jersey primary gubernatorial campaign in June, Republican Steven Rogers is going back to work for President Donald Trump.
The Record Read more
Christie Gets Burned By Moment of Sun and Fun
While the media busies itself with declaring winners and losers in breaking the state budget impasse and ending the three-day partial shutdown of government, the clear winner is not the governor, not a member of the Legislature, but the news photographer who caught the governor lounging on the beach with family and friends, surrounded by miles of empty sand.
Carl Golden, NJSpotlight Read more
Chris Christie's the least-worst governor in recent history
The governor took quite a beating over the holiday weekend because of those photos of him lounging on the beach at a state park closed to everyone else because of a budget showdown.
Paul Mulshine, NJ.com Read more
Editorial: Christie shifts pollution settlement funds
When the fog cleared from frenzied negotiations over the long weekend regarding the state budget, you had to know there were going to be surprises. One of them, as reported by Staff Writer Scott Fallon, will mean a net loss for the state's environment and those who care about it, particularly in North Jersey, where cleanup projects and pollution remediation is ongoing, an ever-present reminder of the region's heavy industrial period before and after World War II.
The Record Read more
EDITORIAL: Don't cave to voter 'integrity' panel
Let's first be clear about the goals of President Donald Trump's so-called "Election Integrity Commission." A more accurate name would be "Voter Suppression Commission."
Asbury Park Press Read more
Editorial: N.J. needs to oppose Trump's voter fraud witch hunt
From one end the country to the other, states both blue and red have emphatically resisted a request from the White House to turn over voter data – including such invasive information as the last four digits of voters' Social Security numbers, their military status, their birth dates and their party affiliations.
Times of Trenton Read more