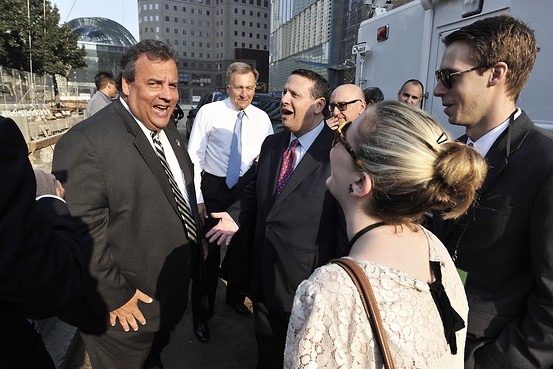 It's the day of reckoning for the self-confessed Bridgegate mastermind, David Wildstein.
Prosecutors are not seeking prison time for Gov. Chris Christie's former Port Authority enforcer. But a judge will decide whether Wildstein's cooperation as a government informant is enough to warrant probation instead of jail time.
Meanwhile, Rep. Rodney Frelinghuysen, who has been catching a lot of flak for his support of the GOP health care plan, is moving to demonstrate his value to New Jersey residents from his powerful perch as the chairman of the House Appropriations Committee. He included $900 million for the much-needed Gateway rail project in a House spending bill.
Quote of the Day: "Mr. Wildstein's cooperation has included considerable time answering the government's questions regarding his knowledge of a plethora of other issues related to Governor Christie and the Port Authority that he was not involved in and were unrelated to him." – Wildstein defense attorney Alan Zegas.
Frelinghuysen Commits $900 Million to Gateway Project
The Gateway project would get $900 million in federal funds next year, including money for a much-needed new tunnel under the Hudson River, under a House transportation spending plan unveiled Tuesday by Rep. Rodney Frelinghuysen (R-11).
Christian Hetrick, Observer Read more
Feds Seek Probation for Bridgegate Mastermind Wildstein
Federal prosecutors are asking for probation rather than prison time for David Wildstein, the self-admitted mastermind of the 2013 scheme to close New Jersey access lanes to the George Washington Bridge in what became the infamous Bridgegate scandal.
Alyana Alfaro, Observer Read more
As Christie seeks new career, Wildstein still haunts
The ghost of David Wildstein slipped through the screeners at WFAN sports radio Monday afternoon.
Charles Stile, The Record Read more
NJ Justices Release Video of Fatal Police Shooting
Dashboard camera videos generally must be released to the public when police use deadly force, the New Jersey Supreme Court ruled unanimously on Tuesday, and police reports naming the officers in those cases may not be withheld.
Salvador Rizzo, Observer Read more
One Week After Budget Resolution, Christie and Prieto Still at Odds
While the budget impasse in New Jersey was cleared last week, it seems that Gov. Chris Christie and Assembly Speaker Vincent Prieto are still at odds.
Alyana Alfaro, Observer Read more
Christie's Summer Surprise: Move Mental Health Services to Different Division
Gov. Chris Christie wants to transfer responsibility for New Jersey's four state psychiatric hospitals, community-based mental health and addiction services, and other behavioral health programs from the Department of Human Services to the Department of Health later this summer.
Lilo H. Stainton, NJSpotlight Read more
Chris Christie tells co-host WFAN 'screwed us' on tryout schedule
If Chris Christie doesn't transition from New Jersey governor to WFAN sports talk host, blame his tryout schedule.
Bob Jordan, Asbury Park Press Read more
Port Authority Suspending Payments to New Jersey That Subsidized Ferry
The Port Authority of New York and New Jersey is suspending payments to the State of New Jersey that were funding a subsidized ferry for people who live near the Jersey Shore.
Patrick McGeehan, New York Times Read more
After Penn Station Repairs, Gateway Tunnel is Next Worry
The first day of major track repairs by Amtrak at New York Penn Station went off relatively smoothly for NJ Transit. This was because "NJ Transit had a straight forward plan and they executed it very well," said Martin Robins, former deputy executive director of NJ Transit.
NJ Spotlight Read more
How the GOP health bills could make N.J. look like Alabama
For New Jersey, the GOP health-care proposals in Washington could mean more than budgetary chaos and a million people going without insurance. The state could wind up with a higher share of uninsured residents than places like Alabama and Mississippi.
Don Sapatkin, Inquirer Read more
Whelan Undergoes Surgery
State Sen. Jim Whelan (D-Atlantic) underwent surgery Tuesday to remove a cancerous growth from his kidney, according to his office.
Christian Hetrick, Observer Read more
State senators tour squalid Asbury Park housing to push protection bill
State senators seeking new tools to crack down on substandard rental housing and the landlords who profit from such squalor took their fight to Asbury Park on Tuesday.
Asbury Park Press Read more
Atlantic City to try (again) to sell Bader Field
Once valued at more than $800 million, the former municipal airstrip at the edge of Atlantic City known as Bader Field will again be put up for sale
Amy S. Rosenberg, Inquirer Read more