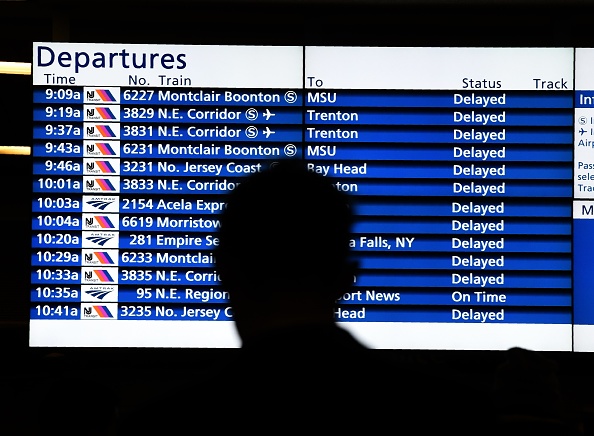 At the risk of jinxing the rest of the summer, it's safe to say the start of the "Summer of Hell" turned out not to be so bad after all.
The situation might flip in a Jersey minute, but commuters seemed pleasantly surprised at how smoothly their commutes went Monday as Amtrak began repair work on tracks at New York Penn Station. The trains, buses and ferries mostly ran on time.
A new poll showed Gov. Chris Christie's poll numbers hanging on for dear life at double digits after the "Beachgate" photos went viral. He is still limping along with a 15 percent approval rating, according to a Monmouth University poll. Still, New Jerseyans didn't have nice things to say about Christie's stay at Island Beach State Park. Some residents — 6 percent — used curse words or "jerk" to describe their feelings toward the governor.
One of those angry residents was Mike from Montclair, who called Christie a "fat ass" when the governor filled in on WFAN radio Monday. Christie, auditioning for a full-time radio gig after he leaves office next year, returned fire by calling Mike a communist, and the exchange spread through social media.
Quote of the Day: "It really is difficult to drive approval ratings into the single digits barring something like a criminal conviction. However, you have to admire Christie's seeming tenacity for trying to get his numbers down to that level." –Monmouth University Poll Director Patrick Murray.
Riders: Morning commute not as bad as expected
North Jersey commuters, expecting the worst, were pleasantly surprised when Monday's commute into New York City did not turn out to be as bad as many of them had expected.
The Record Read more
Legislative Hearing Set for Tenth Day of 'Summer of Hell' Repairs
Many New Jersey commuters traveling into New York City were rerouted via Hoboken ferry on Monday, the first day of much-needed repairs to rail lines at New York Penn Station that New York Gov. Andrew Cuomo said would be a "summer of hell" for riders.
Alyana Alfaro, Observer Read more
Callers Go Full Jersey on Christie During WFAN Audition
With New Jersey residents literally cursing him out the door, Gov. Chris Christie auditioned for a sports talk radio job on Monday and was called a profanity on air, too.
Christian Hetrick, Observer Read more
New Jerseyans Flip Out at Christie Beach Pics
In their own words, New Jersey residents were disgusted, angry, outraged, appalled, upset, frustrated, disappointed — and not surprised — at Gov. Chris Christie after his beach escapade during a government shutdown.
Salvador Rizzo, Observer Read more
Bridgegate star witness finally faces his own day of reckoning
David Wildstein, a key figure in the Bridgegate scandal, is scheduled to be sentenced this week, two years after pleading guilty to his role in the bizarre scheme of political hardball that led to the convictions of two former members of Gov. Chris Christie's inner circle.
NJ.com Read more
Guadagno, Murphy Still Have Time to Pick LG Candidates
Anyone wondering why Kim Guadagno and Phil Murphy have yet to announce their picks for lieutenant governor may be in suspense for a few more months.
Alyana Alfaro, Observer Read more
Getting a Read on Library Ballot Question
A proposed ballot question seeking voter authorization for the state to borrow $125 million to help fund capital projects at local libraries won overwhelming bipartisan support as it advanced through the Legislature. But the fate of the library-bond issue now lies squarely in the hands of just one person — Gov. Chris Christie.
NJSpotlight Read more
Opioids poured into South Jersey in 2010 and 2015
The number of opioid prescriptions written in the southern counties of New Jersey were among the nation's highest in 2015, according to the Centers for Disease Control and Prevention.
Asbury Park Press Read more
President Trump may attend 2017 U.S. Women's Open in Bedminster, reports say
President Donald Trump will likely be at Trump National Golf Club in Bedminster this week as the club hosts the 2017 U.S. Women's Open, according to reports.
NJ.com Read more
Immigration in NJ: What these immigrants want you to understand
For Monica from Chille, it's a given. New Jersey is a place where immigrants have opportunities — but where they also face struggles. The Hudson County resident, sitting in an office in Newark, said it's a place where someone trying to get ahead can face skepticism and discrimination.
NJ101.5 Read more
Editorial: These are the 5 N.J. congressmen who sold out their state
Given a choice between protecting our cities or enabling Donald Trump's xenophobic crusade against the immigrant population, New Jersey's five Republican representatives have elected to betray their home state and embrace the president's nativist paranoia and bumper sticker politics.
Star-Ledger Read more
Editorial: School funding winners and losers
The best news to come out the state budget deal brokered last week was the $150 million increase in state aid to schools. It is the first time the state is embracing a 2008 law that sought to bring more equity to the distribution of state monies for public education. What was agreed upon last week is a start toward that goal.
The Record Read more