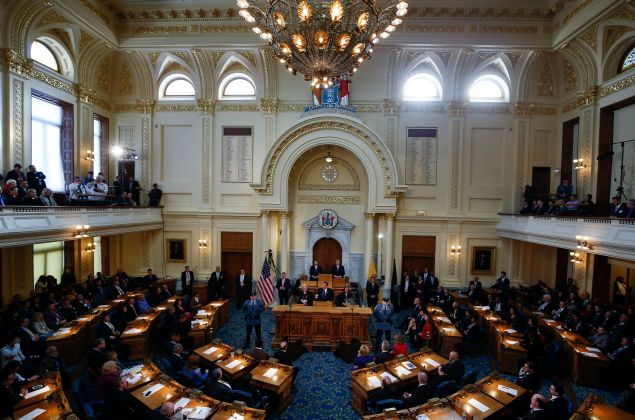 New Jersey residents returned to state parks Tuesday, following a budget deal that allowed the reopening of state facilities. But even the chilly Atlantic couldn't cool beach-goers' ire at the state's "most-hated beach bum," as one newspaper dubbed Gov. Chris Christie who was caught sunning himself on a state beach in the midst of the shutdown he'd ordered.
Some political observers predict Christie's record-low approval ratings will sink even lower, there are some arguing the governor was not the loser in the budget battle, even though the agreement he had to settle for was a far cry from the plans he had for Horizon Blue Cross Blue Shield.
Quote of the Day: "I always thought it was Republicans who were standing up for corporations and Democrats who were demonizing them. Yet on this one, I'm willing to go after an insurance company, and you had a Democrat in the speaker who was standing up for them as if they were a representative of some religion." – Gov. Chris Christie.
Christie Signs $34.7B Budget, Ending Historic Shutdown Over an Insurance Company
A three-day government shutdown that seemed to come out of nowhere ended in the wee hours of the Fourth of July after Gov. Chris Christie struck a grand budget bargain — his last — with the Democratic leaders of the Legislature.
Salvador Rizzo, Observer Read more
Budget breakthrough leaves Christie with face-saving consolation prizes
To listen to all the principals involved, the great budget drama and government shutdown was a seismic event in State House history.
Charles Stile, The Record Read more
Relief and Resentment as New Jersey Beachgoers Return to the Shore
Over the weekend, Island Beach State Park in New Jersey was deserted, its parking lots empty and its 10 miles of white sand untouched except by gulls, lapping waves and Gov. Chris Christie — who had ordered it closed as part of a government shutdown but was caught lounging in front of his home there with his family in an aerial photograph seen around the world.
The New York Times Read more
Winners and losers in the great state shutdown and budget battle of 2017
So the great state government shutdown of 2017 is officially over after lawmakers in Trenton fought tooth and nail over issues most New Jersey residents had no clue could stop New Jersey government in its tracks.
NJ.com Read more
Chris Christie is going back to the beach: 'I don't care about political optics'
In the end, New Jersey Gov. Chris Christie remained unapologetic about his not-so-secret beach trip amid a state government shutdown.
USA Today Read more
What you need to know about New Jersey's budget deal
Gov. Chris Christie and the Legislature's top Democrats brokered a deal late Monday night to end the government shutdown.
The Record Read more
The shutdown show: For Chris Christie, it was no day at the beach
As I was driving out Interstate 195 from the Shore to Trenton on Monday, I saw the usual convoy of holiday traffic headed in the other direction.
Paul Mulshine, NJ.com Read more
Chris Christie turns camera shy amid beach outrage
Embattled New Jersey Gov. Chris Christie spent his Fourth of July cowardly hiding out in a state-owned, oceanfront mansion — despite defiantly declaring that he'd go back to the beach where he was caught sunbathing while it was closed to the public.
NY Post Read more
Will Horizon changes that held up budget have much impact?
In the end, the changes at Horizon Blue Cross Blue Shield enacted as part of the budget bargain were less sweeping than Gov. Chris Christie or the Senate hoped – and came at the cost of a three-day partial government shutdown that roiled and spoiled the Independence Day holiday weekend.
Michael Symons, NJ101.5 Read more
MVC announces extensions for NJ drivers as shutdown ends
Drivers in New Jersey who could not renew some documents due to the state government shutdown are getting a brief reprieve.
Associated Press Read more
Christie's low polling numbers put him in 'undistinguished' company among former governors
It has been less than a day since the state government shutdown ended, so it's too early to know what impact the events of the past three days will have on the popularity of the key figures involved, but for Gov. Chris Christie his already low polling numbers put him in danger of joining a conspicuous group of former chief executives.
Adam Hochron, NJ101.5 Read more
Here's what Hudson County pols are saying about budget deal
Here's how Hudson County state legislators reacted to the agreement reached on the state budget agreement and the Horizon Blue Cross Blue Shield legislation that restructures the state's largest health insurer, that held up adoption of the $34.7 billion budget:
The Jersey Journal Read more
Christie to decide if N.J. will tax, regulate daily fantasy sports
It's now up to Gov. Chris Christie to decide if New Jersey will start taxing and regulating companies in the popular — but highly scrutinized — daily fantasy sports industry.
NJ.com Read more
10 moments Chris Christie (and most of N.J.) would like to forget.
It's not often that a governor's trip to the beach during a holiday weekend makes national headlines. But, NJ Advance Media photos of Gov. Chris Christie and his family sunbathing at Island Beach State Park — while a shutdown of state government closed the beach to the public — have become perhaps one of the biggest political missteps of Christie's career as governor of the Garden State.
NJ.com Read more
12 big moments from Fulop's four years as mayor
Four years ago, Steve Fulop became the mayor of Jersey City. Here is a look back at some of the highs and lows of Fulop's four years running Jersey City.
Jersey Journal Read more
Legalizing pot is a bad idea. Take it from a recovering addict
Watching what looks like an inexorable march from medical to recreational marijuana legalization in state after state — New Jersey included — I find myself unexpectedly empathetic toward some of those who fought marriage equality.
Kevin Riordan, Inquirer Read more
EDITORIAL: Best budget in 10 years? We'll see
The Great Government Shutdown of 2017 is over, and will soon be forgotten by nearly everyone, save for those who were suddenly rousted from their state-park campsites or had to walk away from a closed beach. Few will recall that a dispute over the governance structure of Horizon Blue Cross Blue Shield was the critical bone of contention.
Asbury Park Press Read more
MACARTHUR: Reform, don't scrap, flood insurance program
Nearly five years ago, superstorm Sandy devastated the Jersey Shore and forever changed its landscape. Ocean County — my home — was the epicenter of the storm and half of all New Jersey Sandy flood claims happened here. An estimated 346,000 homes were damaged or destroyed, resulting in over $30 billion in losses.
Tom MacArthur Read more