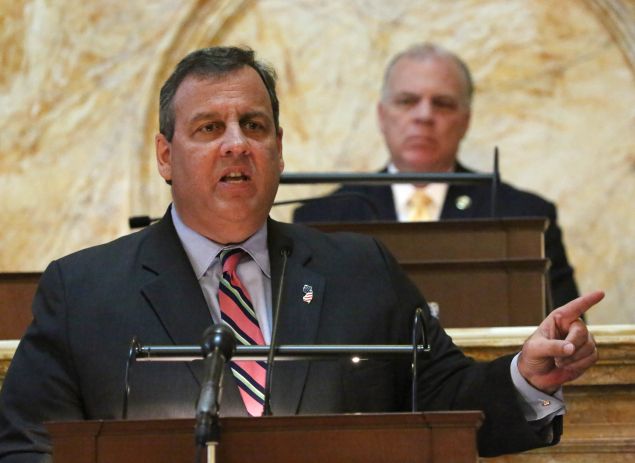 New Jersey's top elected officials came no closer to ending the first government shutdown in 11 years on Saturday, instead spending the first day of the freeze trading blame, calling each other liars and rehashing old arguments in fiery new tones.
Gov. Chris Christie and Senate President Steve Sweeney both dialed up their attacks on Assembly Speaker Vincent Prieto, casting him as an obstructionist protecting one health insurance company, Horizon Blue Cross Blue Shield, at the expense of everyone else in the state.
Prieto, outnumbered in the state house, continued to enjoy support from a wide range of business and labor groups outside of it on Saturday.
The speaker continued to refuse to link the stalled $34.7 billion budget to a separate measure Christie wants that would restructure Horizon, the state's largest health insurance company, in a way that company officials say would be radical, dangerous, politically vindictive and anti-capitalistic.
The ratio of insults to progress was at a glaring low on Saturday. Christie called a special session of the Legislature on Sunday at 2 p.m.
Prieto for the first time said he would consider capping the insurer's reserves, provided that any excess had to be spent on its own subscribers instead of state programs, as the current bill Christie wants would allow. The sponsor of that bill, Sen. Joe Vitale (D-Middlesex), did not rule out making that change, but said Prieto has not been willing to negotiate. The speaker said he would only consider Horizon legislation after the budget is done.
In a rare speech before a joint session of the Legislature — delivered in the Senate wing instead of the traditional Assembly chamber — Christie spent half an hour lambasting Horizon and its top executives, making clear that the government shutdown would continue until lawmakers overhauled the company's board and its surplus requirements.
"If we let the Horizon machine intimidate us into failing to act now they will be even further emboldened to dominate health care policy decisions in this state for years to come," Christie said, embracing the Vitale bill as the solution. "Work with me. End this shutdown. Protect our citizens from this company, which has forgotten why we created them in the first place."
Horizon was chartered by the state 85 years ago as a charitable entity and insurer of last resort. But it was never a state agency or an arm of the government; since the early 1990s, it has operated as a not-for-profit company exempt from some state taxes. Christie described it as a charity run amok with greed several times in his speech, but nothing in state law designates Horizon as a charity currently.
Because it is a not-for-profit, any net income is deposited in the company's $2.4 billion reserve fund. Christie said it was outrageous to see executives sitting on that pile of money, paying themselves millions of dollars and fighting his legislative plan with "a systematic, well-funded disinformation campaign consisting of half-truths, untruths, exaggerations and scare tactics." He was "alarmed" to learn that the company earned $163 million from Medicaid in 2016, he said.
"We feel sorry for Governor Christie that, in the twilight of his failed tenure, [he] is resorting again to bullying and distortions to retaliate against Horizon's 3.8 million policyholders for opposing his $300 million reserve raid that has been called a shakedown and extortion," said Horizon spokesman Kevin McArdle. "Not once in the previous seven years has the governor raised any issue in response to the many audits, annual reviews or thousands of pages of detailed financial filings that have been publicly filed including those detailing compensation information and lobbying expenses."
He added: "Horizon, a taxpaying not-for-profit institution in New Jersey for 85 years, has consistently earned an 'A' rating from Standard and Poor's, been ranked as New Jersey's top health insurance company and is proud of our 5,000 employees and their families who enable us to provide peace of mind for our policyholders. As Washington races to enact substantial changes to health care, Trenton shouldn't be adding to the uncertainty and making health care more expensive and less accessible."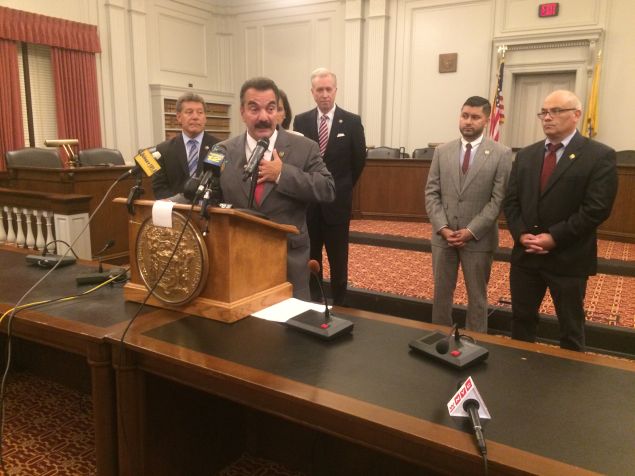 Although state parks and many services were closed, and tens of thousands of workers were preparing to be furloughed, some government officials remained hard at work on the PR battle not to get blamed.
Christie called it "Speaker Prieto's shutdown" over and over. Prieto brandished a copy of Christie's executive order shutting down the government and called it "Christie's Hostage Crisis, Day One." Christie mocked Prieto for changing his mind on raiding Horizon's surplus, for sweating visibly on camera and for allegedly looking silly as he sat at the Assembly rostrum with his smartphone for several hours Friday. Prieto mocked Christie for opposing Donald Trump before supporting Donald Trump. They each accused the other of peddling falsehoods.
Christie commissioned flyers with a photograph of Prieto and the word "CLOSED" on top, posting them on the doors of several government buildings with a phone number for the speaker's district office. Sweeney held a news conference with dozens of Democratic lawmakers taking turns at the lectern to explain why Prieto should fold on Horizon in order to get Christie to approve $320 million in funding for a range of programs he has kept at austere levels for seven years.
Prieto on Saturday said he's willing to pass a budget despite the risk that Christie will cut out the $320 million, arguing that the additional funding for cancer research, tuition assistance grants, domestic violence prevention, legal services for the poor, and other areas, could be funded within six months in a supplemental appropriation if Democrat Phil Murphy is elected governor this fall.
"Hopefully in six months from now, we hope that we have a Democratic governor, and then hopefully we can do a supplemental bill and that could be taken care of," he said.
Sweeney was not having it. He said people "are going to get screwed" if the money is removed from the budget for the eighth straight year.
"Not six months from now," he said. "Now!"
"Budgets matter. They're people. They're not numbers," said Sweeney (D-Gloucester). "This is the most money that has ever been restored since Governor Christie has been here, and I'm proud of that. I'm proud that we all worked together to come up with a plan that gets to helping people."
In total, there were three news conferences, one speech, and zero budgets or bills passed on Saturday. Christie and the Democrats withholding votes for the budget in the Assembly — a pressure tactic to get Prieto to cave on Horizon — had said as recently as Friday that they could strike some other deal that did not involve the insurance company.
But that option seemed to disappear on Saturday as Christie bluntly told lawmakers at the joint session that it was Horizon or bust.