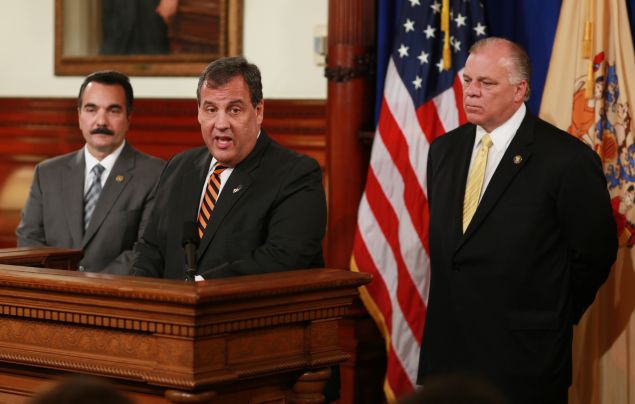 The day is Sunday, the hour is 6 p.m., New Jersey state government remains in shutdown mode, and nothing has really changed in the last 42 hours.
Gov. Chris Christie at a news conference continued to blame Assembly Speaker Vincent Prieto, who refuses to post a bill to restructure Horizon Blue Cross Blue Shield. You can read about that bill and the convoluted tale of how it ended up in the middle of the state's second government shutdown here.
For his part, Prieto (D-Hudson) continued to blame Christie, the state Senate and the Democrats in his own caucus who are withholding budget votes in a tactical bid to get him to cave on Horizon.
"This body, the Assembly, is the only one that's trying to pass a budget to get government going again," Prieto said. "The Senate has not put up the bill. Yesterday, they had a session, they had it on their board list. It did no go up. They have to do their part, too."
Christie's office said somewhere between 30,000 to 35,000 state workers might be furloughed beginning this week.
Senate President Steve Sweeney, meanwhile, demanded a meeting with Horizon chief executive Bob Marino for Monday. Marino accepted, but a spokesman indicated the meeting might not be very friendly, accusing Christie and the Democrats who support the Horizon bill of attempted extortion.
Christie said he would be "happy" to sign the new budget with or without the Horizon bill. This was a day after he gave a long, indignant speech in the Senate chamber casting Horizon as a rapacious threat to New Jersey residents and public health and urging lawmakers to end the shutdown by clamping down on the insurer. (So, maybe "happy" but not "thrilled.")
If Democrats don't pass the Horizon measure, the governor repeated Sunday, he would most likely line-item veto most if not all the $320 million they added to his spending proposal to hike funding for schools, cancer research, tuition assistance grants, rape crisis centers, legal services for the poor and other areas.
A lot of Democrats say it would be silly to pass up Christie's offer for an extra $320 million if all it takes is a bill to overhaul one insurance company. A lot of other Democrats say it's wrong to pay for good ideas with blood money from the state's largest health insurance company. Hence this shutdown.
The governor has been hanging out with his family this weekend at the official residence at Island Beach State Park. The park itself is closed to the public because of this shutdown business. The Christies are there basically by themselves; no lifeguards on duty or trash collectors, the governor said. Some were venturing into the water despite the lack of lifeguards (shutdown casualties). Christie told reporters he's riding the state helicopter back and forth from Trenton to the beach.
Meanwhile, the Assembly has had the budget bill up for a vote since Friday afternoon, but it has not gotten anywhere near the 41 votes needed for passage. Prieto flipped one vote from abstain to yes on Sunday — that of Assemblyman James Kennedy (D-Union), who rode his motorcycle down to Trenton for the occasion. Assemblyman Gary Schaer (D-Passaic), a Prieto supporter who had not voted, was expected to come to Trenton later on Sunday to vote yes. That would put Prieto at 28 votes. The speaker said he was making "progress."
Christie called a special session for Monday at 10 a.m. But Prieto said the Assembly remains in session so there's no opportunity to layer on a special session on top of that regular session, which sort of moots Christie's request.
Prieto said he would agree to schedule a committee hearing on Horizon on Monday. But he remained opposed to moving any Horizon legislation before the budget is passed. So the essential elements behind this shutdown remained unchanged, and everyone except for the press had left the building by Sunday evening.
Update (6:44 p.m.): This story has been updated to resolve the super-important question of whether the Christies could swim at Island Beach State Park during the government shutdown, which is depriving state parks of their lifeguards. Photographic evidence from NJ Advance Media, which flew a plane over the Shore to obtain it, has settled conclusively that some members of the Christie crew hitting the beach on Sunday were indeed venturing into the water — lifeguards be damned.