What initially began with a correspondence about selling some sports memorabilia and a poster has since unfolded into the kind dream scenario one might see on an especially lucky episode of Antiques Roadshow. While evaluating consignments for its upcoming August 19-20 Sports Platinum auction, experts at Dallas-based Heritage Auctions stumbled upon an original painting by the famous 20th century American artist Norman Rockwell, according to an announcement from the house.
The painting, a 1948 study for one of Rockwell's 1949 Saturday Evening Post covers, titled Tough Call, was originally thought to be a print by the family consigning the work. However, after research revealed slight variations between the family's version and Rockwell's finalized 1949 painting—which now resides in the collection of the Baseball Hall of Fame—experts at Heritage brought the consignors' work in for closer inspection. The print was, in fact, an original oil painting on paper, and the house now estimates it may bring over $300,000 at auction both for the fact that it is a previously unknown work and because it new to the market
"It's very exciting for us, and the consignors as well since they thought they had a print hanging in their house for decades," Heritage director of sports auctions Chris Ivy told the Observer. The work, which is inscribed to home plate umpire John "Beans" Reardon was given to the official by the artist, and has been with the family ever since.
The picture features Reardon, along with two other notable umpires of the time (Larry Goetz and Lou Jorda) along with Dodgers coach Clyde Sukeforth and Pirates manager Milly Meyer during a break in a game at Brooklyn's Ebbets Field, assessing falling rain droplets to determine if the event should go on. An inscription written below the painting's lower right corner reads: "My best wishes to 'Beans' Reardon, the greatest umpire ever lived, Sincerely, Norman Rockwell."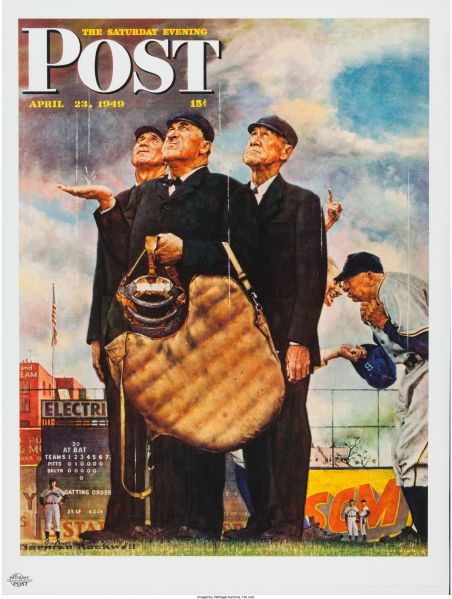 The piece offered by Heritage is nearly twice the size of a traditional study by Rockwell, and may be a more accurate reflection of the artist's vision for the painting than the finished work in the Baseball Hall of Fame. Before the final piece was printed on the Post's cover, one of the publication's made slight alterations to details such removing notable brand names and darkening players' uniforms, according to a description on the house's website. Rockwell's complaints about the last minute fixes, which occurred without his permission, eventually led Post to change its editorial police over such matters.
And while Heritage's version may be slightly different than Cooperstown's, Heritage director of American art Aviva Lehmann calls the piece's estimate of $300,000 "reasonable and well-founded."
"[Rockwell's] works can sell for more than Edward Hopper and Georgia O'Keeffe…He is having a moment, with collectors not only in America but also abroad—which is unusual for American artists of this period," Lehmann told the Observer. "Works of any sort are highly sought after, but especially studies for major works…We're expecting great interest from work, both from museum collectors and baseball enthusiasts."
Lehmann explained that not only is the piece a finished study for one of the artist's most significant works, but the last time Heritage offered an original Rockwell, Triple Self Portrait in May of this year, it far exceeded its pre-sale estimate of $150,000-$250,000 and went on to fetch $1.3 million.
Other highlights in Sports Platinum sale include an 1937 game worn Yankees jersey by Lou Gehrig (est. $800,000) and the player's signed rookie contract with the team ($500,000). Also featured is a notable game worn jersey on offer is Mickey Mantle's 1954 Yankees uniform ($400,000), and a 1920 game bat used by Babe Ruth (est. $400,000).
Heritage Auctions' Sports Platinum Night sale is now open for online bidding.