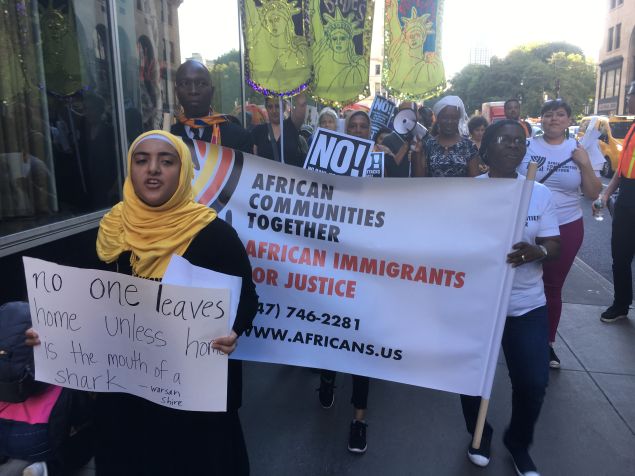 An additional 100,000 New Yorkers who speak Arabic, French, Urdu and Polish can now receive city services in their languages after a two-year campaign spearheaded by immigrant advocates that led to a change in city policy.
Mayor Bill de Blasio's Office of Immigrant Affairs announced that city agencies that offer direct services to the public are now required to translate their most commonly distributed documents in Arabic, Urdu, French and Polish. The new law went into effect on July 1.
The additional language requirements — which are among the top 10 citywide languages — mean that 86 percent of New Yorkers with limited English proficiency will have access to documents in their own language, up from 81 percent. And roughly 100,000 New Yorkers will be affected by the changes, according to 2015 U.S. Census Bureau estimates.
"Today, the city is speaking to more New Yorkers in their language than ever before — a step that is consistent with the de Blasio administration's commitment to serving all residents equitably," Immigrant Affairs Commissioner Nisha Agarwal said in a statement. "This local law will mean that more New Yorkers with limited English proficiency can access city services in their language, especially immigrant families, as we also continue to connect them to English language learning opportunities."
Spanish, Chinese, Russian, Bengali, Haitian Creole and Korean were already previously required under city law. The city noted that three out of every five New Yorkers are immigrants or children of immigrants and that nearly one in four New Yorkers have limited English proficiency.
African Communities Together — an organization of African immigrants fighting for civil rights and opportunities for Africans in the United States and a home — spearheaded the campaign in conjunction with the Arab American Association of New York, the Asian American Federation and the New York Immigration Coalition.
According to the groups, New York City is home to as many as 29,000 Limited English Proficient French speakers, many of whom are immigrants from Francophone West African countries, and 26,000 LEP Arabic speakers.
Fatou Waggeh, civic organizer for African Communities Together, told the Observer in a telephone interview that the inclusion of the languages is significant given the climate under the administration of President Trump, who has carried out an aggressive immigration enforcement agenda. She commended the offices of City Council Speaker Melissa Mark-Viverito and de Blasio.
"We're really glad that our languages are being recognized and African immigrants are fast and growing community in New York City and sometimes we were not recognized," Waggeh said. "We can be invisible at times, but the inclusion of Arabic and French, two common lingua francas of the continent, being included in the city's language access is positive for our community because it shows that the city recognizes us."
In May 2016, Mark-Viverito introduced the legislation, which was approved by the City Council's Committee on Government Operations and eventually passed by the full Council in February. In March, de Blasio signed it into law.
The legislation marked the first increase in city languages since former Mayor Michael Bloomberg issued a 2008 executive order mandating that all city agencies provide services in six top languages. It is also the first time that languages widely spoken in Africa and in the Middle East are included.
The new law also mandates that city agencies providing direct public services offer telephonic interpretation in at least 100 languages and to formulate a language access implementation plan that would be posted on their agency websites. MOIA said that they will continue to review agencies' language access implementation plans and reports to ensure a smooth rollout.
Waggeh said that right now, they are focused on ensuring that their community is aware of the changes and is able to access it — and that the city continues to provide for immigrant communities because language access is "important" and the "prime foundation for immigrants to be able to live healthy and productive lives."
Jo-Ann Yoo, executive director of the Asian American Federation, told the Observer in a phone interview that her organization serves as an "information center" for the Asian American community and that it is the "fastest growing population" in the city.
She said that it is important to find ways to support vulnerable communities "especially in this political climate," noting that there is "a lot of panic" and questions in the community. She called the effort a "labor of love" and said she was "thrilled" that they played a role in the endeavor.
"I think it's more than just, 'Here's a flyer in your language,'" Yoo said. "I think it's really an empowerment tool. As a New York City resident, here's the things you are entitled to."