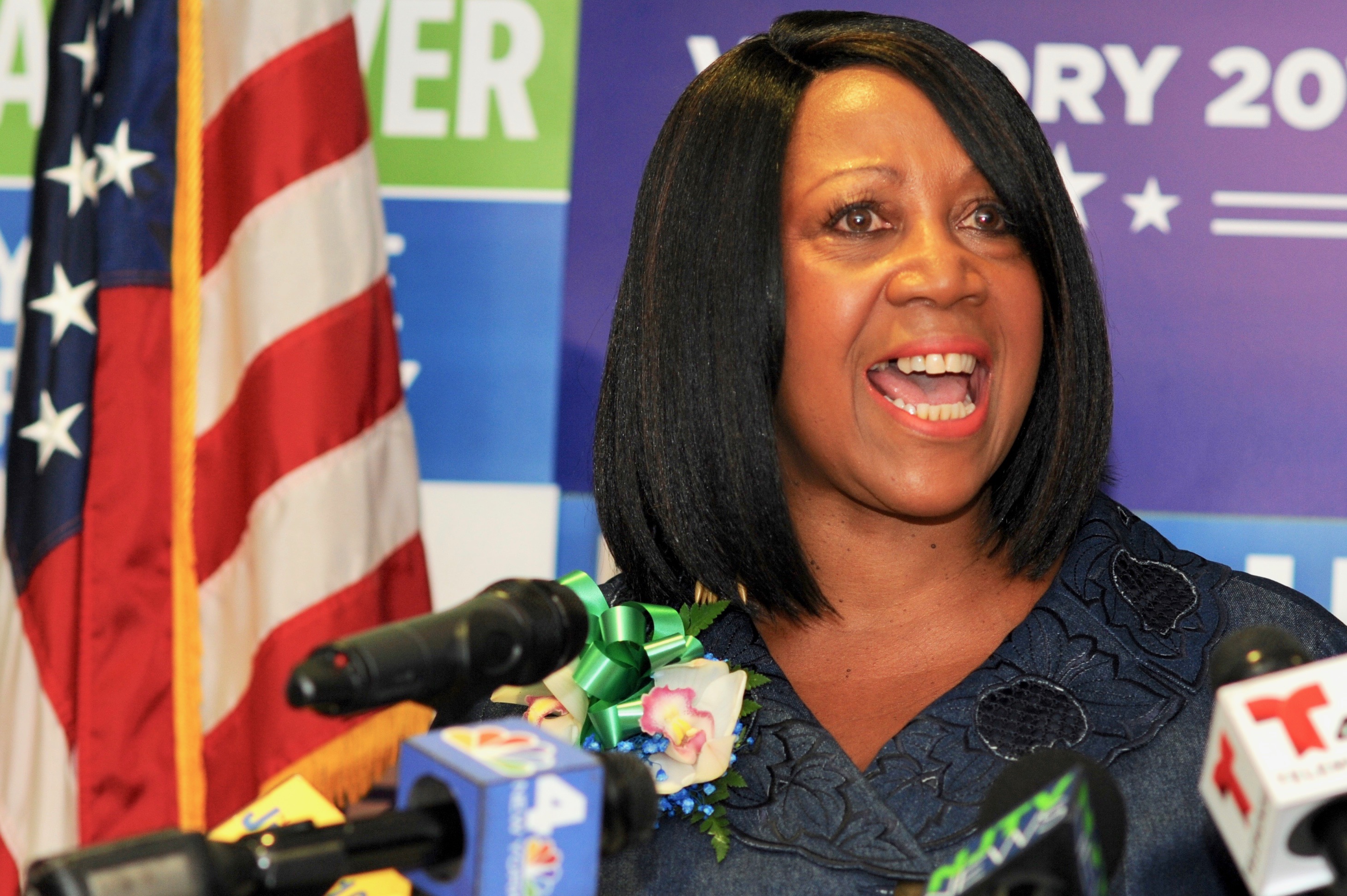 Former Assembly Speaker Sheila Oliver quickly went on the attack against the Christie administration at her announcement as the Democratic candidate for lieutenant governor on Wednesday, offering herself as a stark contrast to the current lieutenant governor: Republican gubernatorial nominee Kim Guadagno.
Oliver, a state assemblywoman from East Orange, debuted as Phil Murphy's running mate at a news conference in Newark attended by dozens of high-ranking Democratic officials. The two candidates hugged and praised one another, and Murphy, a former Goldman Sachs executive, described it as a pairing of "two like-minded souls."
Oliver, 65, had harsh words for the "Christie-Guadagno administration," which she said "strangle-holded" the state for the last seven and a half years. In a possible preview to her attack-dog role on the campaign trail, she pledged to be a "very different lieutenant governor" from Guadagno, who has focused on being a liaison to New Jersey's business community.
"Unlike Kim Guadagno, I will spend every minute of my time working to make this state better for women, for children, for families and for every single constituency group up and down the state of New Jersey," Oliver said. "I will not be a lieutenant governor who handles and provides big tax breaks to our corporations quite literally at the expense of middle-class families."
She also outlined Murphy's liberal agenda, promising more funding for schools and women's health services, an increase in the minimum wage, loans for women and minority-owned businesses, protections against LGBT discrimination and measures to defray the cost of higher education. Oliver, who championed many of those causes as Assembly speaker, called her new role a "fulfillment of a lifetime of working on behalf of people."
"The Christie-Guadagno administration underfunded our schools, laying off teachers, administrators, cafeteria workers, janitors, custodians — these are the backbones of our neighborhoods," Oliver said. "We will not continue that underfunding to our public schools."
Oliver wiped away tears as a crowd chanted "Sheila! Sheila!" before she spoke. The DJ introduced her by playing Stevie Wonder's "Isn't She Lovely?" Dozens of supporters, elected officials, power brokers and labor leaders packed the sweltering campaign headquarters.
Oliver was speaker during Gov. Chris Christie's first term and worked with him and Senate President Steve Sweeney (D-Gloucester) to cut public workers' pension and health benefits, angering the state's public sector unions. But she was also a Christie foe, fighting often with the governor on charter schools, vouchers, the millionaire's tax and a range of other issues.
She addressed the 2011 moves, acknowledging that public workers are now earning less money. She called Chapter 78 — the pension and benefits overhaul law — an "imperfect piece of legislation" made worse by Christie, who yanked billions of dollars in promised contributions to the cash-starved public pension system to plug budget holes.
"You met your end of the bargain that was made," she said to union workers who were at the rally. "But Christie and Guadagno obliterated and hid from their commitment of proving subsequent contributions so we that can shore up and make certain that future decades would allow our pensioneers to get everything that they were entitled to."
Oliver, the first African American woman to become Assembly speaker, brings diversity to the ticket and deep knowledge of how the state house operates, something that would aid Murphy should he win the governor's office. Murphy, a former U.S. ambassador to Germany under President Barack Obama, has never held elected office.
"Being governor is important, but even as governor, if we're fortunate enough to get there, I will only be one person," Murphy said. "To be successful, I will need a team that joins me not just in a way of thinking, but in a way of acting. A team that I believe must not only represent the very best of our state, but must mirror the great diversity of our state.
"Sheila Oliver shares my vision for a state that is one again fair, is just, is welcoming, is inclusive and has an economy that not only grows, but ensures everyone can participate in that growth," Murphy added. "Sheila has the breadth of experience to meaningfully contribute to turn our state around. Moreover, Sheila will be an active, contributing member of our administration."
Democrats praised Murphy's move to pick Oliver as his running mate. Assembly Speaker Vincent Prieto, who ousted her as speaker in 2014, attended the announcement and called her an ally and friend.
"She's articulate, she's smart, she knows government and she is going to be the real deal as lieutenant governor," said Prieto (D-Hudson). "For the first time you're going to see somebody in that position that really will make a difference."
Sweeney, who at times butted heads with Oliver when she was Assembly speaker, called her "smart, knowledegable and principled" and said the Senate would work with her and Murphy if they're elected.
"She is committed to the Democratic priorities that unify Democratic candidates at all levels and that will appeal to the needs of the voters," Sweeney said in a statement. "We will work together with Phil Murphy, Sheila Oliver and Democratic candidates for the Senate and the Assembly to ensure the election of Democrats who will address the state's pressing needs and move New Jersey forward."
Representing the New Jersey Legislative Black Caucus, State Sen. Ronald Rice (D-Essex) applauded her selection as Murphy's running mate. He said she's the "ideal person" to balance the Democratic ticket.
"Sheila Oliver is the ideal person to balance our ticket and prove that the Democratic Party is who communities of color need to continue to stand with," Rice said in a statement. "I've served with Sheila for years and she is one of the most knowledgeable legislators on urban issues and the need to invest in our communities that I have ever come across."
Milly Silva, the 2013 Democratic candidate for lieutenant governor and executive vice president of the 1199SEIU health care workers union, said the union was "thrilled" to support Oliver.
"We have long known Sheila Oliver as a deeply compassionate and tenacious fighter for New Jersey families," Silva said. "Throughout her decades of public service, she has been a leading voice for workers' rights and a tremendous advocate for quality and affordable healthcare for all.  An experienced and thoughtful leader with firm working-class roots, she understands the daily struggles facing so many New Jerseyans today."
Kelly Mooij, political chair of the New Jersey League of Conservation Voters board, called Oliver an environmental steward and said earned a lifetime score of 82 percent on the group's score card, which tracks how lawmakers have voted on environmental issues.
"She has opposed new oil and gas pipelines, and has supported environmentally sound initiatives such as zero-emission vehicles, green roofs, and open space preservation funding," Mooij said in a statement.
Murphy is favored to win the Nov. 7 general election, with recent polls showing him leading by 21 to 29 points. Guadagno, the state's first lieutenant governor, is expected to announce Woodcliff Lake Mayor Carlos Rendo as her running mate on Thursday.