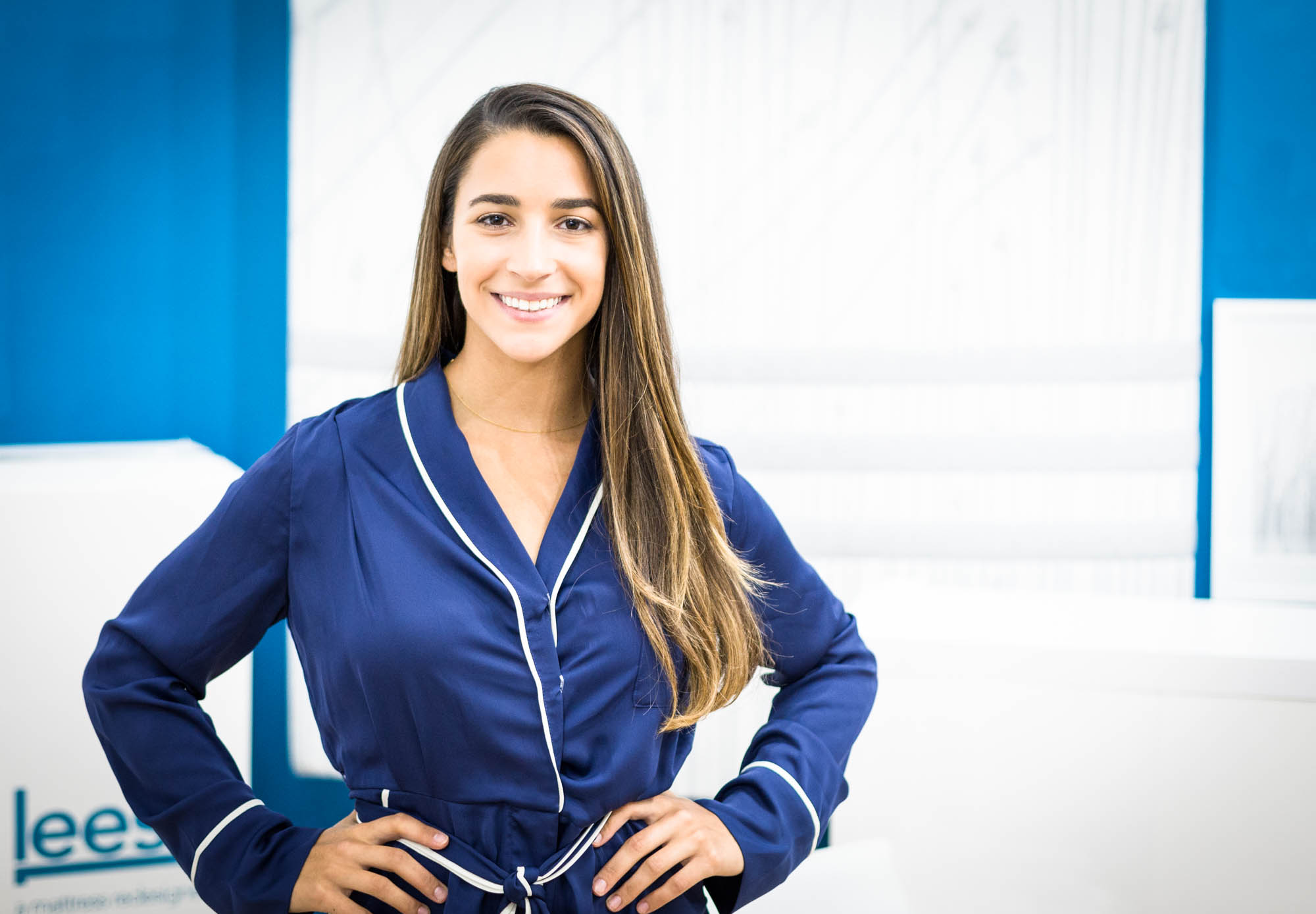 Gymnast Aly Raisman has been extremely busy since she competed in 2012 and 2015 olympics as a two-time team captain. Even her parents accrued followers when their relatable edge of the seat reactions went viral. Since racking up enough medals to start her own jewelry store, the 23-year-old has been busy working on her first book, posing for Sports Illustrated in just swim bottoms and speaking out about body image on social media.
With plenty of partnerships on deck, the Boston-born gold medalist teamed up with mattress brand Leesa to unveil a new collection in their Instagram-ready dream gallery on Tuesday evening. This isn't Leesa's first foray into joining forces with Olympians—they unveiled a virtual reality video where Michael Phelps walks potential mattress buyers through his dreams (there are no sharks, unfortunately).
The Observer chatted with a pajama-clad Raisman about giving back, body image and how an Olympian approaches wellness after the Games end.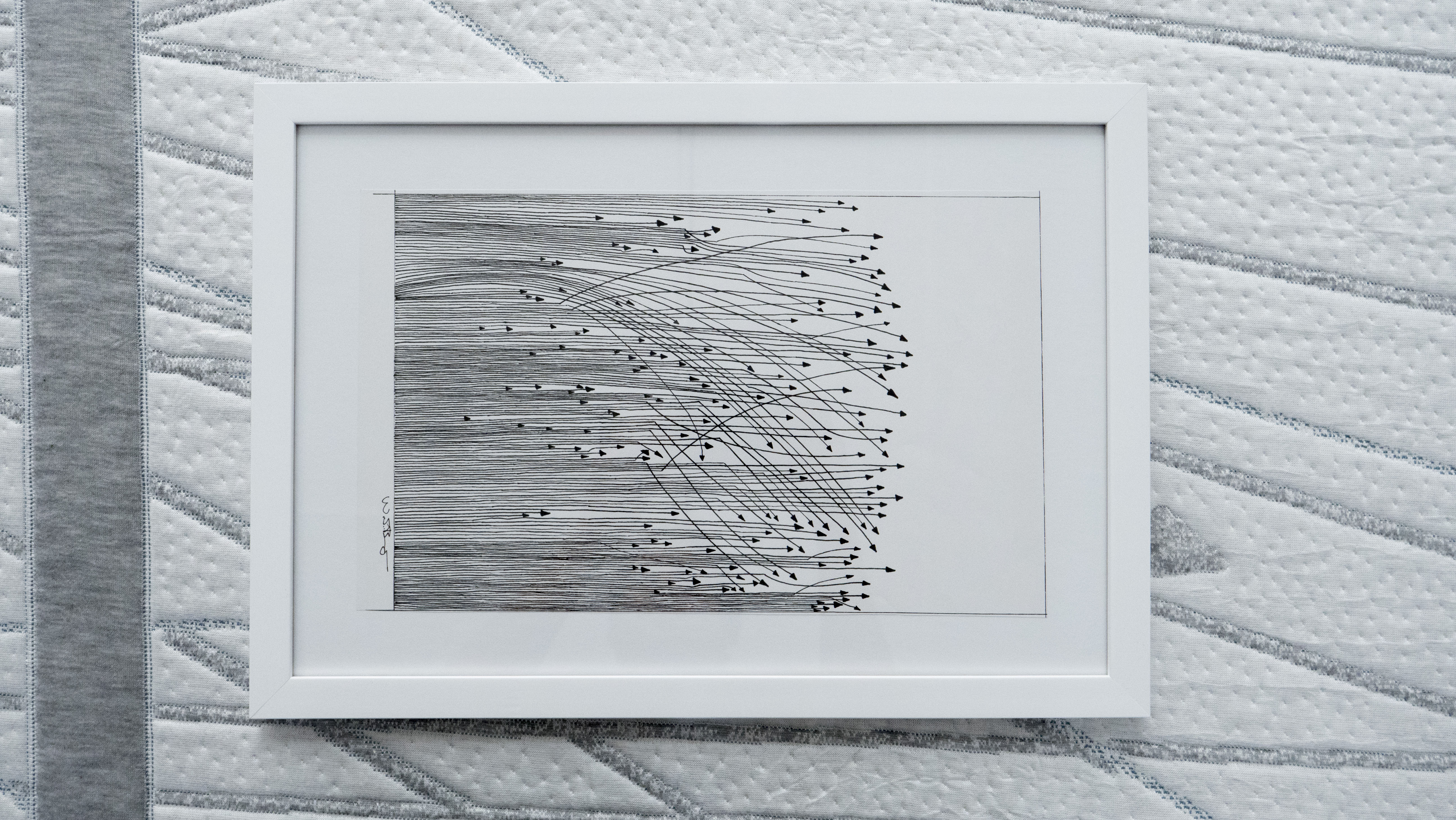 Sleep is so vital for overall wellness—tell us about your personal routine.
Sleep and food are so important to recovery and to being the best version of yourself possible. Fueling your body with the right foods, eating healthy and splurging when you want to, having a good relationship with food and not obsessing over it is very, very important. Also, having a good relationship with sleep is important, because you have to be able to look forward to going to bed, and that's hard because sometimes you feel anxious before you go to bed.
How did your wellness routine change after the Olympics?
I'm definitely more lenient with my diet now that I'm not training. I don't worry as much, whereas before I would only eat whole wheat carbs. Part of eating food is the social aspect—that's part of enjoying life. Leading up to the Olympics, I actually cut out sugar because it does not help you recover and it creates more inflammation in your body. I never used to be much of a sweets person, but as I get older, I love cheesecake and chocolate cake. Because I have it when I want it, I don't overeat it. When I was younger, it was a little bit harder to control and have that balance. I used to think eating dessert was the enemy.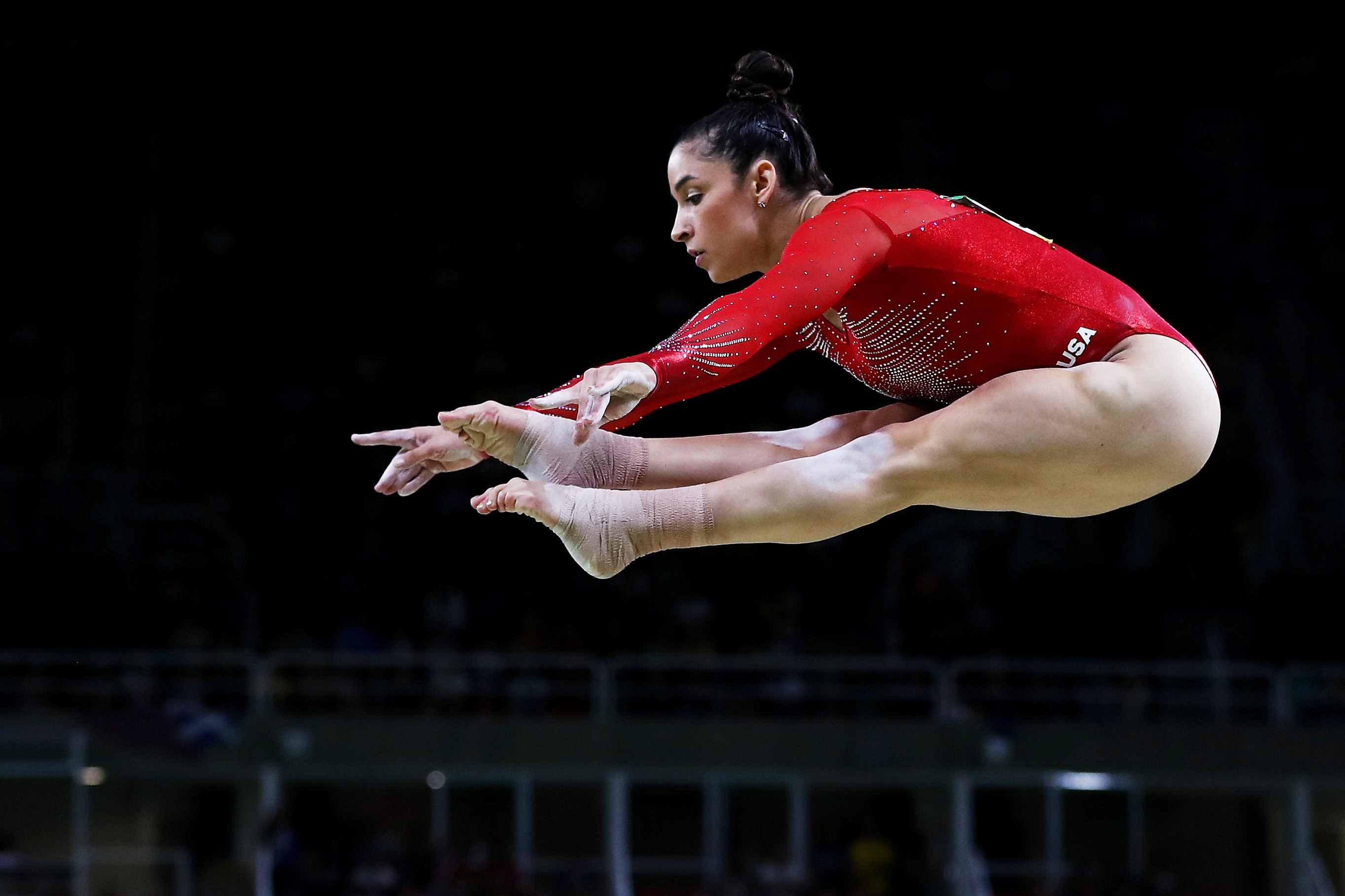 Tell us about what drew you to this partnership with Leesa.
Leesa donated 18,000 mattresses to homeless shelters. They donate one for every ten sold, which is incredible. Even with this drawing, someone who was homeless drew this, and they put it on the mattress. Because it's his artwork, for every one sold, he gets a percentage, so he's no longer homeless.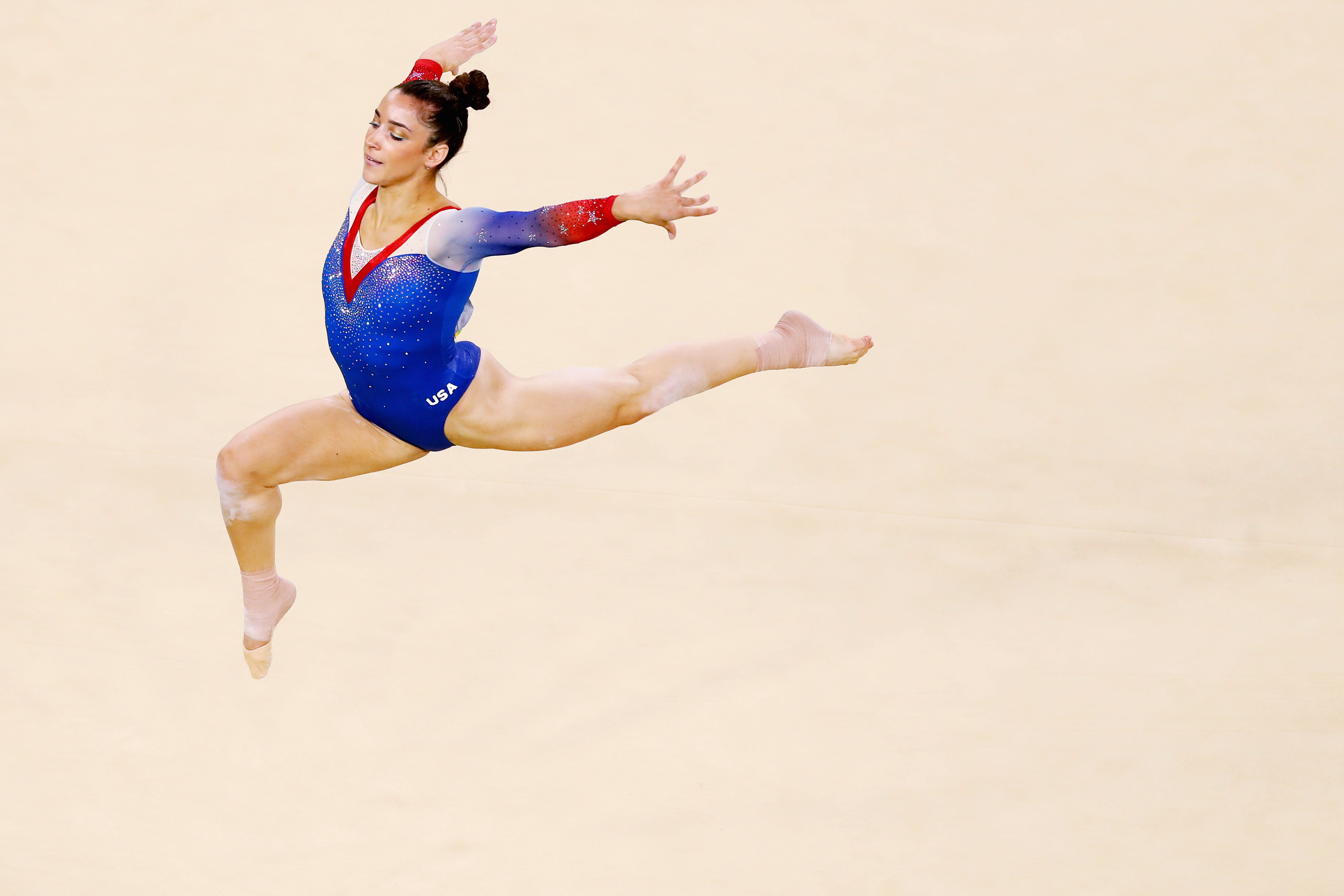 What else have you been up to lately? You've been everywhere on Instagram!
I've been writing a book, which is awesome. It's called Fierce and comes out November 14. It's a lot of work, but it's very personal and I'm excited because it's honest. It's a new side of me that people haven't seen.
And you have a leotard line. Tons of young gymnasts wear it with their signature Aly buns.
When I trained on Wednesday mornings, there were Mommy and Me classes, so I used to plan with the little kids which day we would match. It's amazing that the three year olds are so much smarter than you think. They'll remember. Sometimes I would forget, and they would ask, "Where's your leotard?"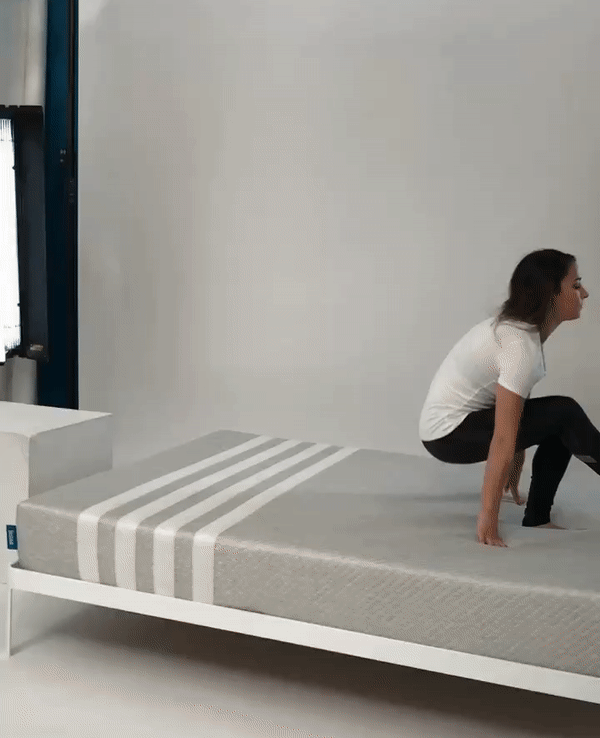 On Instagram you're such a strong proponent of body positivity. Did that start organically?
I've been thinking about it a lot lately. I definitely talk a ton about that in my book. Our world is so much more relatable than we make it. I loved 13 Reasons Why because it finally brought up conversations everyone is so afraid to talk about. When I was in high school, there were so many girls that had eating disorders and the school didn't do anything about it. They just ignored it as if nothing happened.
I worked with Walden Behavioral Care, which helps bring awareness to people with eating disorders, and I've done hospital and school visits before. We'll contact schools and they'll decline me, because they're afraid that if I talk about the importance of being healthy and eating right kids will [develop] an eating disorder, when it's the exact opposite.
With social media, there are so many problems with body dysmorphia, anxiety and depression. We all have days where we feel insecure, anxious or upset. It's what I've been trying to post about and talk about more. The conversations are uncomfortable, but we have to help the younger generation.
Do you think it's easier, as you've gotten older, to talk about these tough topics?
I think it's hard because with social media and the world we live in, everyone always has an opinion and you worry what people will think. I know my intentions are pure and I'm trying to be a good role model because I used to love watching the '96 Olympics Gymnastics Team and I wanted to be just like them. I see the way these little kids, women and men look at me when they ask for a photo and tell me their daughter does gymnastics or they did gymnastics. I think, 'how can you not want to help?' It's hard to let it all sink in, but I'm starting to slowly understand the impact I want to have. It inspired me more to be more honest.