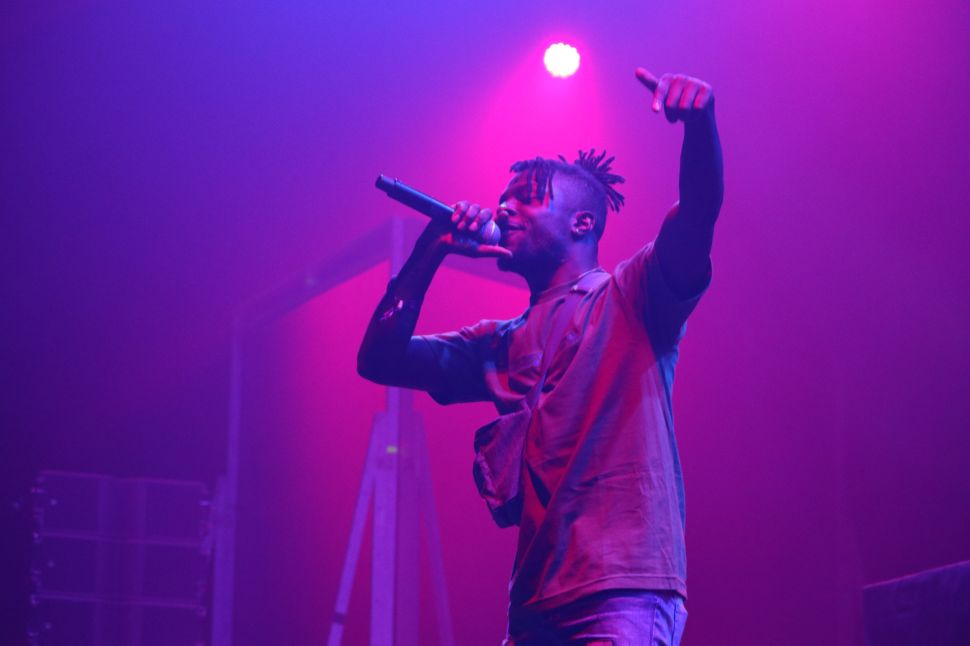 In Observer's interview with Slowdive's Nick Chaplin this past spring, the bassist related what it's like to be out playing for people again over 20 years after the band's heyday. "We used to tour to promote a record, now we make a record to tour," he said with a laugh, concisely addressing the fact that albums have devolved into promotional content and live performances into primary revenue streams. It's a perspective that continues to resonate well into the summer, with the glut of mainstream music festivals that are upon us.
These days, bands structure their touring itineraries around major festival appearances, not the other way around. For years, any notion that watching an artist perform at a festival was a full experience of their powers proved to be foolhardy. Their festival sets are almost always shorter, they aren't running their own sound, and hordes of attendees who are there for other acts invariably lessen the feelings of community and intimacy.
Goldenvoice, the California-based live music promoters behind Coachella and Panorama, seem to understand all of that. Despite being purchased by live event megalith AEG way back in 2001, they've succeeded time and again at presenting festivals with both a flow and diversity of programming that's reminiscent of a great playlist. Fans of the headliners will cough up the price of a ticket because they can trust that the earlier, lesser-known acts are still in their sonic wheelhouse. 
New York's three-day Panorama festival concluded its second year at Randall's Island on Sunday night, continuing Goldenvoice's stellar track record of throwing good parties with perfect sound, minimal set time overlaps, very small advertising presence, plenty of bathrooms, and a manageable site layout. While just about every genre was represented every day, each of its three days had a distinct flavor uniting the programming—day one with its abundance of neo-soul, hip-hop and R&B acts skewed younger, trendier and more fashion conscious; day two brought in the pop-leaning; day three drew the older heads and fans of heavier music, including some industrial and noise acts alongside two legendary, veteran groups closing out the main stage.
On day one, throngs of kids with nothing better to do on a Friday afternoon in summer queued up anxiously for the gates to open, flocking to headliner Frank Ocean's merch tent where screen-printing machines freshly printed shirts with the performance date superimposed over the cover art for his recent album, Blonde. The other half of early-arriving teens flocked to Odd Future founder Tyler The Creator's merch setup, where an exclusive line of clothing styled after the art on his critically acclaimed Flower Boy was selling rapidly. Not available online, the button-up shirts set fans back $120, while socks adorned with a bee on them seemed the cheapest item at just $10.
There's an obvious old fogey lecture to be had here about valuing the music over the commerce, but we'll spare you. Merch is one of the few remaining revenue streams in music that goes directly to the artist. It's a "don't hate the player, hate the game" situation.
And none of that is to say that fans didn't turn out and turn up for each artist's set, either. Tyler's late-afternoon performance on the covered, outdoor Pavilion stage was a riotous, aggressively exuberant hour of theater. Performing in front of an elaborate Flower Boy-themed backdrop decorated with hanging clouds and bees, tall grass and sunflowers, Tyler spat out verses from last week's release and premiered four of the album's tracks in a show that felt very much like an album debut. His was a celebration of adolescent angst reaching for high-concept performance, easy to feel enamored by and impossible to ignore.
Other highlights of the day included a stellar, early-day set at the indoor Parlor stage by rising neo-soul singer Jamila Woods, whose effortlessly cool, elegant delivery was accompanied perfectly by her tight band—able to both lock into a groove and dissolve into a loose, dulcet cut-time without breaking a sweat. Up next at the Parlor was the rising electro-hip-hop duo THEY., who got the crowd lit for the rowdiest set of the afternoon, pre-Tyler. The playlist vibe was on full display when Top Dawg Entertainment's rising star Isaiah Rashad rocked the Parlor so hard that the floor fell in. Seriously. It helped that his performance was arrestingly on-point, fiercely focused, yet full of warmth and gratitude for the fans.
While we ought to slowly phase out the meaningless "indie" label, Panorama's Friday bands all skewed toward the type of music that would fit in with the groove-heavy crowd there for other acts. Spoon brought their crisp, angular garage-soul, Foxygen brought the weird, dandy big-band exuberance, and Future Islands brought the swooning, synthy dance party.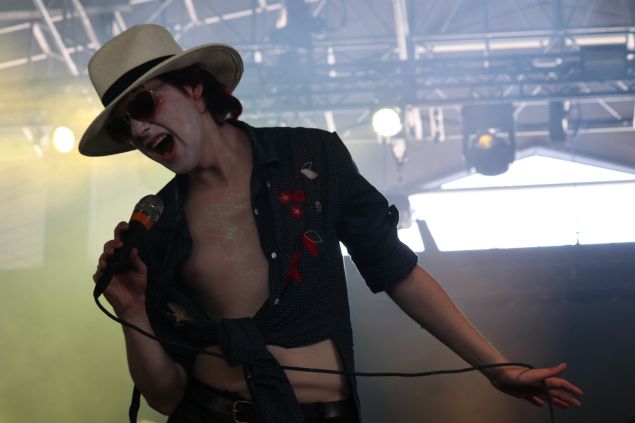 Solange, who put out the wonderful Seat at the Table last year, further improved her live arrangements of those songs with more boisterous versions than we saw her perform at The Guggenheim a few months ago.
You'll hear two things about Frank Ocean's headlining performance Friday night. The first is that it was a stunning display of an artist fiercely staking his own terms. Serving for his accompaniment for much of the show was the sound emanating from a cassette tape playing out of a large console that resembled a recording studio.  He had renowned indie auteur and music video visionary Spike Jonze running the jumbotron cameras. There were no pyrotechnics or elaborate set-pieces. And when a band finally came onstage, including the wonderfully talented Domino Records signee (Sandy) Alex G on guitar, they sat down as if at a campfire or in the living room of a neighbor.
Ocean's unconventional approach to using his stage space created a reverence in the crowd, a hushed awe that made every lyric off of Blonde land and every sentiment ring from the heart. But for those of us sequestered far back on the field the distance undercut the intimacy. With Jonze's creative, cinema-verite style of filming, it wasn't always clear what was happening onstage. Whether or not Ocean's performance worked for you depended wholly on your relationship to his studio work.
The Pavilion kicked things off early on Saturday with Lou the Human, a Staten Island-based rapper who likes rapping about smoking crack and questioning consent. He's a real charmer. Flow-wise he resembled Eminem. While young Lou has a ton of dexterity as a performer, his writing needs some work. He started the set by saying he had no idea how he got up there, and by the end of it, many in the crowd were asking the same thing. It's nonetheless wonderful that Panorama gave early set-times to local artists, however. Two other local acts would make the most of this platform later in the weekend.
Pinegrove brought out an ever-swelling fanbase to hear their refreshing take on Americana-pop at midday on the largest Panorama stage. They held their own while appearing visibly psyched to be playing for the largest crowd of their careers. While their music is very safe, almost easy-listening, there's really nothing to dislike about this band. Pinegrove make musical comfort food, and work hard to keep the crowd happy.
While we were admittedly unsure of how Mitski's deeply personal croon over 1990s indie rock riffs might play out in a large crowd, her sound at the Pavilion was mixed perfectly for her intimate anthems telling tales of unprotected sex, American nonchalance and eating cookies. The fact that she hit all those notes perfectly without an in-ear monitor was more perplexing still, a small but nonetheless invaluable example of the purity with which she performs.
Vince Staples rocked his afternoon set on the Panorama stage, returning to a city that's been banging his fantastic new LP, Big Fish Theory, all summer. Using the entire expanse of the stage to flex and flail, Staples needed no accoutrements or set-pieces to sound epic. His flow and energy alone sufficed, turning up the dial on the evening. Beginning with Big Fish track "Party People" and touching on moments throughout his career, including his great Gorillaz track "Ascension," his set felt full of unbridled passion and effortlessly delivered.
In a tonal shift that illustrated how deep across genres Goldenvoice digs, long standing Scottish indie institution Belle & Sebastian got the Pavilion twirling with their charming, literary songs about love, apostles, and hanging out in graveyards. Though this band gets slapped with the reputation of being "twee" often, they deserve heaps of credit for always getting a live crowd dancing. Their vintage charm washed paisley psychpop over the crowd, reminding younger fans who may have camped out early for Alt-J that there's sincere honestly to be gleaned from consciously co-opting the aesthetics and sonics that move you, not trying to bury them in a bombast of feigned post-modernism.
In the biggest surprise of day two, Nick Murphy (formerly Chet Faker) completely shed the image of an innocuous electropop crooner that he'd cultivated and realized the vision of his catchy solo work by stepping into his own as a straight soul/funk singer. While washes of noise and straight rock and roll bubbled to the surface with his six-piece band, we were reminded that more acts conceived in an electronic space ought to take the time to put together a group as powerful as Murphy's. It's a tough vision to realize with overhead costs, and understandably it's much cheaper to play solo. But to ears that care about the quality of sound, tracked loops and pre-programmed beats will never get the lower extremities shaking quite the same.
Tame Impala did their synth-psych thing as the main-stage headliners for dat two, still riding on the success of 2015's Currents with a set heavy on the synthy-soul and a little lighter on the crushing guitar headiness of their earlier records. New arrangements of those old songs lacked none of the dexterous playing of their older records. Creative drum fills and panned doppler-effects elevated listeners to other astral planes, while their visuals were far and away the most engrossing of the weekend. Rainbow lasers projected over the sea of people and they in turn lapped it up.
As a bevy of Nine Inch Nail fans threatened their pale complexion by submitting themselves to the third, sun-filled day. A bevy of goth looks replaced the tye-dye of Saturday and the designer streetwear of Friday. The final day began with two Brooklyn-based acts of note—last minute addition to the Parlor (fixed after the day one collapse), White Cliffs spun soul, hip-hop, funk and R&B into a groovy, surprise-filled mix. And an hour later, Reverend Vince Anderson & His Love Choir took the Pavilion stage to church.
With the help of TV on the Radio's Jaleel Bunton on guitar, Vince Anderson sang like a possessed Dr. John channeling the spirit of Leon Russell. His blusteringly earnest drawl conjures an authenticity to both the traditionals and the originals in the band's repertoire, and, as they perform two nights a week at Williamsburg's Union Pool, there's no reason you can't catch them and get cleansed for yourself.
Preoccupations (formerly Viet Cong) maintain all of their unapologetically noisy, post-punk edge despite changing their name at the behest of an offended blogosphere. Together with NIN and Cloud Nothings, they were also the loudest, most brash group of roustabouts to grace the weekend. The fact that all these bands performed on the last day seems like no coincidence, just more thoughtful programming.
Asked how it felt to play as a four-piece punk band at a festival atmosphere rife with so many electronic-leaning acts, Preoccupations drummer Mike Wallace didn't have to think hard. "We set up all this shit, it takes us forever," he said. "Then they just wheel it off, wheel on some CD-DJs and say, 'I'm done!'"
Still riding the success of last year's masterpiece, My Woman, Angel Olsen has mastered her occupation of the sonic ether between empowering indie rock and old-soul country crooning in a festival setting. Every syllable she uttered at the Pavilion was enunciated with piercing immediacy, every swell of rhythm coming from her fantastic band (adorned in country formalwear, including bolo ties) thoughtfully orchestrated and tastefully arranged.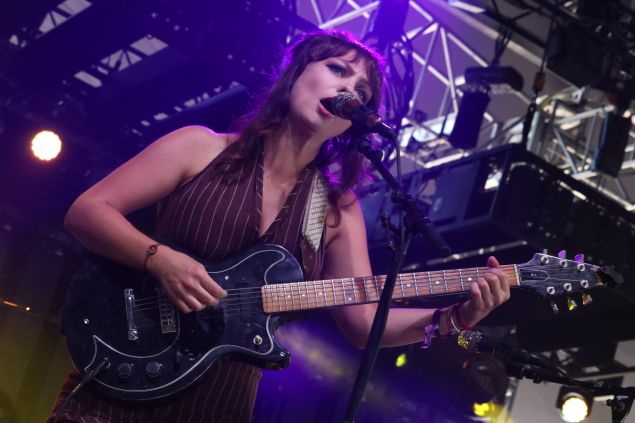 Of the two headliners for the night, A Tribe Called Quest had the biggest crowd. Still honoring the passing of their brother in rhyme, Phife Dawg, by projecting his portrait while his verses played, the group nonetheless brought an energy (even if there was no "Scenario" or "Can I Kick It?") that many much younger, fake rappers can't front. Though we got no Busta Rhymes for "Busta's Lament," the great neo-soul crooner Rafael Saadiq came onstage for "Buggin' Out" to much applause. Q-Tip and co. held it down for their 45 minutes onstage, with tracks from their recent release We Got it From Here… Thank You 4 Your Service fitting in seamlessly among the classics.
The mass exodus from ATCQ to catch French electronic overlords Justice an the Pavillion allowed the most devoted of NIN fans to get up close and personal to watch Trent Reznor and the band tear through their set. It included 1990s classics like "Closer" and "The Hand That Feeds You," the new EP Add Violence (the second in a planned trilogy) and a cover of Bowie's Blackstar highlight "I Can't Give Everything Away" for good measure.
Taking an unsurprisingly minimal, industrial approach to their stage set-up with blinding strobes and fog, Reznor shed his leather jacket after the first song and gave himself to the crowd completely, as two rigs of lights onstage eventually turned outward, looking like a shrine of saint candles arranged for some beautifully strange, gothic ritual.
By making the indoor Parlor stage larger this year and redesigning it completely overnight following its collapse, Goldenvoice showed how quickly they can work to improve the audience experience. By moving the interactive, immersive, large-scale art incubator The Lab off to a corner, they kept traffic flowing between the stages with no gridlock or bottlenecking.
But most importantly, by thinking of their programming with a curatorial approach, and tastefully considering how the various acts on any given day work with each other, Goldenvoice reminded us what they bring to large-scale live events that sets them apart from the other promoters—they're fans themselves.
When you start there, any perceived disconnect between audience and performers dissolves when that experience is protected, and a massive festival starts to feel small—less a collection of target demographics and instead an incubator for fans to come together around the music that moves them.