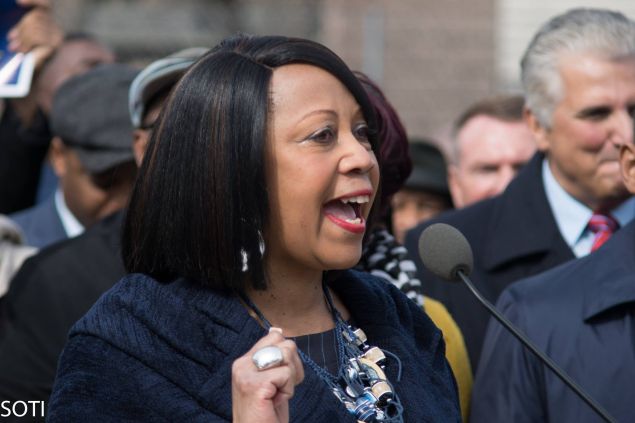 Phil Murphy and Sheila Oliver will share the same gubernatorial ticket in November, but they represent two starkly different currents in the Democratic Party.
Murphy, 59, was born to a working-class white family in Massachusetts and earned an economics degree at Harvard University, then made millions at Goldman Sachs. He has never held elected office but served as President Barack Obama's first ambassador to Germany and made his name as a prolific fundraiser for national Democrats.
Oliver, 65, is a black woman born in Newark who graduated from Lincoln University — a historically black college — then received a master's degree in planning and administration from Columbia University in 1976. Over two decades, she has served at every level of New Jersey government: as a member of her local school board in East Orange, as an Essex County freeholder and administrative official, and as a state lawmaker and Assembly speaker.
She was elevated to the speakership in 2010 as part of a backroom deal between George Norcross, the South Jersey Democratic power broker, and Essex County Executive Joe DiVincenzo, her benefactor and boss at her day job. But she lost the leadership post four years later partly because she was seen as too independent-minded and partly because DiVincenzo's influence waned in Democratic circles after he endorsed Gov. Chris Christie's re-election in 2013.
Murphy will announce Oliver as his running mate on Wednesday. And the choice seems designed to fill some of the gaps on his resume: statewide campaign experience, a connection to the party's urban and liberal base, and deep knowledge of the inner workings of the state house, the legislative process and the people who make the machine hum.
"She's a fiery addition to the ticket; she's going to help rally the base in a way I don't think on his own Murphy has an ability to do," said Bill Caruso, a lobbyist who previously led the Assembly Majority Office when Oliver was speaker.
If Murphy wins the governor's office, as many predict, "the next big fight he's going to have is how to run government," Caruso said. "I can't think of a better pick for that than a former speaker."
Oliver was Assembly speaker from January 2010 to January 2014, covering all of Christie's first term. She notably worked with the Republican governor to cut public workers' benefits in 2011, bucking members of her own party and drawing the ire of powerful public-sector unions, although that effort was driven through the Legislature primarily by another Democrat, Senate President Steve Sweeney (D-Gloucester).
On the other hand, Oliver warred with Christie on a wide range of issues — especially charter schools and vouchers — and championed liberal causes. She successfully got a question on the ballot in 2013 to raise the state minimum wage, which voters ultimately approved. She passed a bill to legalize gay marriage in 2012, although Christie vetoed the legislation (the state courts would legalize gay marriage a year later). And she battled Christie on raising the millionaire's tax, funding Planned Parenthood, toughening gun control laws, and other issues that are now at the heart of Murphy's platform.
Christie once called Oliver a liar and claimed she begged for Republican votes to keep her from losing the speakership amid talk of a coup at one point. In response, Oliver called Christie "mentally deranged." Which is to say that while Christie and Sweeney were often seen as allies — political reporters wore out the word "bromance" back in the day — Christie and Oliver never had a warm relationship. "If my voice was not in that room, some terrible things would have happened to people," she told the Star-Ledger in 2013.
Oliver also brings credibility on a key plank of Murphy's campaign: his pledge to buck President Trump. Oliver helped launch the "Resistance Coalition," a group that includes liberal lawmakers and a range of lefty advocacy organizations. The coalition seeks to introduce state legislative measures to counteract proposals from Washington they believe would undermine New Jersey values and public safety, although it has not been very active since its launch.
"I think she's probably one of the most passionate, committed legislators that I've ever served with," said Assemblywoman Valerie Vainieri Huttle (D-Bergen), who also was considered to be Murphy's running mate.
Oliver's career in New Jersey politics dates to the late 1990s. She served on the East Orange school board from 1994 to 2000, serving as its president for two years. She was an Essex County freeholder from 1996 to 1999. And she nearly won the mayoral primary in East Orange, losing by 51 votes in 1997. She joined the state Assembly in 2004.
Oliver comes from Essex County, a Democratic stronghold that delivered the most votes for Murphy in the primary. "The cherry on top she is from vote-rich Essex County," said Mo Butler, a Democratic strategist. "She has a love of her community and understanding of her community which is second to none. They all know her intimately well."
She unsuccessfully ran for U.S. Senate in 2013, losing to Sen. Cory Booker, then the Newark mayor, in the primary to succeed the late Sen. Frank Lautenberg. But she carved out a distinctive role in that campaign as a voice for women, minorities and the state's hard-up residents.
"The time has come for women — activist women, political women, professional women — to stand up and represent women," Oliver said at the time, lamenting that the U.S. Senate had become a wealthy enclave disconnected from urban America. (It's not a small irony that Murphy is part of that same group Oliver once criticized.)
"We don't need a senator who is going to represent New York, California, Wall Street, hedge fund managers or Hollywood actors and actresses," she said in a veiled swipe at Booker.
Still, Butler, a Booker strategist, said "she ran respectful campaign."
"It was campaign about ideas and for Sheila it was about making sure women were represented in the fold as well," he said. "It was not animus to Cory Booker. It was about Sheila exerting her independence and saying women should be at the table."
Oliver, who is not married, was born and raised in Newark and graduated from Weequahic High School in 1970. Her working-class parents were politically active in a city that has been at the forefront of America's race struggle for decades; they picketed businesses that discriminated against blacks.
According to her 2013 interview with the Star-Ledger, Oliver took an interest in civic life after writing an advice column in fifth grade called "Tell it to Sheila." She has been a social worker and has taught classes on planning and urban issues and cites the late Shirley Chisholm, the first black woman elected to Congress, as a role model and heroine.
As a lawmaker, Oliver co-sponsored the law creating the Department of Children and Families. She also sponsored legislation creating paid family leave in the state and a law providing specialized social services and medical treatment for inmates with mental health issues. She supports a single-payer health care system at the federal level.
Nationwide, Oliver is the second black woman to lead a chamber of a state legislature. As speaker, she rarely got in trouble with the truth-crusaders at PolitiFact. A dormant Twitter account she keeps had its biggest moment in the sun when she razzed Booker for tweeting about the movie "Sharknado."
Today, she still has statewide name ID, and she has sowed ties in other vote-rich, urban sections of the state beyond Essex County, insiders said. "She's got connections in Atlantic City, in Camden, in Vineland," Caruso said. "I think her ability to rally the base and get the vote out will be significant."
"One of my heroines was the late congresswoman Shirley Chisholm, who said, 'Talent comes in a skirt,'" Oliver said during a 2013 debate for the U.S. Senate primary. "I have sat at every desk at every level of government: municipal, county, state. I've administered nonprofit organizations. I've worked in higher education, and I've also worked in the private sector. I know the challenges that face not just this state but this country."