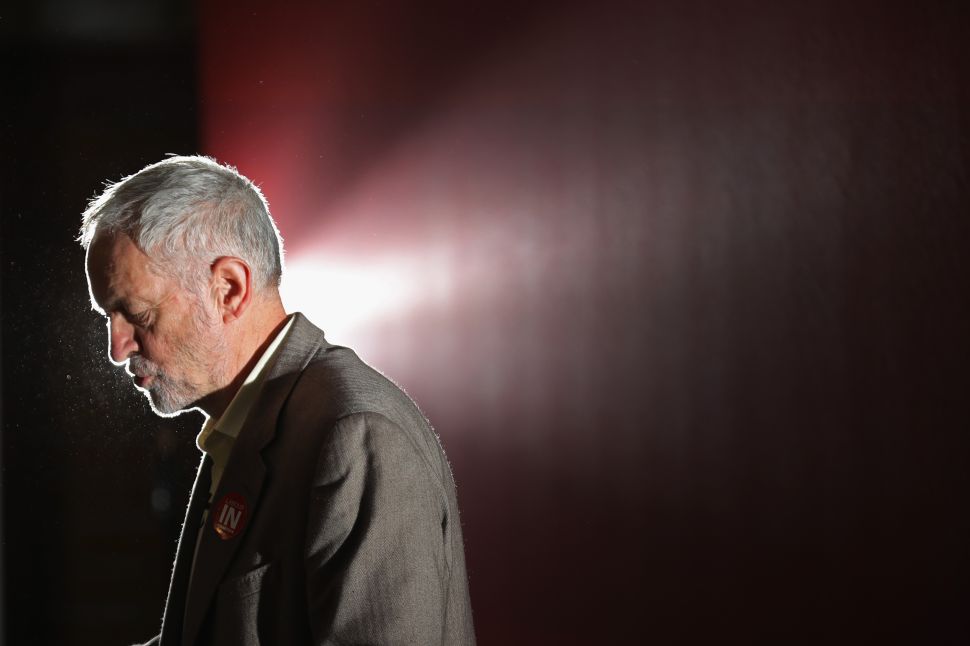 Momentum, a hard-left faction set up to support Sen. Bernie Sanders-backed Labour leader Jeremy Corbyn, is behind a campaign of political intimidation in Britain, according to Parliament.
Momentum campaigned for the first time in the 2017 election. Last month, The Guardian reported the group's strategy in the election was designed by a number of advisers from the Sanders campaign. They were drafted in to help Momentum "in the form of lessons and the introduction of new digital tools." They included his national out-of-state organizing director, Erika Uyterhoeven, and campaign organizer, Jeremy Parkin. The Guardian explained that Momentum brought in Sanders campaigners because it had been deluged with tens of thousands of volunteers and did not know what to do with them. Also, Sanders was a political outsider, like Corbyn.
Among the list of illegal acts Momentum's political opponents endured in the 2017 election were death threats, criminal damage and defamation. These activities were directed at candidates, their supporters, and even their families.
MPs debated the rise of political intimidation that has taken place since the group was established in 2015.
In introducing the debate, Conservative MP Simon Hart gave the example of Byron Davies, an MP who was beaten after a sustained fake news campaign falsely claimed he was the subject of a serious police investigation.
Another case, that of Charlotte Leslie, who also lost her seat, saw her elderly parents targeted with a sustained harassment campaign. This included draining their heating oil into their garden and scratching the words "Tory scum" into the paint of their car.
During the debate, Labour MP Diane Abbott claimed the abuse came from all sides of the political divide and was nothing new. However, Conservative David Jones said 2017 would go down as the nastiest general election ever. Jones said political candidates logging onto Twitter was like "wading through sewage" because of the level of abuse from far left activists.
Another Conservative, Andrew Percy, said there was a clear pattern, which made the attacks appear orchestrated. He called for "honesty" about the fact the attacks are all coming from Momentum.
He said, "I'm not afraid of abuse. I'm not afraid of insults. It's something I'm pretty used to. But what's happening now is on a different scale."
He continued, "What happened at this election was different though. I never thought, in my own constituency, somebody would come up to me and start shouting the name of the leader of the opposition (Jeremy Corbyn) and then describe me as 'Israeli and Zionist scum.' I never thought that my posters would be ripped down and posted on social media under the phrase 'f*ck the Tories #CorbynIn'. I never thought my staff would be spat at in the street by activists, by people naming the leader of the opposition as their motivation for calling my staff 'Tory f*cking scum'. That's what's happening in our democracy… there is an assault on our democracy. There is an assault on one particular political party (the Conservatives), and it has been motivated in this case by this dehumanization of this side of politics."
Percy said Momentum's "Ditch the Bitched" campaign against the prime minister was one example of this dehumanization and pointed out that moderate and Jewish MPs within the Labour Party had also been targeted by Momentum.
In advance of the debate, MP Simon Hart said, "I don't care or know whether Momentum formally sanctions this or organizes this sort of stuff or not. But as long as they refuse to condemn and deal with it, there is always the possibility people will reach that conclusion. Because what else is driving it? Is silence from Momentum and silence from Jeremy Corbyn actually just giving people permission?"
Momentum denies involvement in the attacks.