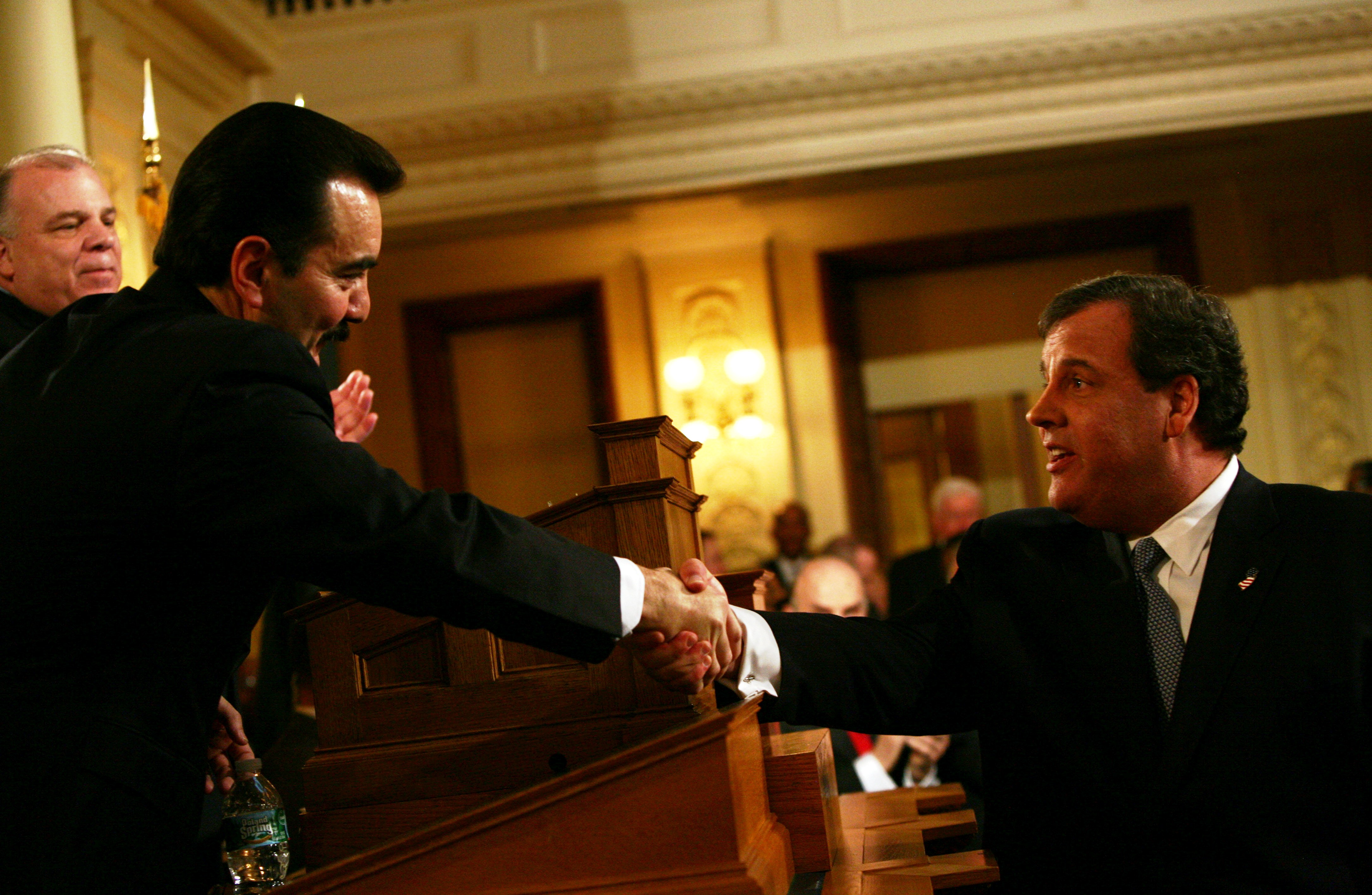 Assembly Speaker Vincent Prieto renewed his feud with Gov. Chris Christie on Wednesday, claiming the governor broke a promise on the budget deal that ended a three-day state government shutdown. But the governor's office strongly denied the accusation and said Christie kept his word.
Democrats got an extra $325 million for schools and other programs included in the $34.7 billion budget as part of an agreement reached with Christie on Monday night. But Prieto (D-Hudson) issued a statement Wednesday citing language Christie vetoed from the budget and claimed the governor had reneged on his end of the bargain.
Among the scattered line-item vetoes Christie included before signing the budget, one eliminated a requirement that preschool expansion money be spent on districts with high concentrations of at-risk students. Democrats secured $25 million in increased funding for preschools as part of the budget deal, but Prieto spokesman Tom Hester said Christie's veto diluted the Legislature's intent. Sen. Teresa Ruiz (D-Essex), chair of the Senate education committee, at a recent news conference said the preschool funds would be especially helpful in cities with at-risk children such as Newark.
Prieto and Christie were in a high-stakes budget standoff last week that led to the first New Jersey government shutdown since 2006. Christie agreed to sign off on the Democrats' extra spending, but only if they passed a bill to restructure Horizon Blue Cross Blue Shield and force the health insurer to spend from its $2.4 billion reserves. Prieto refused to post the Horizon bill in the Assembly, arguing that the measure could lead to rate hikes for the insurer's 3.8 million policy holders. Ultimately, the two sides agreed on a watered-down version of the bill on Monday that does not allow the state to raid Horizon's reserves.
But that was after a bitter battle in which Christie repeatedly — even after the deal was struck — called Prieto a fabricator and a flip-flopper because the speaker once supported a Horizon raid, in 2006. Prieto, for his part, spent days warning Democrats that they could not trust Christie to keep his word on the $325 million even if they passed a Horizon bill. The bad blood was still at a boil on Wednesday, and both sides seem eager to settle scores.
In his statement, Prieto again said Christie could not be trusted — this time citing the budget language vetoes — and referenced the now-infamous set of pictures of the governor sunning with his family and guests on a state beach he closed during the shutdown.
"Anyone who contends Governor Christie is an honest man has spent too much time sitting in the sun with him or in traffic on the George Washington Bridge," Prieto said.
The governor's office pushed back on Prieto's claim and said Christie kept his word by keeping 73 budget requests made by Democrats. The 20 provisions Christie deleted or amended weren't part of the deal, according to Christie spokesman Brian Murray.
"The governor never agreed to sign an unbalanced budget by preserving every additional spending request sneakily tucked into the budget and not paid for by revenue," Murray said. "Speaker Prieto's statement is false and all the honest parties to our agreement know it."
Hester, the Prieto spokesman, said the spending language was hardly snuck in, since it was in the Democrats' proposed budget, made public on June 26.
A spokesman for Senate President Stephen Sweeney (D-Gloucester) backed up Christie, saying the agreement was to fund the Democrats' 73 spending priorities.
"For the first time in nearly a decade, we are increasing state aid for schools and for the first time in years we are providing support for services that help those most in need," said Richard McGrath, a Sweeney spokesman. "We are fortunate that these priorities were not sacrificed for the sake of those more interested in making political statements."
Christie never mentioned in public that he would keep all the Democrats' language provisions intact, but he did say in the days leading up to the budget deal that he would preserve all 73 line items Democrats added to his initial budget proposal if he got bills on Horizon and on converting the New Jersey lottery into an asset of the pension system. He got both, although the Horizon proposal was radically different from what the governor requested.
Other voices also had gripes with Christie's language changes. New Jersey Policy Perspective, a left-leaning think tank, said Christie's line-item vetoes would affect the state's most vulnerable residents. One provision cut from the budget would have allowed households that qualify for food assistance to get a $21 per year energy assistance payment.
"The governor agreed to most of the Legislature's changes to his spending plan, but aimed his red veto pen squarely at some of New Jersey's most vulnerable residents," said NJPP Vice President Jon Whiten. "It's a fitting final fiscal act from a governor who through eight budgets has prioritized tax cuts for the state's wealthiest families and biggest businesses over helping struggling families climb the ladder into the middle class."
Murray, the Christie spokesman, said the energy assistance veto was necessary to avoid a distribution of benefits that could be impermissible under federal guidance. Murray said the preschool language was changed to focus the money to districts that are ready to start up preschools.
Christie also vetoed out language that would have directed money to the Meadowlands district if hotel tax revenue missed revenue projections, which it has in the past. Christie called the provision an "open-ended appropriation" in cutting it out.
A potentially more consequential Christie veto will allow the state to divert millions of dollars from environmental remediation this year. That could include $175 million out of $225 million from the controversial contamination settlement with ExxonMobil.
Christie's proposed budget in February included a provision that placed a $50 million cap on how much money won from natural resource damage settlements can go into an environmental site cleanup fund. For settlements larger than $50 million, any amount above that threshold would go into the state's general fund.
Democrats added language last month that would only let the state raid half of the funds after the first $50 million. But Christie cut that part out with his veto pen, keeping the $50 million cap in place.
However, Democrats could have deleted the entire passage on the cap before passing the budget, instead of adding language to raise it. The governor is only allowed to remove things with the line-item veto — be it spending or language — not add things.
The environmental cap has been included in previous budgets but it takes on special significance this year because $225 million from a settlement with ExxonMobil could become subject to that budget language if it comes out of escrow this year. In that scenario, $175 million of that settlement money would go to the general fund instead of cleanup efforts.
The massive potential raid didn't come up during the state budget showdown. And Prieto didn't mention the environmental line item in is statement Wednesday criticizing Christie.
"By including budget language diverting every cent over $50 million into the general fund, the governor limits the ability of victimized communities — mostly communities of color — to recover from years of manufacturing-based, profit-driven, systemic pollution," said Ed Potosnak, executive director of the League of Conservation Voters. "Christie added insult to injury by red-lining a clause in the budget inserted by the Legislature that specified a 50-50 split between the state and the polluted communities, and instead is grabbing all the excess funds for the state."