Princess Olympia of Greece, potentially threw the blowout of the century to celebrate turning 21. The world expects nothing less from the only daughter of the Crown Prince and Princess of Greece, who was rumored to be dating her godfather's son, Prince Harry, before he linked up with American actress Meghan Markle.
The interest in the Princess of Olympia's jet set lifestyle, all documented in detail on social media, has led to her accumulation of more than 100,000 Instagram followers. Naturally, all of them watched her commemorate her birthday, while surrounded by a bevy of young royals and heiresses, all with equally hefty social media presence.
The young princess and student spent her 20th birthday in Mykonos. But this year, Princess Olympia gracefully shared the day with her father, who turned 50 on May 20. The pair prepared a party for the ages at a castle in the Cotswolds. The whole endeavor had an adventurous black tie vibe, with the princess pairing her semi-sheer Steven Khalil gown with gold platform Gucci sneakers, Spice Girls style.
Princess Olympia posed with plenty of fellow young royals for birthday Instagrams. She posted a photograph with Talita Von Fürstenberg, her close friend and cousin, who has almost 100,000 Instagram followers of her own. She's the daughter of Prince Alex von Fürstenberg, the granddaughter of Diane von Fürstenberg and the cousin of Isabel Getty, who also appeared at the Cotswalds bash.
The teenage von Fürstenberg already had quite the summer, following her high school graduation this spring. So far, she's traveled to St-Tropez, Cannes, Austria and New York. The aspiring model posed with her frequent travel companion George Fair.
While most people applauded Princess Olympia's extravaganza and its fitting revolution theme, one commenter likened her to a young Marie Antoinette, and did not mean it in the complimentary, Sofia Coppola kind of way. The dessert tables were overloaded with pink pastries and decadent cakes, which certainly added to the overall tone.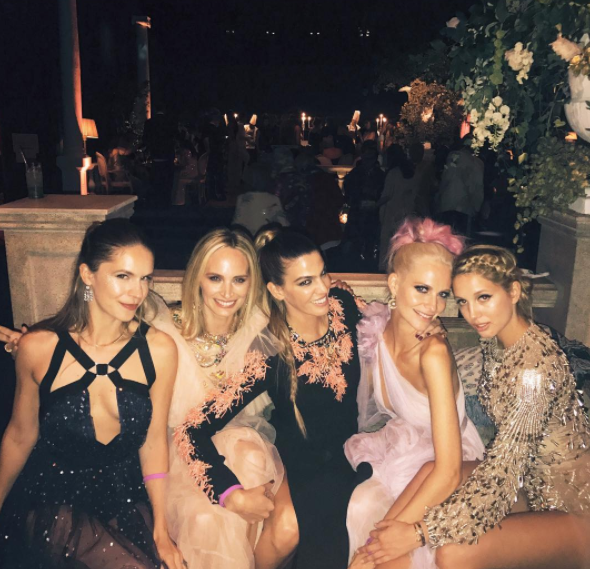 The list of royals spotted in their black tie best was seemingly endless. Carina Axelsson (young adult author and longtime partner of Gustav, Prince of Sayn-Wittgenstein-Berleburg), Queen Máxima of the Netherlands, Haakon, Crown Prince of Norway, Mette-Marit, Crown Princess of Norway, Prince Michael of Kent and Eleonore Habsburg of the Austrian House of Hapsburg were all in attendance. 
The shindig wasn't limited exclusively to royalty, as heiresses and royal adjacents were welcome as well. Perfumer Paris Hilton posted plenty of snaps wearing a crown filter, and posed next to her sister Nicky Hilton Rothschild, who wholeheartedly embraced the revolution theme. Paris, in turn, wore her usual sparkling gown, showcasing her timeless style.
If you somehow misplaced your invitation to the wildest fête of the year, never fear. You have one year to become a royal enough to be worthy of an invitation to the next regal birthday affair.