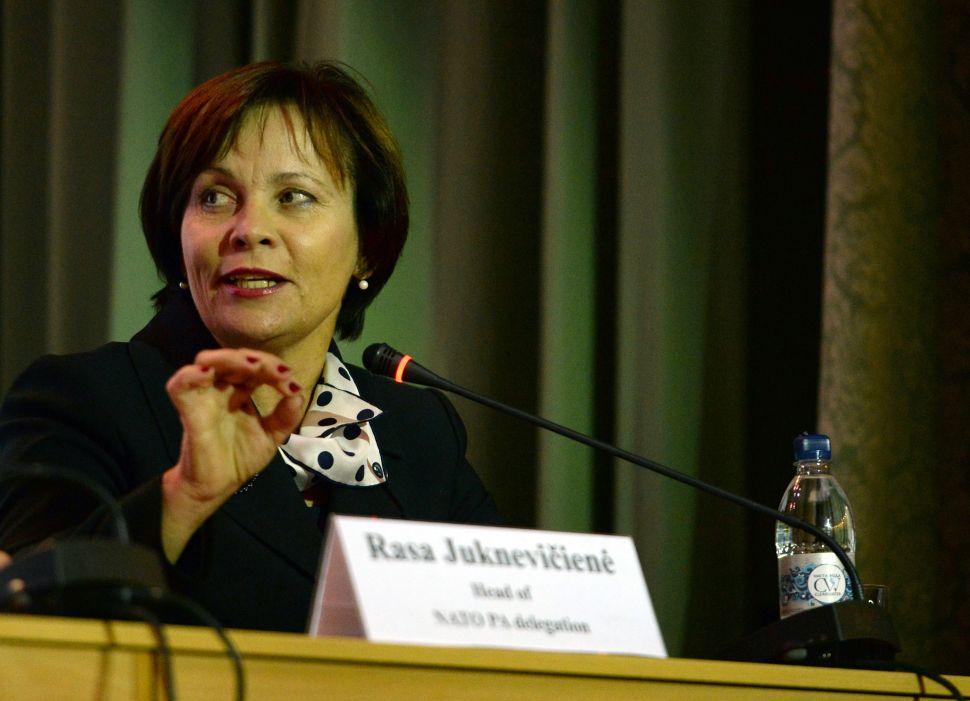 Rasa Jukneviciene, a member of Lithuanian Parliament, was in Washington last week to discuss the Russian disinformation campaign and the Ukrainian Marshall Plan to offer economic support to struggling Ukraine.
On her last morning in the American capital, she woke up at 5:00 am and went out for a cup of coffee.
Minutes later, Jukneviciene, the former defense minister who also serves as deputy chair of the National Security and Defense Committee in the Lithuanian Parliament, described this beautiful Washington morning on her Facebook page. To her bad luck, the smell of American coffee apparently impaired her judgment.
"On the fifth morning after you have crossed the Atlantic, you get up early and go out into the city," the Lithuanian Parliamentarian wrote. "The same sweetness of sleep as at home. My thoughts are still in the cosmos, but still you can see the awakening capital of the world. I made a circle around the hotel. In America, they usually do not serve breakfasts in the hotels but Starbucks is open at 5:30 am. I woke up even earlier than those that sleep on the streets. Once again, somebody will start blaming me, but, unfortunately, these are only blacks. It looks like they like this way of life. They wake up in a happy mood."
"Many folks are running. It's the American way," she continued. "I found a magnificent monument to the Ukrainian bard Taras Shevchenko not far from the hotel. A large Ukrainian community lives in the United States… And, at last, I am drinking coffee awaiting the final meeting at the Heritage Foundation and communicating with you. This think tank is a blast of President Trump's ideas. It will be interesting and important to feel the mood. In the afternoon, I am home again."
After critics cried "racism," Jukneviciene removed the mention of "blacks."
The next morning, Jukneviciene expanded upon on her apology, writing: "My post on Facebook about early morning in Washington, in fact, lacked political correctness. I am not disputing this. On the contrary, if my words caused the unpleasant feelings, discussions, confrontations, I really apologize [smiley face emoji]." The Parliamentarian continued, "However, I have never been, I am not, and I will never be a racist. Such an accusation is incorrect, and, by the way, it is itself also far from political correctness. Social exclusion is a major issue in the world. Not only in our [Lithuanian] society. Social exclusion in the U.S. is high; it's not secret. There is a lot of research done about this, and all governments are looking for a solution. Scientists say the example of non-working parents is transmitted from generation to generation. I agree that this is an affliction for all races and genders."
"However," Jukneviciene went on, "no political correctness can hide the fact that among the 'black population,' as Americans themselves call it [sic], social exclusion is the highest. It is 10 percent higher than among other Americans. President Barack Obama came into the White House to raise social exclusion issues. African-Americans, or the 'black population,' were also very concerned about exclusion. But the work is far from being done [in America]. By the way, we also have a lot of work to be done on social exclusion [in Lithuania]. Therefore, 'Do not be afraid to see what you see,' as Ronald Reagan said. Political correctness has never been my strong side."
This was not the first time that a Lithuanian Parliamentarian—current or former—found themselves confronted by critics about racism.
In January, actress Asta Baukute, a former Lithuanian member of Parliament, had to profusely apologize for giving a Nazi salute on live television while yelling "Jew!" at her studio counterpart, who happened to be Jewish.
Three years ago, once again in the U.S., Rasa Jukneviciene was criticized for posting about a praying Muslim man at the Washington airport.
"Waiting for the flight Washington-Frankfurt," the Lithuanian MP wrote. "Across from me, the young man prays, turning himself towards Mecca. Probably everything is okay, but different thoughts are coming into my head."