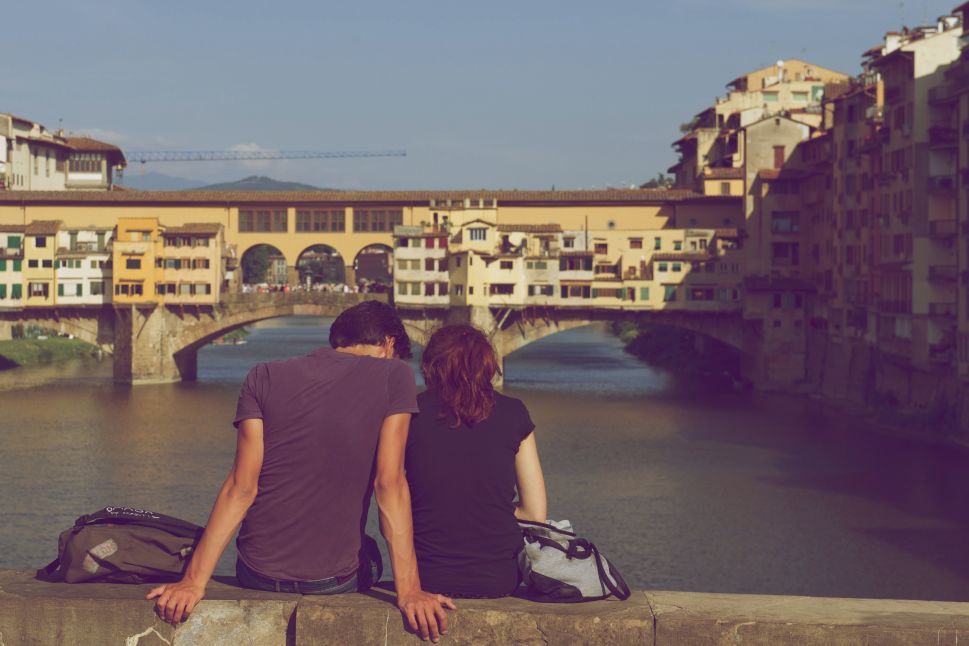 A common misconception we all make at one point or another in the dating game is assuming that our partner's relationship needs are perfectly aligned with our own. In reality, everyone is looking for something slightly different out of a serious relationship. A partnership that makes one person feel stifled might make another feel liberated. What one person sees as a fling another might look at as marriage potential.
Our relationship preferences are highly intertwined with our personality preferences. Each personality type looks for something a little different out of a serious relationship. Here's exactly which kind of partnership you're most likely to thrive in based on your Myers-Briggs personality type.
ENFP: A passionate, growth-oriented relationship.
ENFPs consider themselves eternal students of life, and more than anything, they wish to surround themselves with curious and open-minded individuals who want to learn and grow alongside them. ENFPs are ceaselessly passionate individuals, and nothing serves as a greater aphrodisiac to this type than a keen intellect. When this type finds a partner who's every bit as enthusiastic about exploring, discovering and learning more about the world around them as they are, the ENFP finally finds themselves in the kind of relationship that allows them to truly thrive.
INFJ: A complex, intellectually challenging relationship.
INFJs take almost nothing at face value, and this tendency extends to their relationships. These ceaselessly analytical individuals thrive in partnerships where their perceptions are constantly being challenged and their worldviews are consistently being rearranged. To an INFJ, a satisfying relationship is one that offers practical stability but mental exploration and adventure. The intellectual realm is where the INFJ naturally shines. When they pair themselves up with a partner who brings this side out of them, they thrive.
INFP: A deeply romantic and intimate relationship.
INFPs don't just want to feel fondly about their partners; they want to know them down to their absolute core. These deeply passionate individuals see true love as a form of extreme intimacy. To them, love is learning the whole of someone's mind, heart, strengths, weaknesses and fears, and fully accepting one another. To the profoundly romantic INFP type, romantic love is a merging of souls and spirits, rather than a simple alignment of lifestyles. And when they find someone they can merge with in this way, they find themselves in a relationship that allows them to truly flourish.
ENFJ: A relationship that facilitates personal growth for both parties.
ENFJs are endlessly focused on self-improvement, and they see no reason why self-improvement should end once they enter into a relationship. The visionary ENFJ type is best paired with a partner who wants to spend their life growing, evolving and bettering themselves alongside someone who will never stop supporting their development. When the ENFJ finds such a partner, they thrive in the relationship.
ESFP: An exciting and explorative relationship.
ESFPs are the endless adventurers of the world. Until their dying day, they want to be exploring, pursuing, and learning new things about the world that surrounds them. These free-spirited types are best paired with an open-minded partner who is every bit as eager as they are to take hold of the time they have on earth. The ESFP doesn't intend to waste a second, and they truly thrive in relationships in which their partner's lust for life matches their own.
ISFP: An adventurous, lifelong partnership.
ISFPs may seem docile at a first glance, but under their stoic exterior lies a heart that craves passion, adventure and romance. These free-spirited individuals are best paired with a partner who can offer them a sense of stability, but who also shares their thirst for adventure and exploration. In these reliable yet thrilling relationships, the ISFP feels accepted and understood. This feeling allows the ISFP to truly blossom.
ESFJ: An old-fashioned romantic relationship.
ESFJs believe in old-school, traditional romance, like follow-up phone calls and 'just because' flowers sent to the workplace. They want to truly court and be courted by their partners, and this type finds themselves happiest when they find someone who shares their respect for tradition, commitment and follow-through. This ceaselessly giving type thrives in relationships that offer them the stability and trust they crave.
ISFJ: A stable and long-lasting relationship.
When the ISFJ falls, they fall hard. You won't find a more loyal partner anywhere. These deeply empathetic types believe in partnerships that last for a lifetime. They mean the commitments they make, and they thrive in relationships where they're able to merge their life with someone else's. The ISFJ doesn't just want a partner in love—they want a partner in life.
ENTP: A dynamic, ever-evolving relationship.
The mind of the ENTP never sits still for long—and as a result, neither do their relationships. This intellectually explorative type doesn't need to be constantly physically adventuring, but they need to be constantly exploring new philosophies, concepts, and methods of self and relationship improvement. The ENTP wants their relationship to be an ever-changing beast. This type is ceaselessly focused on self-development and they thrive in relationships that are constantly developing, too.
INTP: An honest and understanding relationship.
INTPs are used to being misunderstood—and to unintentionally misunderstanding others. These patient and thoughtful types are best suited with partners who want to take the time to understand the INTP deeply and who value being deeply understood by their partners in return. There is nothing this type finds more refreshing than being with a partner who is genuinely honest with them, expresses their needs clearly, and is open to working on the relationship in a straightforward way. INTPs thrive when they find themselves in partnerships that are based on openness and mutual understanding.
ENTJ: A relationship with shared long-term goals.
To the ENTJ, a relationship is a true partnership. They thrive when both party's interests are aligned and the long-term outcome looks optimistic. This type is not interested in wasting their time on short-term or nonsensical pairings—they crave long-term security with partners who take the relationship as seriously as they do. When the ENTJ finds themselves in one of these partnerships, they give it their absolute all. They may even surprise their partners by revealing their (well-hidden) romantic side!
INTJ: A stable, intellectual relationship.
INTJs crave security in the physical realm but boundless exploration in the mental realm. When this type invests in someone, they are bonded to them, and they are best paired with a partner who can make the same commitment to them. This allows the INTJ the opportunity to relax into the partnership and share the whole of themselves with their partner. This type is best matched with someone who shares their thirst for philosophy, literature and theoretical speculation. Being deeply, intellectually understood is the greatest aphrodisiac for this type. They thrive in relationships that hinge upon a mental connection.
ESTP: A fun and easy-going relationship.
ESTPs are known for being a wee bit fearful of commitment, but in reality, they're just allergic to the drudgery involved in stagnant, unchanging relationships. The ESTP truly thrives in relationships where both parties share a thirst for discovery and adventure. These restless types want someone who is willing to openly explore the world alongside them. Once they find a partner who makes them feel free, the ESTP suddenly becomes less afraid of commitment because they've finally found the kind of relationship they thrive in.
ISTP: A practical yet independent relationship.
To the practical ISTP, relationships are not just based on love but on utility. They want to ensure they've found a partner who balances them out in the right ways and whose lifestyle is compatible with theirs. The ISTP requires a great deal of independence within a relationship, and they're best suited to a partner who not only understands this trait but craves it themselves. When an ISTP finally finds themselves with a partner who respects and values their independent, down-to-earth nature, they'll find themselves thriving within a partnership.
ESTJ: A steady and predictable relationship.
ESTJs may not be the most romantic individuals, but that's because to them romance looks like making a serious commitment to someone they can rely on. This down-to-earth type thrives in relationships that are based upon mutual trust and respect. There's no lengths the ESTJ will not go to for someone they care about. When they can be certain that they have that investment in return, the ESTJ truly shines within a relationship. They would loathe if you shared it, but they can even pull out their romantic side.
ISTJ: An respectful and traditional partnership.
ISTJs place a heavy emphasis on customs and traditions, which means they want to date the old-fashioned way. They believe in showing their partners the upmost respect at every stage of the courting process, and they expect the same courtesy in return. The ISTJ truly thrives within relationships that follow the traditional rules of respectful courtship: They believe in calling back on time, showing up early for dates, and following through on commitments. When they find themselves dating a partner who takes things similarly seriously, the ISTJ type finds themselves suddenly willing to go above and beyond for the relationship. This is where they truly thrive.