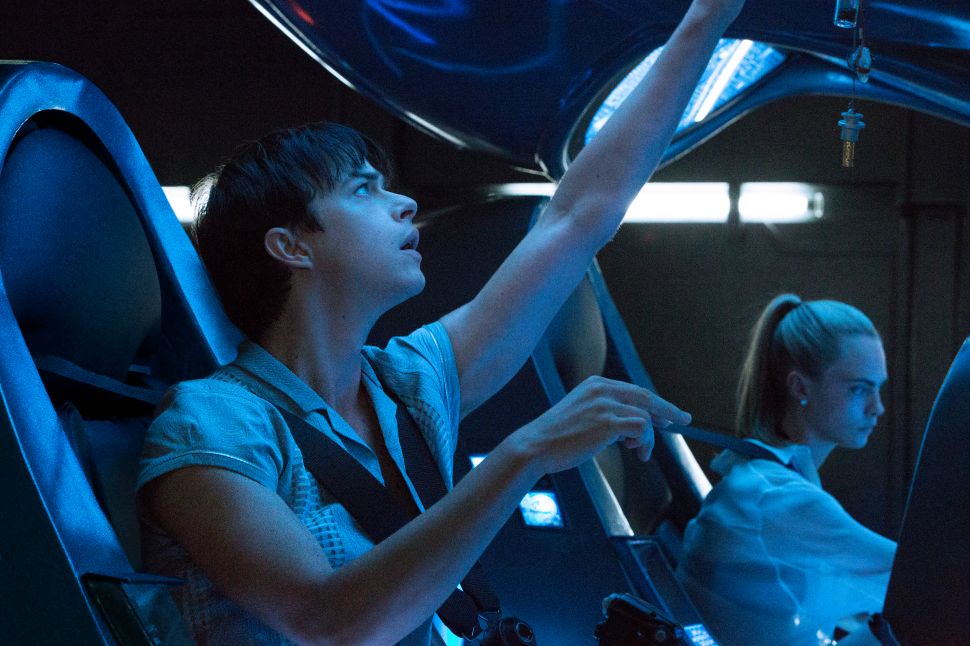 After this week's obsessive political cycle, when Valerian and the City of a Thousand Planets opened to the sound of David Bowie's "Ground Control to Major Tom," I realized I couldn't be happier to sit in the dark with 3D specs and blast off into space. Get me outta here! And, on that score, Luc Besson's comic book movie delivers with visual daring, a self-effacing humor and a final message that boils down to "all you need is love." What's not to like?
Heavy on spectacle, it's a marvel of sci-fi world building, presenting a constant stream of bizarre and seductive aliens, pulsing telepathic turquoise jellyfish, and some O.K. human actors. It's all set against seamless backdrops where there's so much telling detail I almost wanted the movie to slow down so I could register everything going on.
Almost, because at 137 minutes, the plot—based on the French comics of Pierre Christin and Jean-Claude Mezieres—is a hot mess, lacking the propulsive quality of Besson's best: The Fifth Element, The Femme Nikita, The Professional. At its soft center are special ops sweethearts Valerian (Dane DeHaan) and Laureline (Cara Delevingne) who bicker like the stars of a screwball comedy before inevitably falling chastely into each other's arms.
With the universe hanging in the balance, Major Valerian and Sergeant Laureline must stop flirting and sniping long enough to preserve the safety of the star-base Alpha, run by the nattily dressed commander (Clive Owen!) with a steady stream of mwahaha mustache-twirling. A mysterious ticking time bomb of a radioactive threat has embedded itself like a glioblastoma in Alpha's core. The pair must discover its secrets, disarm it or die. And, maybe, just maybe, find mutual commitment in a galaxy of infinite interspecies choice.
The marvelous set pieces seduce: the scenes on the planet Mul—and its opalescent inhabitants that have the temerity to live their days in harmony and love—are jaw-dropping gorgeous with a splash of Avatar (but not James Cameron's heavy hand). Inevitably, the natives' Aquarian existence falls prey to those darn war-mongering humans, who unapologetically blast their Eden into oblivion as collateral damage.
As Valerian, DeHaan, who was so compelling in indies like Kill Your Darlings, The Place Beyond the Pines and Lawless, lacks the monster charisma needed (think young Harrison Ford) to hold the movie together as its "sexy" leading man. He's game, but there's no chemistry between him and this year's blonde Delevingne (Suicide Squad). When their mouths meet, it's as if they're chewing on stale peanut butter and jelly sandwiches.
---

VALERIAN AND THE CITY OF A THOUSAND PLANETS ★★1/2
(2.5/4 stars)
Directed by: Luc Besson
Written by: Luc Besson
Starring: Dane DeHaan, Cara Delevingne, Clive Owen, Rihanna
Running time: 137 mins.

---
And yet, just as the movie begins to flag, a dynamite set piece arrives crying to hell with narrative drive, "Look at this, look at me!" Rihanna owns the showstopper. During a space-bordello detour, her seductive Bubble entertains Valerian, testing his commitment to Laureline. The swift, juicy, sensationally choreographed routine has the singer shapeshifting mid-kick from a Sally Bowles chanteuse into a naughty French maid into an acrobatic Catwoman, and more. Rihanna wows, entertaining and diving into this peculiar woman's emotional core while drawing out DeHaan's vulnerability in a way his scenes with Delevingne don't.
In the end, Besson's Valerian and the City of a Thousand Planets is a mixed bag: a ripe visual adventure of limitless imagination hamstrung by an undercooked plot propelled by lackluster heroes.