Rihanna has been making the rounds recently, whether it's popping up in Prada at the premiere of Valerian or releasing pastel Puma slides.
But one of her most epic meetings took place yesterday in Paris, when she posed with Brigitte Macron, the French first lady, and later talked policy with her husband. The duo discussed education, as Rihanna is currently the Global Ambassador for the Global Partnership for Education. The Barbados born singer and actress founded the Clara Lionel Foundation, which campaigns for education equality all over the world.
The new friends looked quite cozy, laughing outside of Élysée Palace. But what could a famous first lady and a global pop star be discussing? We have a few ideas.
Perhaps they touched on feminism and body shaming. Macron is no stranger to having her body discussed in a public forum, as Donald Trump recently told her "You're in such good physical shape." Similarly, Rihanna's curvy new look has been embraced by her followers, who have dubbed her #Thickanna, but others are a bit less enthused, including the bros at Barstool Sports who fat shamed the "Wild Thoughts" singer.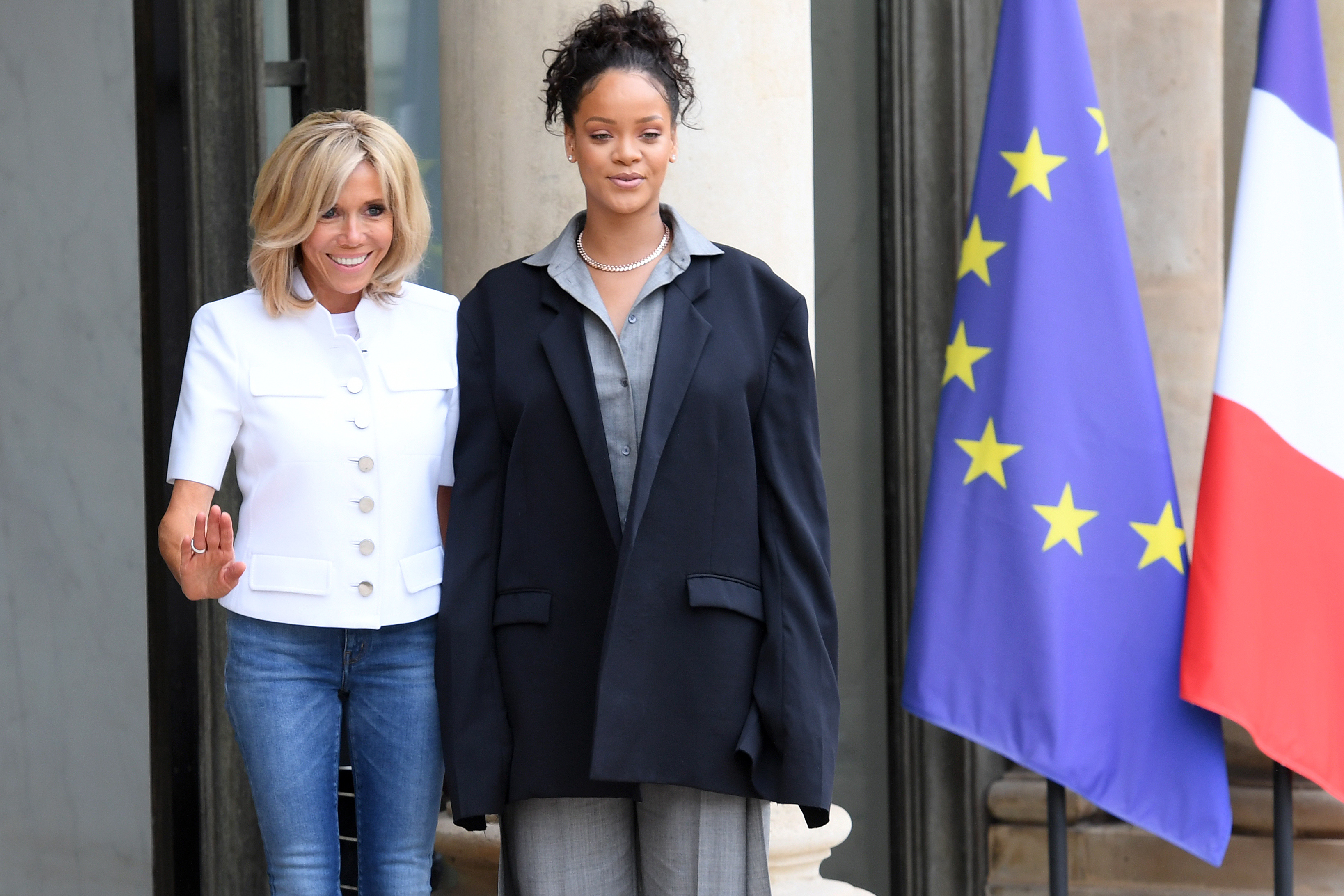 The pair are also decidedly chic, although the French First Lady is a bit more traditional, and has yet to be seen in nearly nude ensembles or glittering boas. For their tête-à-tête, Brigitte paired her blue jeans with pumps, while bad gal RiRi wore an enormous blazer and a tiny Dior bag. Maybe their meeting will inspire Brigitte to experiment with faux fur slides and Comme des Garçons, or purchase something from the Fenty PUMA by Rihanna collection (we'd like to suggest an enormous hoodie, although it's not exactly professional).
Maybe the two talked romance. After all, both women are currently linked to powerful men. Brigitte met President Emmanuel Macron when she was his teacher, while Rihanna is currently dating billionaire Toyota heir Hassan Jameel.
This isn't Rihanna's first brush with a head of state. She and Prince Harry were tested for HIV together and the prince mentioned her in a recent HBO documentary. This political meeting in particular came about when the songstress tweeted at a few famous world leaders, asking them to commit to funding education worldwide.
While it looks like most people won't see her latest movie, Valerian, Rihanna is destined to maintain her status as a jet setting, philanthropic pop star—and who knows, maybe Justin Trudeau will be her next Twitter connection. At a post-meet press conference, Rihanna teased a big announcement in September. Maybe the three will join forces together.