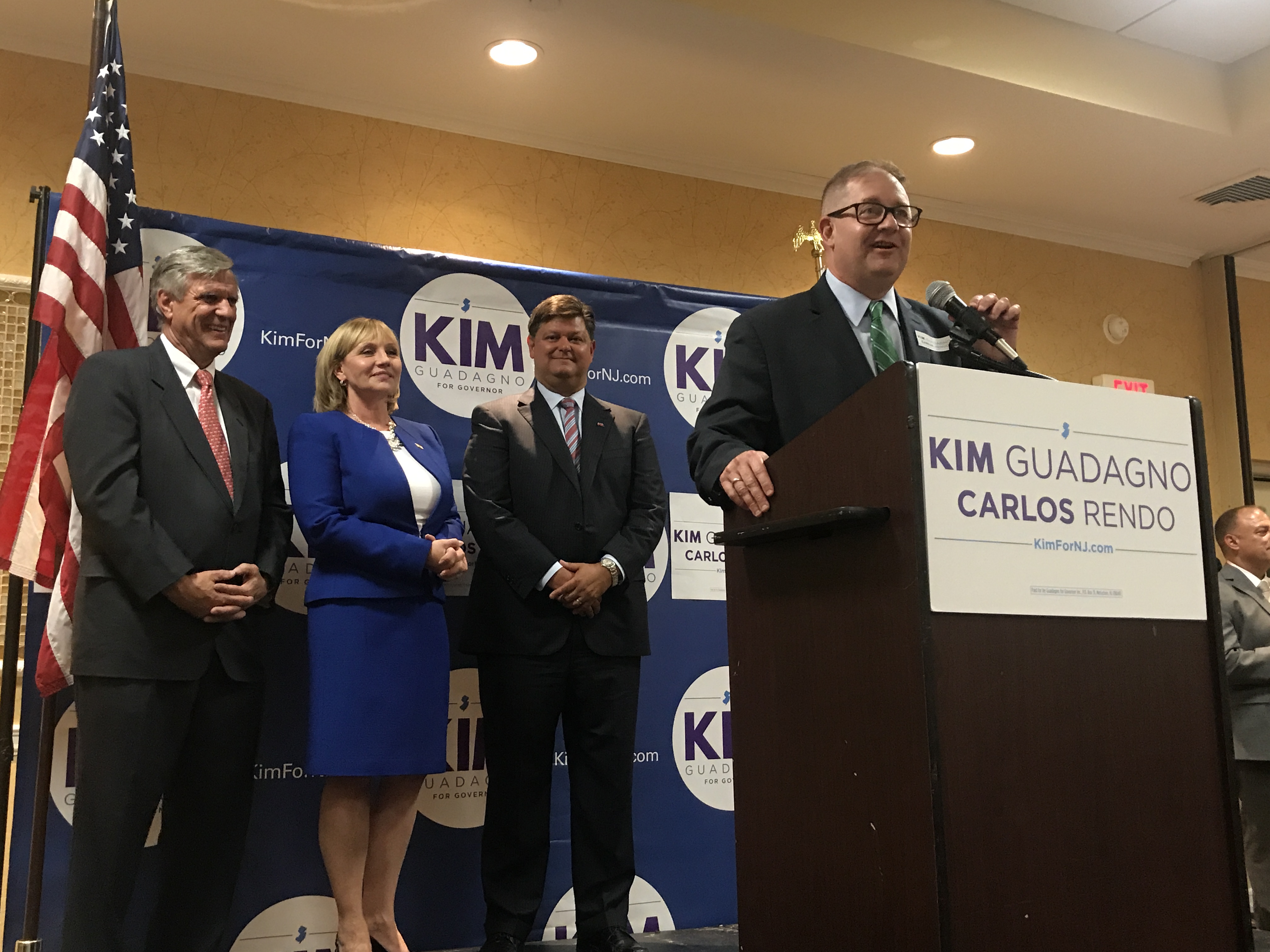 Way behind in the polls and trailing in fundraising, Kim Guadagno got some much-needed help Monday from Republican National Committee Co-Chair Bob Paduchik, who came to New Jersey for a fundraiser and rally.
Paduchik dismissed a report on NJ.com that the RNC was withholding support for Guadagno, the Republican nominee for governor, telling a packed crowd in a Toms River hotel ballroom that the gubernatorial race was winnable for Republicans. He said he was impressed with Guadagno and her running mate, Woodcliff Lake Mayor Carlos Rendo, and said the campaign's focus on property taxes — New Jersey has the highest in the nation and it's the top issue for voters — would resonate.
"If we can be successful to taking that message out to New Jersey voters, if you people in this room and thousands of other supporters across this state can make phone calls and knock on doors, this is definitely a winnable race," he said.
"If anyone wants to know where the RNC is on this issue, they can give us a call, or we'll come out here," he added of the committee's support of Guadagno.
Guadagno is trailing Democrat Phil Murphy, an ex-Goldman Sachs executive and former U.S. ambassador to Germany, by more than 20 points in recent polls. Murphy also has a substantial lead in fundraising, receiving $1.8 million in public matching funds compared with Guadagno's $708,000.
Paduchik likened the New Jersey gubernatorial race to the 2016 presidential campaign. Pundits and polls predicted Democrats would take the White House, the U.S. Senate and maybe even the House — only to see Republican President Trump win on election night with majorities in Congress. (New Jersey presents a much smaller sample size for pundits and pollsters.)
"The Democrats had a bad candidate, they had a very bad candidate for president, just like they have a very bad candidate for governor of New Jersey," he said of Murphy. "They didn't realize that the message they had just wasn't working for people. So they were sort of asleep of the wheel, and I see the same predicament here in New Jersey."
For her part, Guadagno lashed out at the media several times, calling reports about her candidacy "fake news," a term often used by Trump. Onstage with Guadagno were Paduchik, Rendo and Ocean County Republican Chairman George Gilmore, who is under federal investigation over tax issues. Gilmore made brief introductory remarks and Guadagno complimented him for organizing the event on short notice.
She again pledged to rein in property taxes or not seek re-election. And she attacked Murphy for his liberal agenda, which she said would cost taxpayers billions of dollars.
"I think we need to call it Murphy's law, right? Any tax that can be raised will be raised," she said.
Before the rally, the campaign hosted a fundraiser in the same hotel that asked attendees to donate $4,300 and raised about $250,000, according to Guadagno campaign spokesman Ricky Diaz. The ballroom had a standing-room only crowd. Ocean County is a Republican stronghold in New Jersey, and Guadagno told audience members that they'd be critical in putting another Republican in the governor's office again after eight years of Gov. Chris Christie.
"In 2009, Ocean County elected Chris Christie and Kim Guadagno the governor and the lieutenant governor of the state of New Jersey," she said. "I'm calling on you again. In less than 99 days I need all of your help again. Because you put away Jon Corzine in 2009, and I need you to put away Corzine 2 in 2017."
Update (Aug. 1): Guadagno spokesman Ricky Diaz said the campaign raised $250,000 at Monday night's fundraiser. This story has been updated to include that figure.