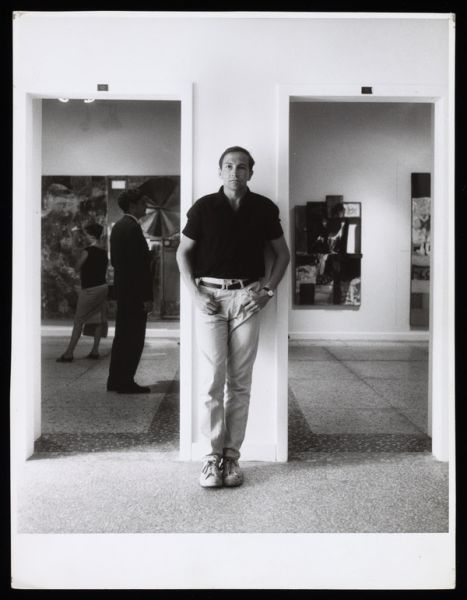 1964 was a pivotal year both for Robert Rauschenberg and the American art world. The artist's historic win at that year's prestigious Venice Biennale established the rise of New York's power players, heralded the arrival of Pop Art as a major international movement and marked the first time an American artist took home the exhibition's top prize.
Now, a new documentary film will explore the controversial events surrounding Rauschenberg's win, and its impact on the art world. Through a mix of interviews, archival footage and new imagery shot at the opening of the 2017 Venice Biennale, producer and director Amei Wallach—Louise Bourgeois: The Spider, The Mistress and the Tangerine (2008) and Ilya and Emilia Kabakov: Enter Here (2013)—will tell the story of Rauschenberg's unexpected Golden Lion win and the backlash that ensued as American Pop artists such as Andy Warhol, Jasper Johns, Jim Dine, Roy Lichtenstein and Claes Oldenburg grabbed the spotlight at the 1964 exhibition.
"The film puts in context a moment of optimism and international outreach that seems particularly pertinent at this moment as an illumination of what art makes possible and what soft power can do," said Wallach in an relsease for the project. "The electrifying footage we shot in Venice this spring will bridge past and present to explore the meaning of art and globalism today."
Why was Rauschenberg's win such a bid deal? Not only did the artist nab the big award at the show in'64, but he did so with only four artworks on view at the U.S. pavilion, according to the Biennale's website. Only after his win were additional artworks moved by boat to the Giardini to fill the show. But no matter how few works Rauschenberg brought to the Italian city that year, the win cemented his influence on the international scene.
Americans in Venice: Robert Rauschenberg Rewrites the Rules, which is set to be released in March 2018, will feature interviews with writer Calvin Tompkins, former Yale Art School dean Robert Storr, historian Irving Sandler, 2017 Biennale director Christine Macel, and artists Christo, Mark Bradford (who is currently representing the U.S. at the 2017 Biennale), Carolee Schneeman (recipient of this year's Biennale lifetime achievement award), Shirin Neshat and Marina Abramovic.