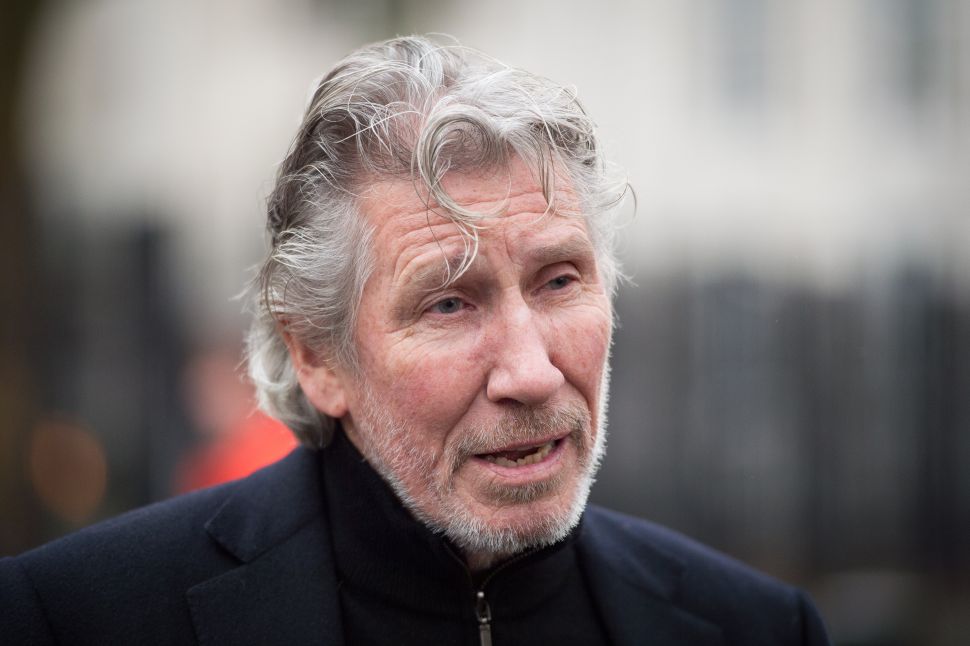 Pink Floyd founding member and former bassist Roger Waters has spent the last decade disparaging the Jewish state. Labeled an anti-Semite by the Anti-Defamation League, Waters compares Jews to Nazi collaborators and claims Israel is a "racist apartheid regime" that practices "ethnic cleansing."
As the de facto international spokesman for the anti-Israel Boycott, Divestment and Sanctions (BDS) campaign, Waters' contempt for Israel and the Jewish people is often on full display at his concerts, which feature visuals such as a flying pig emblazoned with a Star of David and anti-Israel rants. When big-name performers announce concerts in Israel, Waters publicly pleads with them to cancel and join the boycott.
Waters has failed to garner support from the music industry. Nevertheless, pro-Israel advocates and anti-Semitism watchdog groups such as StandWithUs and Creative Community For Peace have never taken it lightly when the classic rock icon exhorts fans to boycott Israel.
Waters himself is now the subject of a boycott campaign and a documentary film made by award-winning filmmaker and New York Times bestselling author Ian Halperin.
Halperin's work includes documentaries on Kurt Cobain, Michael Jackson and Lady Gaga. For the past two years, the investigative journalist has been making Wish You Weren't Here, a documentary examining contemporary anti-Semitism and Waters' efforts to make Israel a global pariah.
"I started traveling, meeting with different leaders throughout Europe. I didn't know how bad the problem is with contemporary anti-Semitism there," Halperin told the Observer. "There are less than 2 million Jews left in Europe, which is very alarming—a place where Jews have long been an integral part of society and whose valuable contributions to the culture are immeasurable."
"During my research," Halperin continued, "I came upon Roger Waters, and I couldn't believe he was singling out Israel when there are so many truly egregious violators of human rights in the world. Why is he going after Israel? So, I began asking people what this guy has against Israel. To me, an attack on Israel is an attack against the Jewish people."
Halperin met with psychologists who work with Holocaust survivors and their families. He described the effect of Waters' floating pig bearing the Star of David as "unforgiveable" for survivors, comparing it to a scene in his film where a three-year-old Palestinian girl is "brainwashed" into believing Jews are pigs.
In preparation for the documentary, Halperin interviewed leaders in the South African anti-apartheid struggle. They found Waters' comparison to Israel offensive and demeaning to their people's suffering.
"I've met Mandela," said Halperin. "I've met all the leaders who fought to liberate South Africa. Waters doesn't know what he's talking about. South Africans are insulted by his claims. You can argue with some of Israel's policies, no problem. But to call for a universal boycott of Israel is deplorable, baseless and unfounded. It's an anti-Semitic attack."
The son of a Holocaust survivor, Halperin was inspired to produce this film by his childhood friend, Dr. Charles Small.
"Charles was aware my father was a Holocaust survivor. My dad hid in a cave from age 6 to age 13. His mother and sister died of starvation. Growing up, in my family you weren't supposed to talk about any of this and just try to move forward," recalled Halperin. "It was Dr. Small who woke me up. And in the course of my research and investigation, I've never come across a story more filled with hate, prejudice and misinformation than the vitriol that Roger Waters is spewing to the world."
Small is a senior research fellow at the Moshe Dayan Centre for Middle East and African Studies, Tel Aviv University and founding director and president of the Institute for the Study of Global Antisemitism and Policy.
ISGAP recently launched a petition drive, "Boycott Roger Waters—Stop BDS."
With over 3,500 signatures at the time of this publishing, the petition reads in part: "While Waters speaks about 'tear[ing] down wall[s],' he is one of the leading musicians today erecting the very walls that hinder peace in the region and fuel hatred. This hatred not only affects the state of Israel, but Jewish communities worldwide, as well as all those who care about human rights and democratic principles.
BDS leaders often claim that the purpose of the BDS movement is to champion Palestinian rights. However, this is highly misleading. As illustrated by extensive research and documentation, the objective of BDS is the complete elimination of the state of Israel as the nation state of the Jewish people. It seeks not to condemn specific Israeli government policies, but to unjustly target Israelis, Jews, and all those worldwide who stand in support of the Jewish state. The tactics of utilizing immoral double standards and strategies of demonization and delegitimization are all expressions of contemporary antisemitism.
"We are in a very confused time now," Small explained to the Observer. "The old religious forms of anti-Semitism and the racist nationalist forms of anti-Semitism are, for the most part, problems of the past. There are three forms of anti-Semitism, and the new one is the demonization and delegitimization of Israel and Jewish peoplehood—and that has become acceptable."
Small continued, "We have to unpack it for scholars and intellectuals but also for popular culture, and that is why Ian's work is so important. Through the film and through this project, we're trying to wake people up to contemporary antisemitism and get them to stand up against all forms of hatred as well."
Halperin's documentaries have been aired on CNN and in over 160 countries. Wish You Weren't Here features interviews and remarks by intellectuals and entertainers such as Alan Dershowitz and Howard Stern and will be released late this summer.
Paul Miller is president and executive director of the news and public policy group Haym Salomon Center. Follow him on twitter @pauliespoint.