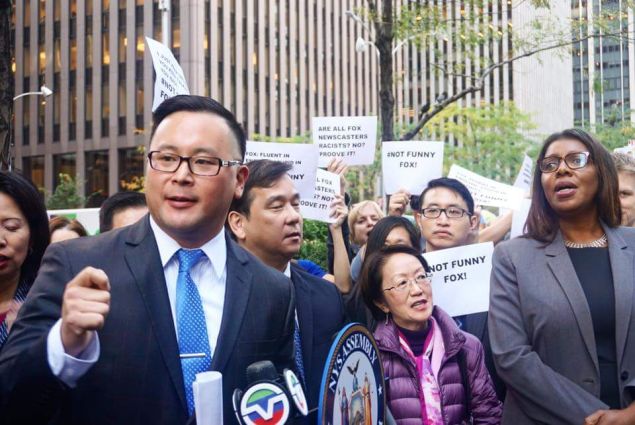 Queens Assemblyman Ron Kim, a native of South Korea, suggested that President Trump work on developing a "united front" with allied nations to send the message that "irrational or aggressive behavior" from North Korea will not be tolerated after that country tested an intercontinental missile.
On Tuesday, North Korea tested the missile ahead of Trump's meeting with Chinese President Xi Jinping and Russian President Vladimir Putin, according to The Washington Post, with experts indicating that the missile could have traveled as far as Alaska. Trump warned there could be "some pretty severe" repercussions.
Kim — the first and only South Korean elected to the state Senate, whose district includes Flushing, Whitestone, Murray Hill and Mitchell-Linden — said that it is key for Trump to forge stronger ties with like-minded countries on the North Korea issue.
"We need the international community to work with us, especially our allies in Asia: South Korea, Japan," he told NY1's Josh Robin Wednesday night. "They're ready and willing to work with us every step of the way to show North Korea that there is a united front against kind of irrational and aggressive behavior."
"China's gonna be one of the key players in bringing North Korea to the 21st century," Kim continued. "They have direct access to North Korea. If there's any country that can educate them and bring them out to the light, it will be China, but again, the U.S. has to build a large alliance beyond China to make sure that we can put enough pressure and respond accordingly."
The lawmaker, who was elected to his third term in November 2016 and came to the United States as a child, said that whether he goes to a local dry cleaner or talks to local constituents, it's "on people's minds because it's in the news every single day." He said that the conflict is not "new to them" but that the latest development is unusual.
"There's been years of aggressive behavior by North Korea but I think in today's news, this is something that we have never seen before, which is North Korea successfully launching an intercontinental missile and the U.S. and South Korea acting in a more retaliatory fashion," he said. "So I think Koreans and Korean Americans are realizing now that this is getting more serious."
The assemblyman went to North Korea nearly 10 years ago with a delegation of 40 other Americans from the private and public sectors on a peacekeeping and education trip for one day. He described it as an "emotional" experience. North Koreans expressed dismay upon discovering that some of the second- and third-generation Korean Americans on the trip could not speak their ancestral language, he said.
"This was 10 years ago," he said. "But a lot has happened in the last 10 years and it's very ironic that North Korea is surrounded by some of the most technologically advanced countries in the world: South Korea, Japan, China. Fastest internet, fastest subways in the world, but North Korea is still stuck in the '40s and '50s and the people are under-nourished."