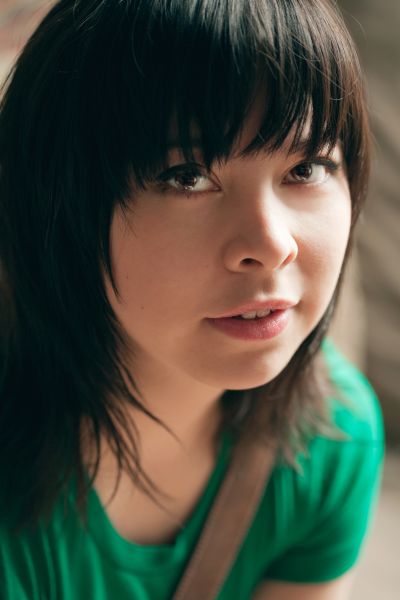 Welcome to our weekly comics column, Near Mint, where media guru Johnnie Martin discusses all the KaPOW that's fit to print. This Week: We talk to Saga artist Fiona Staples!
Fiona Staples is nominated for some Eisner Awards…again. She's now been nominated ten times, and so far she's won six. The Eisner Awards are like the Oscars of comics, which would make her our Meryl Streep. The only difference is that Eisner categories aren't divided by gender, and for any woman to get to the tippy top in comics is no small feat. According to an April 2017 gender crunching study in Bleeding Cool, not a single major publisher—Marvel, DC, Image, Dark Horse, IDW—has over 20 percent female creators working on their books. Also, Saga, the book she digitally paints for writer Brian K. Vaughan, isn't based off any pre-existing properties—it's wholly original. The sometimes raunchy, often gut-wrenching space opera is headlined by a star-crossed alien family from two different planets at war. Each page brings a new outlandish species, and a flourish of Winsor Mckay-esque creativity. Underneath the minimalist neon hum of Staples' paintings real topics come to the fore: PTSD, homophobia and the trials of being a parent. Jack Kirby is dead. Osamu Tezuka is dead. Is Fiona Staples the greatest living artist in comics? I certainly thought so when I saw her spicy cover for the upcoming Rat Queens offshoot Orc Dave! But more on that later. I spoke with Staples through email to talk about Saga, the creators she wishes got more credit and her favorite comics of the past.
Johnnie Martin: Let's start out with a hard one. What's your favorite Final Fantasy?
Fiona Staples: That is a toughie, but my answer has to be Final Fantasy XII. I recognize that the production was plagued with problems and the teen protagonist that was shoehorned in is kind of annoying, but that game has an epic storyline and one of the most beautifully designed worlds I've ever seen. Not to mention the music!
One of the things that makes Saga standout each issue—and almost page-to-page—is the inventive character design. From multi-headed skeleton centaurs to seal boys, how do you create a new character or new type of alien and insert it into the story?
The credit goes to Brian for describing a lot of these weird aliens in the script. He'll usually give me a sentence or two, explaining what animal the creature looks like and maybe what they're wearing, and then I try to execute that in a way that fits in with our universe and what that character's role is supposed to be. Sometimes I have complete free rein, like for Ghüs or Dr. Sheriff, and I just do something cute.
OK, Fard the ogre… Whose idea was it to give him huge balls?
All Brian!
Speaking of fantasy giants, I (like many gay men) was very into your cover for the Orc Dave Rat Queens one-shot comic. What were your intentions with that particular artwork?
Thanks, I'm very pleased you liked it! My intentions, which I think were in line with the book's creators, were to draw a sexually appealing male orc and not treat it strictly as a joke.
The last couple issues of Saga dove into some big real world stuff: abortion and a miscarriage. Does Brian talk to you about some of the subject matter that's coming up before you get the scripts and is it a discussion?
We don't tend to have in-depth discussions about the issues we deal with in the series, but it's been clear since the beginning that we'd be confronting heavy subject matter. I trust Brian, both as an intelligent writer and a decent person, to treat emotionally-charged topics in a thoughtful way.
Has there ever been a time while working on Saga where you and Brian hear some feedback or criticism and think, "Maybe we should've done that differently" and then you altered the course a little bit in response?
We generally have enough confidence in our work that we don't let critics, reviews, or editors influence its direction. That said, there have been plot developments and scenes that we thought were powerful but failed to elicit any reaction from readers, and others that we thought were innocuous but later learned were handled in a harmful way. In either scenario, we have a conversation about it, and while we don't always agree on the course to take, we at least move forward in a more mindful way.
As you may recall, you've won six Eisner Awards for your work on Saga and you've been nominated again this year. Is there anyone you wish had been nominated for Eisners (in any category) that hasn't been? Any creatives in general that you feel like are getting overlooked?
Brian and I have been honored for Saga multiple times, but it wouldn't be the same book without Steven Finch's beautiful, clean lettering and design. He definitely deserves recognition.
I think Julian Totino Tedesco painted the best covers this year. James Harren, Sara Pichelli, and Tommy Lee Edwards consistently do award-worthy interiors. And David Harper has done some excellent journalism and podcasting with his projects SKTCHD and Off-Panel.
There was a switch between you being in the multimedia painting category at the Eisners in 2014 to being in the penciler/inker category in 2015. Do you know why that switch happened and what were your thoughts on that?
I don't know the Eisner committee's methods for categorizing creators, but I do feel that "painter/multimedia artist" describes what I do more accurately than "penciler/inker." I think as more digital artists crop up, and more artists do their own colors, the lines between those categories will blur.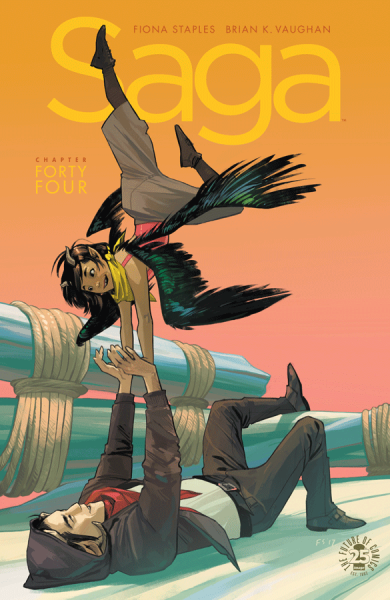 You're the first widely published artist whose work I remember seeing that you could clearly tell worked was made with a digital pen on a tablet… And the art didn't look awful. It felt kind of new in a subtle way, and I think you working digitally on a successful title has pushed comics forward into the future a little bit. That being said, are there any past eras of comics that you nostalgic for or sort of miss?
I love the fully-painted old Heavy Metal magazines, and I'm grateful that Richard Corben is still working. I also like the weird collage stuff that people were doing in the '90s, like Dave McKean and Barron Storey. But traditional methods are still completely available to anyone who wants to use them—you could still airbrush a comic if you had the desire. My friends Ray Fawkes and Tyler Jenkins are both illustrating comics right now in watercolor. I'm personally very excited about using digital tools and experimenting in that medium. Artists really have a wealth of options right now!
What are some trends you see popping up often in today's comics that you don't like?
I'm not a fan of re-numbering or re-launching a series whenever the story arc ends or the creative team changes—it's incredibly confusing. And low-selling comics that would do well in the book market being cancelled before they even have enough material for a collection. I know it's an investment on either the creators' or the publisher's part, but I wish more series got the chance to live past issue 6. Doing Saga for the last several years, I've really come to appreciate having a long-term relationship with a book, with my collaborators, and with our readers.
How do you think comics are doing right now? Do you think things are better now than in that nostalgic time you sort of miss? Maybe not so much in terms of the industry and sales but rather the quality of what's getting published?
According to Comichron.com, the market's been growing steadily for at least the last five or ten years, so it seems the industry is in a pretty healthy place. Creatively, I think it's better than ever. There are noticeably more female creators, more kids and teen books, and a greater diversity of genres and art styles than there were when I entered the industry about a decade ago. That diversity is what's causing the market to grow.
This year's Eisner Awards ceremony will be held at the Hilton San Diego Bayfront on July 21 at 8 p.m. during San Diego Comic-Con 2017.